File this one under: oh-so-good-but-bad-for-you vegetarian kugel.
Kugel
(Yiddish: n. kugl or koogel, or kigel, in Galicia/Central Europe) is any one of a wide variety of traditional baked Jewish side dishes or desserts, and can be sweet or savory. It is sometimes translated as "pudding" or "casserole." This
Thanksgiving Kugel
took home the best non-savory title at my Third Annual Casserole Party, and was a Jewish (Brian Tooze)/gentile (Lacey Tauber) collaboration.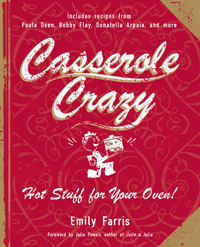 3/4 pound egg noodles
1/2 pound cottage cheese (small curd)
1/2 pound sour cream
3 eggs
1/2 cup milk
1/8 cup sugar
1/2 pound butter (melted)
1 tbsp cinnamon
pinch of salt
raisins and dried cranberries (as much as you like)
1 1/2 cups pumpkin pie filling
1/2 cup flour
1/2 cup brown sugar
1/2 cup butter
1 tsp nutmeg
Directions
Preheat oven to 375°.
In a large pot, boil the egg noodles to just under al dente. Drain and set aside.
In a large mixing bowl, mix cottage cheese, sour cream, milk, sugar, melted butter, salt, cinnamon, pumpkin pie filling, raisins, and cranberries. Add the noodles and mix until they are all covered. Pour the mixture into a greased two- to three-quart casserole dish. Beat the eggs and pour over the top of the casserole.
For the topping, carefully mix cold butter in with flour, brown sugar, and nutmeg to create a crumbly mixture. Pour crumbles over top of casserole after the egg.
Bake covered for a half hour and uncovered for another half hour.
Can be served hot or cold. Serves four to five people.
From
Casserole Crazy: Hot Stuff for your Oven!
(Home Books, $15.95) by Greenpoint resident EMILY FARRIS.