Just as Jules Feiffer's children range in age from 12 to 41 years, his career as a cartoonist has spanned several generations and genres. Ask parents of older-aged children and they'll likely recall Feiffer's political cartoons. His Pulitzer Prize-winning comic strip ran for 42 years in The Village Voice and challenged government policy on everything from civil rights to the Vietnam War. If you're a theater aficionado, Feiffer's work as a playwright and screenwriter may be most notable; he wrote the Obie-award winning play, Little Murders, and the movie, Carnal Knowledge. And speak to a parent of today and she may refer to one of Feiffer's many renowned children's books: The Man in the Ceiling; Bark, George; and I Lost My Bear.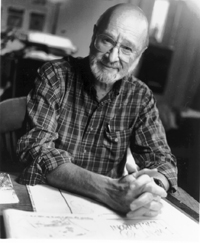 The range of Feiffer's work is currently on display at the Visual Arts Museum at the School of Visual Arts. The retrospective includes cartoon strips, book illustrations, posters from his film and stage productions, and a gallery dedicated to original drawings from his picture books.

Feiffer, who was born in the Bronx in 1929 and now lives on the Upper West Side, has always called New York home. Although his wife hails from Westchester and wouldn't dream of moving back, Feiffer doesn't think an urban or suburban environment is the most important factor in how a child is raised.

"If you live in the city, particularly Manhattan, there is a just a level of urbanity and sophistication," Feiffer says. "But more important than city or suburbs, for our children, by virtue of the fact that both parents are self-employed, we are home most of the time so that we are there for our children on call. When a kid needs attention, I can push aside my work and then go back to it. I can push the 'pause' button… That basically is what defines life with our children."

For a man famous for his witty observations, Feiffer turns serious when it comes to discussing parenting. He believes that recognizing a child's individuality may be the most significant parental challenge. "There ain't one set of rules that covers everything," says Feiffer. "You don't let them put their fingers in sockets but I always thought that kids are specific selves and you kind of try to work with who and what they are and don't try to turn them into what you think they should be." Nevertheless, Feiffer's children seem to have followed in his creative footsteps: His two grown daughters are involved in writing and film. In fact, Feiffer recently finished illustrating a children's book written by his oldest daughter.

And this isn't his first collaboration with a family member. His latest book, The Long Chalkboard and Other Stories (Pantheon, $16.95), is written by his wife, Jenny Allen, and hit bookstores last month. In this collection of three short stories that touch on some of life's basic frustrations — including parenting — Allen's humor is brought to life by Feiffer's drawings. Feiffer swears that there were no major arguments during the course of the project, noting that his background in theater taught him that sometimes more than one take is needed. "There was one scene in The Long Chalkboard where two women are hugging each other at the end of the story and Jenny and the editor both thought I had drawn one of the women too mannish. I didn't [agree], but I did another one." In the end, the more womanly-looking cartoon made its way onto the page.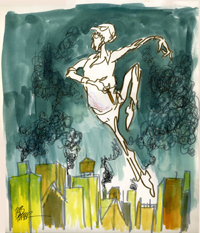 So what advice does Feiffer have for parents who may have a budding cartoonist in their midst? Although cartooning classes exist, Feiffer is not sure the skill can be taught. "I wouldn't know how to [teach cartooning]," Feiffer says. "It is a personal point of view. I wouldn't particularly want to teach a class on how to be me."

More important than classes, Feiffer continues, is studying the works of cartoonists you admire and then evolving your own style. While Feiffer says the art is ageless, he stresses that originally, comic strips were written for adults. "Cartoons began as comments by grownups for grownups," Feiffer explains. And then in true Feiffer-style, his satiric wit escapes: "Grownups behave much worse than children. If I had a child who behaved like George W. Bush, I'd bring back corporal punishment."

Although Feiffer now leaves the political realm to others and focuses on writing children's books and raising his family, his influence as a cartoonist is eternal. With his Pulitzer and his 2004 induction into the Comic Book Hall of Fame, Feiffer's work is now a part of history. Still, when asked in which of his many creations he takes most pride, the man whose drawings are known by millions did not hesitate to answer: "My children, of course."

"The Master Series: Jules Feiffer" is on view through December 2, 2006 at the Visual Arts Museum, on the ground floor of the School of Visual Arts, 209 East 23rd Street; (212) 592-2145 or visit www.schoolofvisualarts.edu and click on SVA Events.