The Berenstain Bears LIVE! in Family Matters the Musical hits Manhattan after a 35-city theater tour, bringing the classic children's books to life on stage.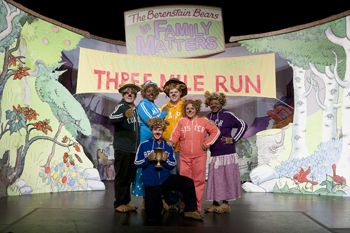 When it comes to storybook animals (and I include books, films, and cartoons here) fictional bears pretty much trump talking cats, dogs, mice, horses, bunnies, penguins, and even dinosaurs. It's not all that hard to figure out why: Talking bears, with their furry coats and jaunty smiles, have super tyke appeal, from the 1800s when the Three Bears encountered a breaking-and-entering Goldilocks, to Winnie-the-Pooh and his eclectic posse of friends, to Yogi and Boo Boo trolling Jellystone Park for pic-i-nic baskets. There's also the timeless cuddle-comfort of stuffed teddy bears and their descendants and, more recently, bear-inspired foods headed by Gummy Bears and backed up at breakfast with Teddy Graham Cereal.
So it's a pretty good bet that if you were to ask a tot-sized bear aficionado what would make them grrrr with glee, it would have to be seeing the first family of kid-lit bears — the Berenstain Bears — live on stage.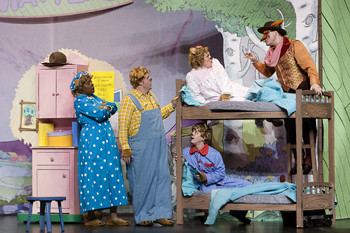 And thanks to the efforts of three Michaels, a Matt, a Dev, and a Jan, New York parents and cubs can gather in Bear County and share the laughter and life-lessons that make up The Berenstain Bears LIVE! in Family Matters, the Musical. [Producer Matt Murphy, writers Michael Borton and Michael Slade, director/choreographer Dev Janki, and Michael Berenestain who, along with his mother Jan, gave their official thumbs up to the project — are the savvy six responsible for making the musical a reality.]
"What I love about the design of the show is that it translates the book illustrations verbatim," says Mattl Murphy, whose credits include such adult fare as Altar Boyz and Laurence Fishburne in Thurgood. "My parents started reading the Berenstain stories to me when I was about three," Murphy recalls, adding that, as he learned to read, Stan and Jan Berenstain's ever-growing collection was, of all the children's books on his shelves, "the one I was most attached to growing up."
Murphy, like decades of youngsters who have given their imaginations over to the fuzzy family who reside "in the big tree house down a sunny dirt road deep in Bear Country," remains smitten — only now he gets to share his lifetime Berenstain infatuation on his adult professional turf: the stage.
"As the children walk into the theater, what they see has a real impact," he says. "Here they are in this familiar, warm place they know, Bear Country, and it makes such a difference for them. It's not just walking into a dark, unfamiliar theater."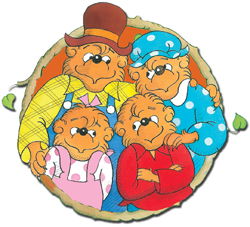 But enough about grown-ups, The Berenstain Bears LIVE! is a kid-a-thon of giggles, paw-tapping tunes, and, yes, dancing bears!
"What's especially fun for kids is that the show is seen through the eyes of Brother and Sister Bear," says Murphy. "As a result, both boys and girls can identify with the kid bears — and they do!"
The storyline, plucked from three classic Berenstain books — Too Much Junk Food, Trouble at School, and Learn About Strangers — gives every member of the Bear family plenty of stage time to show off their personalities and, in the case of Papa, Sister, and Brother, warts (do bears get warts?) and all. Mama (in her eye-catching blue polka-dot dress with matching hat), is the voice of reason in this close clan — an excellent thing, since she's dealing with a husband hooked on choco-chums, sugar balls, and sweetsie-cola, a son whose soccer ego is interfering with this math grades, and a daughter who is a little too outgoing when it comes to chatting up strangers.
Parentally speaking, what gives The Berenstain Bears LIVE! oomph is the way it seamlessly — and hilariously — deals with everyday family foibles: In short, what the books, TV series and specials, video games, and DVDs have stressed all along. And, in the ultra-plus column, the musical's generous doses of bearish tomfoolery and theatrical razzmatazz are gently counterbalanced with important childhood issues.
The consequences of eating too much junk food, for example, are presented in a colorful show-stopping number "Fluff on Your Tummy," that sends every kid in the audience into hysterics when pudgy Papa splits his overalls. A cautionary bedtime story about a silly goose and wily fox brings home the perils of talking to strangers in a in a kid-friendly way. And Brother, in the throes of a test he didn't study for, sings: "I was a real math wiz / I'm sayin' Phooey! Phooey! Phooey! / on this awful quiz! / Phooey! / On this awful quiz!" — and then proceeds to try hiding his grim test score from his parents, only to suffer the guilt-ridden results.
Not to worry, though: All ends happily, with the kids in the audience up on their seats singing and dancing to "Fluff on Your Tummy." All in all, not a bad way to share a summer Saturday or Sunday with the family — just you and your bears!
Inside Info for Discerning Young Fans
The Berenstain Bears LIVE! arrives in Manhattan following a highly successful 35-city tour.
After the show, kids can stand on a tree stump to have their nose painted black for a beary-cute photo op.
For a cub-sized preview of the scenes from the show visit the official Berenestain Bears website, www.berenstainbears.com. And while you're on the site check out all the fun extras: mouse cursors and a screensaver to download; tons of interactive activities (dress up the bears, mystery messages, puzzles and mazes, create-your-own coloring book, and lots more); videos at The Bear Country Barn Theater; and merchandise galore.
The Berenstain Bears were created by Stan and Jan Berenstain in 1962, beginning with The Big Honey Hunt in 1962 under Dr. Seuss's editorship; in 1974 they started their own line of books. Currently, more than 140 titles are in print; roughly 260 million copies have been sold.
In the late 1980s, the Berenstain's younger son, Mike, joined his parents' creative team, and while Stan passed away in 2005, both Jan and Mike continue to write and illustrate Berenstain Bears in Bucks County, Pennsylvania — an area much like Bear Country.
Both parents and kids love this show!