Related: the bullying academy, bullying program for schools, bullying education program, cyberbullying program for schools, bullying materials for classroom,



The newly launched Bullying Academy is a web-based interactive program designed to help middle school students recognize avoid bullying by educating them on its dangers, effects on others, and alternatives.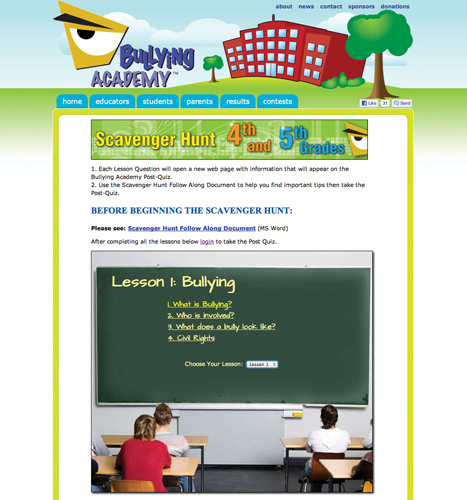 According to American Justice Department statistics, school bullying and cyberbullying studies show that, in any given month, one out of every four kids is abused by another child, and each day 160,000 students miss school for fear of being bullied. Those alarming statistics were the impetus for the creation of The Bullying Academy, a web-based interactive program designed to help fourth- through eighth-grade students recognize the dangers associated with bullying and cyberbullying. The program provides a professionally developed curriculum and grade-appropriate content to engage students through lessons, quizzes, a scavenger hunt, and learning links (video and text). The lessons include information about what bullies look for in victims, how to recognize the short- and long-term effects of bullying on both victims and bullies, how to properly respond to and report bullying, and how to avoid violence while standing up for others. Schools can register on the Bullying Academy's website, giving students immediate access to the site, which can be accessed at home, during class time, or as an extracurricular activity: www.bullyingacademy.org.
---
Get Your FREE Indoor Activity eGuide!
---
More NYMP News (not region specific) Articles
Meet the 2014 Cover Contest Winner and Finalists
Ebates Teen Style Survey Reveals Top Trends for Back to School
Meet the New, Older Dora the Explorer
Ronald McDonald House Charities® New York Tri-State Area Awards $80,000 to Five Area High School Seniors
Announcing Winners of the NYMetroParents Kids' Cover Contest

Be a good fellow parent and share this with a friend who would be interested
Local NYMP News (not region specific) Sponsors
See Our NYMP News (not region specific) Directory