The Buzz about Buster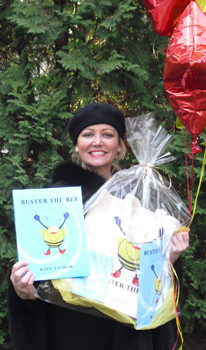 Kate Sandor has always loved bumblebees. According to the laws of aerodynamics, a bumblebee shouldn't be able to fly, but it does anyway. "They defy the laws of flying," Sandor says. "It's amazing."
This small mystery of nature served as a big inspiration for Sandor, who recently self-published her first children's book, Buster the Bee.
The colorful book tells the tale of a chubby young bumblebee named Buster who becomes discouraged after realizing that he can't fly as fast as the sleek hornet bees. Feeling down on himself, Buster turns to his mother, who gives him a "big bug hug" and tells him to think about all the wonderful things he can do. When Buster wakes up the next morning, he flies higher than he ever has before.
"The message behind it is timeless," says Sandor, a dual resident of Rye, NY, and Greenwich, CT, whose background includes real estate, fashion, and entrepreneurial ventures. "We all face challenges and hurdles, but we need to concentrate on the positive and embrace whatever is unique and wonderful about ourselves. If Buster can do it, then why can't we?"
In addition to the book, the little black and yellow fellow appears on a line of products such as Buster bags, balloons, and post-it note cards, which Sandor encourages parents to use to celebrate their children's small accomplishments. "Parents can write notes to encourage, praise, and support their children as they learn and grow," she says.
To learn more about Buster the Bee, visit www.busterthebee.com. To find author signings and other Buster the Bee events in your area, visit our Online Calendar.