HOSPITAL HELPERS
Going to the hospital can be scary for kids. A new website can lessen anxiety — for children and parents.  At
www.manageIVpain.com
, there are tips for parents and an interactive game kids can use to help pack and get ready for a hospital stay. (The packing list includes an MP3 player, so it's definitely current). There is also a 'certificate of bravery' parents can personalize and print for their child. 
MOVE OVER DHA
The latest addition du jour is probiotics, which are now being added to organic baby cereal. 
Happybellies
has these enzymes that encourage the growth of good bacteria and may decrease food allergies.  The product was developed under the guidance of pediatrician, Dr. Bob Sears.  It comes in oatmeal, brown rice and multi-grain varieties, and is sold at Whole Foods and Babies R Us.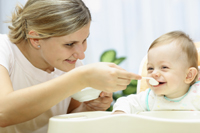 TALK TO THE TUMMY


Parents dreaming of the Ivies can now try a head start with
BabyPlus
, a prenatal education system.  The system has 16 lessons the growing baby listens to twice a day; mom wears the lightweight device around her stomach for an hour at a time.  The auditory exercises can be used starting at 18-32 weeks. Moms who have used BabyPlus report their babies reach earlier developmental milestones and have increased ability to self-soothe. $149, at
www.babyplus.com.
TIME FOR A TREAT
Zaro's Bakery in Grand Central
has a new, limited time cupcake, featuring the terminal's signature clock. The goodie, in chocolate or vanilla, has vanilla buttercream frosting, and a clock face make from icing; the whole thing is showered with gold sanding sugar.  The cupcakes, $2.95 each, are available through March; a new gourmet cupcake line, with caramel, Banana Foster and chocolate chip, continues indefinitely. Zaro's is in the Grand Central Market, Station Master's passageway, and at Tracks 19 and 103.  For more info, call (212) 292-0162.
LOVE IT!


   Kids who want to be the next or Justine Henin or James Blake can sign up for FREE tennis lessons, now through March. The
New York Junior Tennis League
runs early morning winter weekend and after-school programs in all five boroughs, and in Mt. Vernon.  Ages 6-18 are accepted; classes are geared toward beginner and intermediate players. Parents must register their kids in person. More info/locations: (347) 417-8157 or
www.nyjtl.org
.