Not too far away, Southern Vermont is nonetheless a world apart. Its small towns offer easy access to skiing, hiking, and mountain biking. On the other hand, sitting by a fire, eating freshly baked muffins may be all the entertainment you want.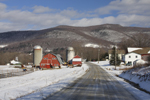 But don't spend the whole day eating.  Get over to Adams Farm, a working sixth-generation farm. As long as there's snow on the ground, you can take a sleigh ride, but there's plenty to do after the snow melts. The Indoor Livestock Barn is open through mid-June; kids have a chance to meet goats and gather eggs.  Once the warmer weather arrives, there are pony rides and wagon rides.   Harlow's Sugar House starts boiling sap on weekends in March, the 'sugaring' season, and allows visitors to watch. The smell is intoxicating! In summer, you can pick blueberries, strawberries and raspberries, and in the fall, you can pick apples and watch the cider mill press.
   The Bennington Museum includes the Grandma Moses Schoolhouse, which has an interactive family center.  Kids can dress up, make a Grandma Moses painting, host a tea party, and play in a 19th-century schoolhouse and a country store.  After learning about Grandma Moses, they might want to see her actual folk art, which is displayed in the museum. There is also a nature trail where you are welcome to picnic.
   Learn more about the region's iconic covered bridges at the Vermont Covered Bridge Museum.  You can build and test your own bridges on one computer, and on another, you can plan a trip to tour the five covered bridges nearby. The museum also has a working model railroad that travels through railroad bridges.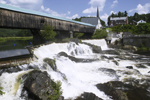 At Historic Park-McCullough, a doghouse has been remade into a playhouse, complete with miniature furniture.  The Carriage Barn features horse-drawn carriages, buggies, sleighs and fire-fighting equipment.
Where to Stay
:
   Many of the adorable B & Bs that dot the small towns forbid kids, or only take those who are 8 and up.  At The Snow Goose Inn, in West Dover, "well-behaved children and pets are welcome and kids under 5 are free." I'm not sure what it says about them, though, that a child between ages 5 and 17, or a dog, costs an extra $25 a night.
www.snowgooseinn.com
.
Where to Eat
:
   The Maple Leaf Malt & Brewing Co., in Wilmington, has a variety of fresh beer made on site, but also a good selection of family-friendly food. 802-464-9900.
   Have breakfast or lunch at Izabella's Eatery in Bennington. The café touts fresh, local and seasonal organic ingredients.
www.izabellaseatery.com
.
For More Info
:
• Adams Farm, Wilmington.  The indoor livestock barn is open Wednesday-Sunday, 10am-5pm.  $6.95, $5.95 ages 2-12, free under 2.
www.adamsfamilyfarm.com
.
• Harlow's Sugar House, Putney.
www.vermontsugar.com
.
• Bennington Museum is open Thursday-Tuesday, 10am-5pm. $9, $8 students/seniors, free under 18.
www.benningtonmuseum.org
.
• Vermont Covered Bridge Museum is part of the Bennington Center for the Arts.  Open Wednesday-Monday, 10am-5pm. $9, $8 students/seniors, free under 12, $20 for families.
www.benningtoncenterforthearts.org
.
• Historic Park-McCullough is open daily 10am-4pm from mid-May through October and other times of the year by appointment. $8, $7 students/seniors, free for children under 12.
www.parkmccullough.org
.