When philanthropist and dog enthusiast Karen LeFrak decided to write a book introducing children to the beauty of an orchestra, it was music to the ears of the New York Philharmonic. LeFrak's debut book, Jake the Philharmonic Dog (Walker Books, $16.95), is an engaging story about a stagehand who brings his dog to work, and the canine's reactions to the sounds the instruments make. For the Philharmonic, on whose Board of Directors LeFrak sits, the book is the perfect treat. After all, this lady of society is dedicating all proceeds to the institution, and donating 800 copies to city pubic schools. "Performing arts enrich our lives," LeFrak says. "Music brings us joy and pleasure."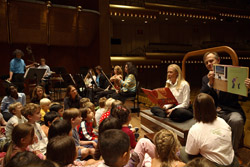 Karen LeFrak, reading her book, from the stage of Avery Fisher Hall.

     It is LeFrak's hope that the tale will inspire more children to explore the symphonic world and other cultural institutions. In fact, she is already at work on a second book.  This time, Jake goes to the ballet. "I thought about a dog being the perfect vehicle to teach children," LeFrak says. "Children can relate to a dog." In Jake the Philharmonic Dog, the pup's reactions to music mimic his responses to natural sounds. For example, when he hears a bird chirp, he barks appreciatively — whereas thunder sends him off whimpering. Similarly, in the concert hall, Jake enjoys the melodious flutes and strings more than the loud percussion instruments.

   What many kids and parents may not know is that the character is based on a real dog that has been a fixture at Avery Fisher Hall for the past decade. Apparently, art really does imitate life. The real Jake is a mixed-breed terrier that belongs to the principal stagehand and regularly can be found backstage. In fact, one of the clarinet players bought him a cushion, where he sits and listens obediently during rehearsals. "The orchestra members and conductors all interact with him," says LeFrak, who lives on the Upper East Side. "He is a great stress reliever for guest soloists."

   If the fictional book does the trick, the Philharmonic offers a series of concerts designed to introduce children to symphony music.  "Very Young People's Concerts" — for ages 3-5 — are aimed at pre-schoolers and involve hands-on learning. These new concerts take place on Sundays and sell out early. For children ages 6-12, "Young People's Concerts", which have been around for decades, are an introduction to the world's best musicians with compositions from Brahms and Mozart to Stravinsky and Copland. LeFrak remembers taking her own boys, now grown, to the Young People's Concerts and says that music has always been a part of her home. "Ours was a singing household," LeFrak laughs. "Everything was an opera, even getting up in the morning."

   With Jake the Philharmonic Dog already getting rave reviews — violinist Itzhak Perlman calls it "more Bach than bark" — LeFrak is hard at work on the next installment. After Jake goes to the ballet, she is contemplating all the other venues he can explore. After all, what dog doesn't love the opera?!

   For more information on Philharmonic shows, go to www.nyphil.org.