There are children's books kids love . . . books parents love and really want their kids to like as well . . . and books that both parents and kids alike revere.  17 Things I'm Not Allowed to Do Anymore (Schwartz & Wade, $15.95) falls into the last category.  Brooklynites, Jenny Offill (text) and Nancy Carpenter (illustrations), introduce a creative thinker, a girl who has ideas that are not at all well received by those around her.  These include gluing her brother's bunny slippers to the floor (while he's still in them), and freezing dead flies in the icecube tray — neither of which she is allowed to do anymore.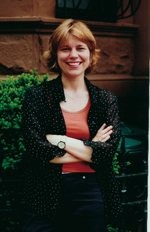 Illustrator Carpenter

     Park Slope, a particularly fertile area for both families and writers, had a huge role in the book; both writer and illustrator live within blocks of each other, and they were introduced by editor Anne Schwartz, yet another neighbor, who has an imprint, Schwartz & Wade, at Random House.

   Carpenter, who has an infant son, Garreth, and a kindergartner, Maeve, has worked with Schwartz on several other books. She believes it makes sense so many writers and artists have settled in Brooklyn. "It's New York, but it's a place you can sort of relax in and have kids," she says.  As an artist, she gets inspired just being in New York City, Carpenter adds.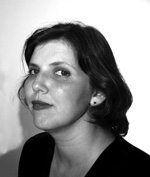 Author Offill

   Offill, who wrote the book several years ago — before she was married and a mother — notes a trend in children's books to "try to make your kid do something." "Now that I'm a parent, however, I absolutely understand why you're trying to sneak in a little learning in picture books," she adds.
 
   Carpenter notes that she did not use her daughter as a model in the book; Maeve, she says, "is really a dream child…so not a scamp."  Offill's daughter, Theodora, just turned 2, and in an interesting twist, Theo "is quite the hellion — and she wasn't even around when I came up with the character," her mom reports.  While Offill says she "wasn't anywhere near as headstrong" as her heroine, she remembers loving books with strong characters, including Where the Wild Things Are and Eloise.

   In the book, the girl is drawn wearing the same outfit throughout, suggesting that she gets up to all this mischief in one day. But at the end, she is apologizing and hugging her mother, and tomorrow is another day. "I had an idea to say the opposite of what I mean to trick everyone," she explains.

   Although Carpenter is a veteran picture book illustrator, this is Offill's debut into children's literature; she is also the author of Last Things, a novel, last things published.  Here's hoping that the pair will collaborate again.