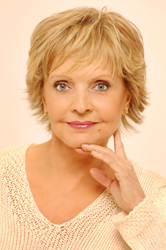 Born into the world of technology, our kids cruise comfortably through the realm of gizmos and gadgets and, in fact, couldn't live without them. But what about those of us who were born into a world without PDAs, laptops, and TiVo, but want to keep up with the times and partake of the benefits of technology?
Fear not, technophobes! The FloH Club - a company founded to aid those who are often overwhelmed and exasperated by the processes required by technology - is coming to the rescue. Inspired and founded by "America's Favorite Mom," Florence Henderson, The FloH Club is both an online and phone-based system that allows subscribers to contact technology experts before you're ready to hurl that gadget into the nearest river.
All the experts are based in North America and can be reached in times of panic or calm seven days a week from 8am-2am EST. They will help with diagnoses, programming, and device setup, or you can follow Web-based tutorials given by Mrs. Brady herself. The service, which can be purchased for oneself or as a gift, provides guidance on how to stay connected with friends and family over the Internet, set up and troubleshoot connected devices like webcams, and learn how to make the most of a personal computer. Maybe mastering that thingamabob isn't so far off after all.
For more information 1-877-800-FLOH (3564), or visit www.flohclub.com.