My second child so hated shoe shopping that when we entered a shoe store, she would cover her feet and scream.  Yes, her reaction was a bit extreme, but shoe shopping with a toddler can be a scary experience, for parent and child alike.  I think, though, that she would have had an easier time at
The Shoe Garden
, a shoe store opened by a mother of three. 
Mary McFadden
, who lives in the West Village, needed a place to buy shoes for her kids, ages 5, 3 and 2, and like many an entrepreneurial woman before her, opened a charming shop right in her neighborhood.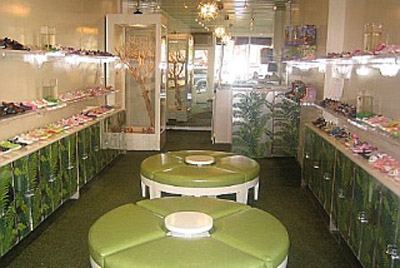 Noted designer Celerie Kemble did the décor, which includes starburst chandeliers and grass turf on the floors.
    What makes this story even better is that McFadden has her mother helping out in the store. Mom, Maria, was having knee problems in Florida; she moved to New York at the insistence of Mary and her brother, and had knee surgery.  She started working out at the store, which she says "has given her a new lease on life."  McFadden describes her sales staff as gifted, helping kids and parents by being friendly.  "It's not easy buying shoes; they make it an enjoyable experience," she says.  Balloons and little toys (for the kids, not the parents) also help.
      McFadden, who worked in marketing before having children, came up with the idea of the store in response to playground chatter; moms in the area felt that the neighborhood really needed this kind of shop.  McFadden thought it sounded like the right fit, and her husband, a banker who analyzes businesses, agreed that it made business sense.  McFadden says the reaction of the neighborhood has been "incredible — everyone is saying thank you."
   The Shoe Garden opened at the end of February, and McFadden is committed to carrying a full range of price points.  She says she carries "couture, and some more practical choices — every shoe is not $100."
   McFadden also has an environmental theme at the store, with plants, fish tanks, and both a live lizard and an Australian bearded dragon to intrigue. She is donating a portion of her profits to improve the neighborhood.  She gave 10 percent of her proceeds on Earth Day to New Yorkers for Parks, a citywide parks advocacy organization protecting parkland in New York City.
    The Shoe Garden is at 152 West 10th Street, at the corner of Waverly. The store is open Monday through Saturday, 10am-6pm, and Sunday noon-6pm. For more information, call (212) 989-4320 or go to
www.shoegardennyc.com.
"FIT COMES FIRST"
   Dr. Jennifer Trachtenberg, a New York City pediatrician and mother of three, recently partnered with Stride Rite to create Baby Stages and Toddler Tech shoes.  The Baby Stage shoes mimic bare feet with a "Natural Motion System" technology. "Fit should come first" when choosing shoes, Dr. Trachtenberg stresses, noting that Stride Rite has its shoes available in five widths, to accommodate all sizes of pudgy feet. The line is sold at a number of stores in Manhattan, including Great Feet, East Side Kids and Harry's Shoes.