Back in 2007, when bubble-making entrepreneur
Fan Yang
unleashed his mind-blowing artistry at Off-Broadway's New World Stages, it was a revelation: the
Gazillion Bubble Show
was a multi-sensory force to be reckoned with, one that delivered a blend of Vegas glitz, technical prowess and mesmerizing beauty. Three years later, this one-of-a-kind production — currently starring Fan's wife, Ana Yang — remains one of New York's most unusual and enjoyable family-oriented shows.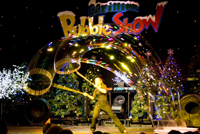 The performance has gotten enthusiastic exposure both in print and on television. It has received coverage on
The David Letterman Show, Live with Regis and Kelly,
The View, CBS Sunday Morning, The Ellen DeGeneres Show, Fox & Friends
and, of course, the gold standard of celebrity endorsements, T
he Oprah Winfrey Show
.
   The show itself, which varies somewhat according to the personality guiding the bubble illusions (and occasional bubble shenanigans), opens with Star Wars-style razzle-dazzle. It boasts a parade of Fan's bubble innovations, such as a rainbow and spinning tables on which Ana fashions jaw-dropping bubble and light creations, including what can only be described as spinning double helix bubbles. Very wow.
   Audiences begin to grasp the link between science and magic. They learn that bubbles are spheres of soap film filled with air, both liquid and gas. They are often so fragile that even microscopic dust particles can destroy them.
   There are some historic and educational segments, including a video of Ana's background. (She was born in Viet Nam in 1965 and moved with her family during the war to Yugoslavia, where she met her future husband.)
   Ana has an unassuming way of delivering the bubble goods. "My English is a disaster because my husband doesn't teach me English, just bubbles," she declares. In fact, her banter throughout the show is understandable, charming and informative.
   What makes her a bona-fide "bubble-ista," however, is her command of all aspects of Fan's vision. As ringmaster, she coaxes her performers into dance formations, infuses them with smoke, shape-shifts them into silky opaque squares, and animates their rotund little bodies. She starts off simply, blowing bubbles from an elongated tube. While only an appetizer for the bubble feast to follow, this tantalizes the little ones, who reach up to touch the spheres as they shimmer their way into the audience.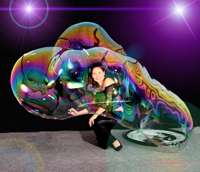 But it's the interactive, kids-cocooned-in-giant-sized-bubble-tubes portion of the show that draws the most ardent response. Requests for volunteers are met with hand waving and cries of "Me, me, pick me!" And yes, the kids who make the cut are definitely in bubble heaven. Using an oversized bubble wand, Ana encircles four or five children, one by one, in a bubble dome. Volunteers leave the stage with goodies from the Fan Yang boutique of bubble toys (also for sale in the lobby). Hint: If your little one is determined to be part of the show, try for seats in the theater's first few rows.
   Even though only a small number of children actually make it to spotlight, there are plenty of other interactive attractions, from gigantic airborne balls (for an uninhibited theater-wide toss-a-thon) to a bubble-and-laser-light extravaganza that sweeps over the audience, producing a visual and audio blowout.
Info
What:
Gazillion Bubble Show
Where:
New World Stages, 340 W. 50th St. (between 8th a& 9th Aves.)
When:
Wednesday-Friday, 7pm; Saturday, 11am, 2pm and 7pm; Sunday, noon and 3pm
How long:
85 minutes, no intermission.
How much:
$41.50-$61.50; $86.50 premium
For more information:
212-239-6200;
www.gazillionbubbleshow.com
(includes info on arranging a
Gazillion Bubble Show
Birthday Bash)