Twelve high school students will soon be hiking, rowing and canoeing their way from the Catskills all the way to New York City, tracing the journey of the city's first-rate drinking water to their own taps.  The Mountaintop to Tap trek will mark the tenth anniversary of the Watershed Agreement, a landmark document that protects New York City's water supply and keeps it pure without the need for any filtration.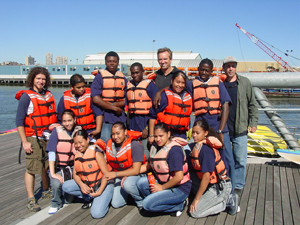 NY Harbor School students with Robert F. Kennedy, Jr.
Photo: Gwen Chamberlain

   To learn why New York City enjoys such delicious and clean water, six students from New York Harbor School (NYHS) in Bushwick, Brooklyn and six from Sidney High School in Delaware County in the Catskills will join forces on the trek from July 7-28. They will row in two 12-foot surf-dories they are building themselves — from Kingston to Croton, a distance of 40 river miles. They will then follow the Old Croton Aqueduct, stopping at Croton Point Park, Ossining, Philipsburg Manor in Sleepy Hollow, Mercy College in Dobbs Ferry, the Hudson River Museum in Yonkers, and finally Van Cortlandt Park in New York City. All along the way, they will test water quality in streams and reservoirs, talk to local officials, hold press conferences, and share their experiences with community members.  National Geographic photographer Bob Caputo will teach the students to document their journey and help them create a photographic exhibit of their experiences.  
   Sara Scott, the 9th grade earth science teacher who will accompany the students, explains that the Catskill region has had to make many sacrifices to protect New York City's water, as evidenced by its reservoirs, restrictions on development, and the takeover of homes and towns to create buffer zones for the water supply. She wants her students to understand this, and local communities to know that the kids "are keeping tabs of what's going on with the water…that they are witnesses."   
   Jeriel Stafford, a 10th grader from Brownsville, Brooklyn is excited about the trek because "I want to prove to my mom that New York City water is clean so she won't keep wasting her money on filters and bottled water." Jeriel missed the ocean when he first came to the United States from Grenada six years ago, but now that he attends NYHS, he's back on the water and his ambition is to be an engineer in the marine environment. "The idea of this school is great," he says. 
   It's also unique. NYHS, with 397 students, is a small public high school founded in 2003 by The Urban Assembly, South Street Seaport Museum and Waterkeeper Alliance as part of the New Century High School Initiative. Funded by the Bill and Melinda Gates Foundation, The Open Society and the Carnegie Corporation, it provides students with a hands-on, inquiry-based curriculum centering on the New York City harbor environment. It offers classes such as harbor science, marine technology and math, history and English courses designed around the marine theme.   
   NYHS is the dream-come-true of its founder and program director Murray Fisher. A lanky man in his early 30s, he cruises the bustling hallways, warmly greeting and high-fiving kids, letting them know he's looking out for them. Fisher's goal was to give urban students, especially those from poor minority communities, the opportunity to be involved with the water through a standards-based curriculum.  After graduating from Vanderbilt University, he worked with Robert F. Kennedy, Jr. at Riverkeeper, the environmental organization that protects the Hudson River through its prosecution of polluters. Later he helped organize Waterkeeper Alliance, the umbrella organization for Riverkeeper-style organizations around the world.  Fisher credits the environmental non-profit with planting the seed for the school, because "I learned more in one year at Riverkeeper than in all four years of college… I wanted kids to be trained to patrol the rivers, write letters to their representatives, and become advocates with the harbor as our classroom and the fish as our textbooks." Next year, NYHS will be moving to Governor's Island, where students will have even more opportunities to be involved with New York Harbor. 
   This remarkable school has given students, many of who came from failing schools, a new sense of possibility about their lives. This year, NYHS is graduating its first senior class. In April, a justifiably proud Fisher boasted, "In a school where only 8 percent of the graduates' parents attended college, 95 percent have applied to college." 
   Olivia Deas, a demure 10th grader living in Manhattan, admits that science wasn't one of her strong suits when she first came to NYHS, but "I've gotten good at it because of all the hands-on experience…now I want to go into anatomy or cell biology." Giovanni Osorio, a 10th grader from Ridgewood in Queens, intends to use what he's learned — testing water quality and sailing on NYHS's 125-foot fishing schooner — in a career that helps the environment.  
   According to Nathan Dudley, principal of NYHS, the school's goal isn't necessarily to steer students towards marine or science-related careers, but to pique their intellectual curiosity. Its mission is to instill confidence and give kids the skills necessary to succeed at whatever they do in life. Dudley has no doubt, however, that the trek will "create young leaders conscious of what it means to take care of our water and our environment." 
    I was impressed by the poise, self-confidence and personal ambition of the trekkers I met. Andrew Hernandez, a sweet 10th grader, has "always been curious about where water comes from…I want to see things other people might not see…and learn how the Hudson River has changed from being pure and how it can be fixed." Asha Armstrong, a lively 10th grader from Bushwick, has always been interested in water and boats. "I need to learn something new, and I like to travel and explore," she explained. "I want to know how water gets to my tap…and I'm looking forward to meeting and learning from the kids from the Catskills," said Leydi Basilio, a graceful 11th grader from Canarsie, Brooklyn. And Ryheem Garrison, a soft-spoken 9th grader from Crown Heights, is excited about hiking, rowing and learning about photography. All the trekkers are eager to meet the physical and mental challenges that this journey will present because, as Leydi said, it's their next "great adventure".  
The Mountaintop to Tap trek is organized by New York Harbor School, Stroud Water Research Center, The Catskill Center for Conservation and Development, Riverkeeper, and the New York City Department of Environmental Protection. For more information about the trek and to track its progress, visit www.stroudcenter.org/nytrek2007. The trekkers' Photograph and Journal Exhibit will be on display at the South Street Seaport in New York City from October 27-November 25 and New York Harbor School in December.  To learn more about the New York Harbor School, visit www.nyharborschool.org.