Rachelle Katz, a family therapist and stepmother herself, offers advice for stepmoms on how to set boundaries and keep your blended family harmonious, even during holidays.
Excerpted from The Happy Stepmother: Stay Sane, Empower Yourself, Thrive in Your New Family, by Rachelle Katz, Ed.D., LMFT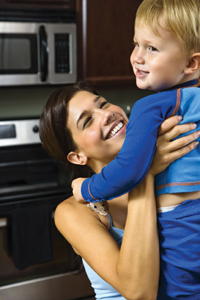 As a stepmother, and as a psychotherapist with more than 25 years of experience treating many stepmothers, I've come to realize the extraordinary challenge this role can present. Studies from the U.S. Census Bureau indicate that 60 percent of second marriages end in divorce (compared to 50 percent of first marriages)! This figure is shockingly high.
The problems described by stepmothers are far more challenging [than many people imagine]. They are facing issues ranging from daily irritations to serious crises, from dealing with stepchildren who refuse to do their homework or help clean their rooms, to kids who are in trouble with the law. Some of these women are annoyed by the refusal of ex-wives to follow prearranged visitation schedules. Some experience tension with partners who are unable to set consistent rules for the children. All these women had intended to create happy, loving stepfamilies and believed that over time they would succeed. But every single one of them complained to me of mental and physical exhaustion as a result of trying to achieve this goal.
Many of the problems that stepmothers experience are boundary violations that can hurt feelings and damage self-esteem. To maintain your emotional well-being, it's important to establish clear boundaries that protect your privacy and personal space. Often, stepmothers tolerate these transgressions because they don't believe they have a choice if they want to stay with their partners. Sometimes very intelligent people make poor choices "for the sake of the children" or to keep the peace with exes.
Boundaries are important in all areas of life - at work, in friendships - but they are especially important in stepfamilies, since there are so many members involved, each with a different set of potential issues.
To establish healthy boundaries, it's vital to be honest with yourself about your true feelings and opinions. Once you develop stronger self-awareness, you must be willing to share who you are with the people in your life so that they can respect your personal space.
Safeguarding Stepchildren's Boundaries
Just as you want family members to respect your boundaries, you should be considerate of theirs. Some stepmothers, particularly those with full-time custody, perceive themselves as the "true" mothers, even though they didn't give birth to the kids.
Even when a stepchild has a limited relationship with his mother, chances are the child still maintains a strong sense of loyalty, along with a hope of developing a better relationship with her in the future. You should not tamper with that. It is not fair to expect your stepchildren to criticize or betray their mother on your behalf.
You can respect the boundaries of your stepchildren by never saying anything unkind about their mother in front of them. Be very careful, also, when expressing negative sentiments about your husband's ex-wife to others - even when you think your stepchildren are out of earshot. Most children have excellent hearing and like to listen in on adult conversations, particularly when they know they shouldn't. Even if your criticism is valid and justified, it will only hurt your stepchildren to know how you feel. The resentment this might produce could last for years, regardless of all the wonderful things you do for them.
Some biological mothers may say terrible things to their children about their stepmothers, without realizing the emotional damage this causes. If you experience this type of boundary violation, you are trapped between the proverbial "rock and a hard place." Refuting the nasty comments will only make you seem more like the stereotypical "wicked stepmother." On the other hand, if you remain silent, it may seem like an admission that the statements are true, and may create more inner conflict for the child.
While there are times that it is better to say nothing, there are other times when it is best for you to clarify and correct misinformation. If you are in this situation, focus on communicating with your partner in order to solve this problem. Any conflicts you have with your husband's ex-wife must stay between the adults - and even if his ex-wife does not honor this principle, make sure that you do.
Holiday Celebrations
Holidays can be a particularly painful time for stepmothers, a time when boundary issues are most likely to resurface.
Some stepmothers are excluded from happy occasions. This happened to me personally. My husband and I were not invited to my stepdaughter's Bat Mitzvah. My stepdaughter was so uncomfortable with the idea of her mother and father being together in the same room that she arranged to perform the religious ceremony in Israel and held a party "just for friends" in New York. Of course, I felt hurt by the exclusion and embarrassed to tell others that we weren't part of a special milestone in her life, even though I understood her discomfort, and felt bad for her.
This experience prepared me to expect similar painful feelings when my stepdaughter told us she was anxious about having us attend her college graduation. In deference to her feelings, we told her we would not attend. Why didn't we force the issue, and insist on going? My husband regrets his decision to put his daughter's feelings of discomfort ahead of our desire to celebrate an important occasion with her. I, on the other hand, am uncomfortable attending an event where my presence is not welcome.
No matter how many years we are stepmothers, we may face experiences that hurt us to our cores and remind us of how much we remain outsiders in our own family. Anticipating the pain and acknowledging it, as I was able to do when my husband and I didn't go to my stepdaughter's graduation, can make these painful experiences easier to handle.
Ideally, everyone should be invited to celebrations of major milestones like weddings or religious ceremonies. For other occasions, such as birthday and anniversary parties, Thanksgiving, Hanukkah, and Christmas, new traditions will need to be established. All members of your extended family need to understand the importance of adjusting to the new family configuration.
To avoid an unpleasant holiday experience, be sure that you arrange a celebration that is meaningful to you. Advance planning will lessen the impact of possible rejection or neglect by stepfamily members. Only you can determine your comfort level, and this will take you time and thought to establish. For example, you might decide not to attend gatherings at your in-laws' home when your partner's ex-wife is there. But what if staying away makes you feel even worse? You may decide that you prefer to attend, rather than sit at home wondering what is going on in your absence. If you do go, be sure to set your boundaries for the gathering in advance, and follow through with how you expect to be treated.
If you're like many people, you may fear that voicing your preferences will bring further rejection and isolation. While this is possible, in reality, it is far more likely that others will respect you even more if you set clear boundaries. Just be sure that you are willing to follow through on what you decide. If you lack consistency, your family (and others as well) are not as likely to respect your boundaries - or you.
Dr. Rachelle Katz is a licensed family therapist and founder of the popular website www.stepsforstepmothers.com.