The teacher is usually the one on the classroom who has to deal with the class clown.  In Steve Solomon's case, he was the teacher and the funny guy. And now he is capitalizing on his talents.  Solomon is the writer and sole performer of My Mother's Italian, My Father's Jewish & I'm In Therapy!, now playing at The Little Shubert Theatre.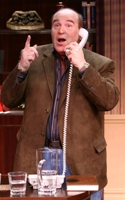 A native Brooklynite, Solomon attended Sheepshead Bay High School; he majored in science and became a physics teacher on Long Island.  He taught for over a dozen years, and when his two children were in college, he began to indulge his passion for performing, working his way from comedy clubs to a one-man show.  The jokester traveled the country with his show before bringing it to NYC.
   Solomon says he was always a performer.  "I always did characters when reading to my kids," he says, and used different voices when teaching. "I was a very popular teacher and I loved it," he adds.
   Solomon is mining his family for more material; this month, he is premiering a new show, My Sister Is An Only Child.  So far, his family has enjoyed being made fun of onstage; his sister, "a smoker who talks like Louis Armstrong", finds her portrayal "hysterical", and his parents, first generation Americans who did not attend theater, have been overjoyed.  Solomon is a throwback; his comedy idols were Jonathan Winters and Shelly Berman.
   The show is "one part lasagna, one part kreplach and two parts Prozac."  It is also branching out. Solomon is training a replacement who can perform My Mother's Italian…while he goes on the road again.
   Solomon notes that a lot of New York parents bring kids to the show; he envisaged it for ages 12 and up, but kids as young as 6 come and they laugh.  "This is strictly a New York phenomenon," he believes. Many of his former students and colleagues have also been to see their former teacher on stage.
   "Everyone identifies with the show," he says, adding that the scenarios are not just about his particular family.  And though he draws on ethnic humor, he points out that the show was a hit in the Midwest "where there wasn't a Jew or an Italian for 500 miles".
Info
Where: The Little Shubert Theatre (422 West 42nd Street, between Ninth and Tenth Avenues)
When: Tuesday–Saturday, 8pm; Wednesday, Saturday and Sunday, 3pm
How much: Tickets: $36.25–$71.25
For more info: www.Telecharge.com or (212) 239-6200