Diapering should not be fraught with angst — there are enough parenting decisions that are. But there are so many choices now that even the most Zen parent can get ready to toss her wipes.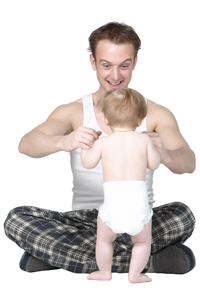 Cloth versus disposable has been debated since the first throw-away, but a resusable diaper,
Fuzzi Bunz
, may convert even the most ardent anti-cloth advocate.  These diapers, developed by a mother of three whose second child was allergic to the chemicals in disposables, offers an alternative that is convenient, low-cost, and keeps kids dry.  When Tereson Thomas fist put her son in cloth diapers, his diaper was always wet; when she came up with her design, he stayed dry and his rash cleared up, she maintains.  The diaper has an inner core made of polyester fleece; moisture draws through to an absorbent core without chemicals. Fuzzi Bunz, which has been on the market for six years, just came out with cute prints, including gingham and trains. $17.95 includes the diaper & insert; Tereson estimates that the average user will save over $1700 by using her product.  
Huggies
has two new super premium diapers:  Huggies Supreme Gentle Care and Huggies Supreme Natural Fit.  The diapers, for newborn-size 6, replace Huggies Supreme, and offer a more customized fit.
   There are two mothers who have more radical approaches to diapering — or the lack thereof:
—For when you're past desperation level, Teri Crane has written Potty Training Your Child in Just One Day:  Proven Secrets of the Potty Pro (Simon & Schuster, $11.95).  Crane asserts that even the most stubborn child can be trained in one day, with . . . wait for it . . . a potty party.  This three-step process starts by giving your child a doll that wets, getting a child to use the potty, then a party with a few friends and relatives to celebrate.  She includes many themes, with decorations and treats to motivate a reluctant child.

—Or you could end the debate by going the diaper-free route. Christine Gross-Loh, who writes in the new
The Diaper-Free Baby: The Natural Toilet Training Alternative
(Regan Books, $15.95) that she found diaper-free advocates extreme, eventually embraces the movement and offers a balanced look at this controversial early (as in from birth) toilet training method.