Experience The Lion King on Broadway with Leisure Connect's affordable dinner and a show package. For $140 per person, you'll get a two-course dinner at the Hard Rock Cafe and premium tickets to see the award-winning show live on the big stage.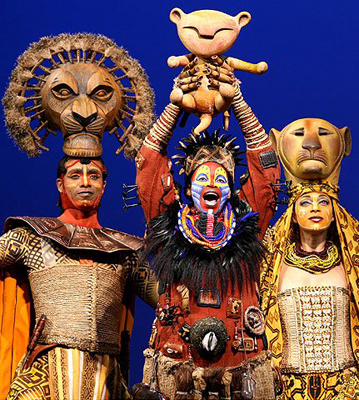 The Show
The Lion King is a one-of-a-kind musical that combines the magic of the classic Disney film, which tells the story of a young lion cub's personal journey toward his destiny as king, with the landmark lyrics of Tim Rice and music of Elton John. More than 50 million people from around the world have discovered the thrill and majesty of this award-winning Braodway musical, which pulses with innovative puppetry and African rhythms while bringing Simba and the animals of the African Pride Land to vivid life.
The Package
Includes premium tickets to the show (orchestra or front mezzanine) and dinner at the Hard Rock Cafe (before or after the performance).

Packages start at $140 per person and are available through May 1, 2011. For more information, including available dates and performance times, or to order The Lion King Package, click here.