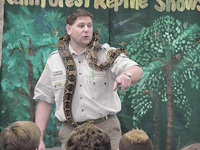 The kids are pleading for a pet. They've promised to walk, feed and clean up after it. But as a parent you know that once the honeymoon is over, all those pet-related responsibilities will fall onto your shoulders. So, if you are thinking about adding a pet to the family unit, consider learning all you can by going straight to the source—the Long Island Pet Expo.

Slated for September 11-13 at Suffolk Community College in Brentwood, the Expo, an annual event, presents an opportunity for animal lovers to view, touch and learn about ordinary as well as unique potential pets. On hand will be dogs, cats, birds, reptiles (including an albino alligator), and of course—pot-bellied pigs.

Show Promoter, Karen Garetano says the three-day event will educate as well as entertain families about the various aspects of pet ownership. "There is a big emphasis on dogs, but more than just the usual information about owning one." Experts will demonstrate the many things dogs can be trained to do, aside from sitting obediently at your feet, Garetano explains. In the World of Dogs arena, ongoing seminars and performances will touch on the competitive sport of dog agility, obedience training and adoption. In fact, representatives from the North Shore Animal League will be on hand to discuss their "Little Learners Puppy Training program—a must for first-time dog owners. As for the entertainment aspect, watch highly-trained dogs play the relay team sport of Flyball, and be sure to catch Jilli Dog, a Yorkie touted as the world's only poker playing dog.

Also on hand, Michael and Joaney Ralbovsky of Rainforest Reptiles bring along turtles, snakes, lizards and other creatures for an educational "show and tell" presentation that stresses the importance of preserving rainforests.

Other local experts scheduled to appear at the Expo include, The Wildlife Rescue Center of the Hamptons, and the Long Island Pot-Bellied Pig Association.

SAVE THE DATE

What: Long Island Pet Expo
When: Fri., Sept. 11, 5-9pm; Sat., 10am-8pm; Sun., 10am-6pm.
Where: Suffolk Community College, Crooked Hill Road, Brentwood
How much: $12 adults; $6 children; FREE, children 3 and under. Parking is free.
Questions? Call 631-423-0620
Tip! Discounted tickets available online at www.horseandpetexpo.com.