New research shows that joining athletics may be a catalyst for success in other areas of life, especially for young girls.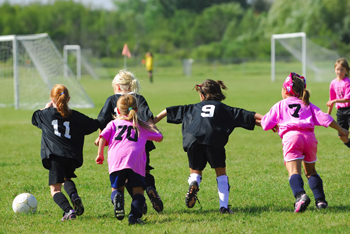 First Lady Michelle Obama was reportedly inspired to create the national Let's Move! campaign after a doctor informed her that her own two daughters, Malia and Sasha, were in danger of becoming overweight. And while physical activity has obvious benefits for weight control, new studies show that athletic participation may be a catalyst for success in other areas of life, too - especially for young girls.
The Research Shows...
Research over the past few decades - and, more specifically, after the enactment of Title IX in 1972, which mandated that girls should be given the same athletic opportunities as boys - has shown that participating in sports is associated with lower teenage pregnancy rates, better grades, and higher self-esteem among girls. But the nature of the relationship was always indistinct - that is, it was unclear whether athletic participation was the cause of these factors, or if the type of girl who is attracted to sports already possesses the social, personal, and physical qualities that help her to succeed in these areas. But two new studies now provide strong evidence for the former hypothesis: that team sports can result in lifelong improvements to educational, career, and health prospects.

The first study, by Dr. Betsey Stevenson, an economist at the Wharton School of the University of Pennsylvania, showed that increasing girls' opportunities to play sports had a direct effect on their long-term education and career success. "I found that girls who played sports got more education...and were more likely to participate in the labor force," Dr. Stevenson says, adding that some of her results also indicated those girls received higher wages.
Tennis superstar Venus Williams, a three-time Olympic gold medalist and entrepreneur, explores this idea on a personal level in her new book, released June 29, entitled Come to Win: Business Leaders, Artists, Doctors, and Other Visionaries on How Sports Can Help You Top Your Profession. Williams reflects on how playing tennis prepared her to launch her own businesses - V Starr Interiors and EleVen - and gathers similar personal stories from about 50 successful individuals, such as Stateswoman Condoleezza Rice, entrepreneur and former NBA player Earvin "Magic" Johnson, and fashion designer Vera Wang, all of whom credit what they learned on the playing field as a major contributor to their success in other sectors of life.
The second study, published in February by Dr. Robert Kaestner, an economics professor at the University of Illinois at Chicago, showed that girls who participate in athletics have a 7-percent lower risk of obesity 20 to 25 years down the road. While 7 percent may not seem significant, Dr. Kaestner explains that's 7 percent more of the population who are no longer at risk for obesity-related diseases such as diabetes. "The increased participation in physical activity while young made it more likely [that the subjects would] continue being physically active over the life course, because physical activity is easier when a person is more physically fit," Dr. Kaestner says. "Fitness begets physical activity that begets fitness."
A Long Way to Go
In 2008, the Women's Sports Foundation, located in East Meadow, NY, conducted a research report called "Go Out and Play: Youth Sports in America," which examined the role of sports and physical activity in American family life. The study found that, among other benefits, children's involvement in sports is associated with higher levels of family satisfaction. "In many cases, families...rally around the sports the kids are playing, so they spend more time together," says Aimee Mullins, president of the foundation. "The findings show us that within families whose kids are physically active, these families are healthier and happier."
But the study also showed that there are three youth populations in the U.S. who do not enjoy equal opportunities in the sports arena: urban girls, girls from immigrant families, and girls with disabilities.
Herein lies the issue: While about half of all boys play sports, only about 1 in 3 girls participate, and this inequality is more attributable to lack of opportunity than lack of interest. "The good news is that we have more girls participating in sports than ever before. The bad news is that boys still outnumber girls," says Dr. Nicole Lavoi, associate director of the Tucker Center for Research on Girls & Women in Sport at the University of Minnesota. Dr. Lavoi contributes this inequality to a host of barriers, from family values to gender stereotypes, which limit or prevent girls from participating. "We know that when girls do participate in sports they have the opportunity to experience the same positive benefits that boys have been experiencing for years," she says.
In short, we've come a long way since Title IX, but the playing field is still uneven.