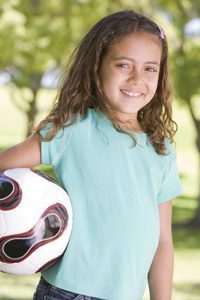 In a sports-centric culture, running onto a field in an organized team setting has become a right of passage for youngsters of just about every background. While the first at-bat in a Little League game remains a quintessential American experience, the increasing presence and popularity of youth soccer is undeniable. The Soccer Mom has become an institution, if not an overused cliché, and children torn between participating in tee ball and soccer are increasingly choosing the latter.
There are many logical reasons for the American shift towards the world's favorite sport, especially for children. Soccer rules are much less strict and complicated than those of baseball, with the only harsh restriction being against the use of hands. "I think that children (and parents) choose soccer because the equipment and rules at the starting level are minimal," says Kerry Beckmann, of Orangetown Mighty Midgets Soccer in Rockland County. "Also, the fact that it is truly a team sport takes the pressure off a bit - unlike baseball, where the batters and pitchers 'stand out' and have more focused, individual attention on them."
Even the most strident Little League supporter cannot deny that soccer is a more active sport than baseball, ever more important in an age of endemic obesity and childhood diabetes. Beckerman adds, "The constant stopping, starting, and sprinting make for a great aerobic workout. Studies show that exercise has clear physical and psychological benefits, and soccer is a sport that can be played into adulthood."
Perhaps the most attractive aspect of the sport is the inclusiveness of a game where everyone feels like a part of the action, devoid of the solitude encountered by many a right fielder.
So how to get started? The wealth of leagues and the ins-and-outs of a sport they may have never played can intimidate parents. The truth is, it's easy to get started in soccer: the equipment is inexpensive, the rules are simple, and the game is almost universally enjoyed.
What to Wear
For a casual game, all you'll need is a ball and a patch of grass. For league participation, you will need to suit your child up in shorts, soccer cleats, a pair of shin guards to protect from all those flailing legs, and a set of soccer socks to hold said guards in place. It's the same uniform the professionals wear!
When to Begin
Deciding when your child should sign up for a soccer program is up to you, but some programs, such as United Athletic Centers in Fairfield County, CT, has participants as young as 2 years old. Lourdes Florez explains that at this age, the soccer activities are geared more towards personal development than serious training. "Our younger levels focus on the development of balance, coordination, and learning to follow directions. Our programs are not just for learning soccer skills per se; we gear programs that learn through play."
Just as a child's interest in a sport can grow and develop over time, so, too, do the programs that cater to them. United Indoor Soccer's programs for ages 2-4 are generally contact-free and don't require any shin guards or additional equipment, while programs for older students focus on the cultivation of skills to be used in both recreational and competitive play.
Late Bloomers
Not all children are ready to kick around a soccer ball at the tender age of 2, and quite often their parents aren't ready to let them. Plenty of youngsters pick up the game much later, spurred on by a friend's advice, a soccer star's appearance on TV, or the simple pull of a new game. While getting started at a later age can be intimidating for some children, many programs separate children by level rather than age, ensuring that groups are beneficial for everyone involved. So no matter how far behind a new player might feel, she can be placed in a group that will cultivate her skills and confidence at a level that suits her at that moment. Pacing children at a speed they are comfortable with is paramount to their success and sustained interest in the sport.
Keep it Fun
The benefits of youth soccer are myriad, injecting children with confidence, increasing their coordination, building strong friendships, and keeping their bodies healthy. But, as with any child activity, parents should make sure not to place added pressure on their children. Jordan Snider, director of the Future Stars Summer Camps held at Purchase College in Westchester County, believes, "It is important that parents are supportive and positive with their children. They should model good sportsmanship and keep it fun. Regardless of the outcome of the game, parents should greet their children the same way after a game. Additionally, let the coaches do the coaching. The child should also be encouraged to communicate directly with the coach, which will help foster a strong player/coach relationship. Parents have an important role in every aspect of their children's lives, but should remember that there are boundaries that should be respected."
As with any sport, soccer should be a fun activity. Children should be able to enjoy a game of football on the pitch (okay, soccer on the field), and if they're not having fun, it is probably time to try something else. Remember, there's always a spot out in right field.