The delightfully frightful holiday film by Academy Award-nominated writer/producer Tim Burton is available for the first time on Disney Blu-Ray 3D and 3D Movie Download.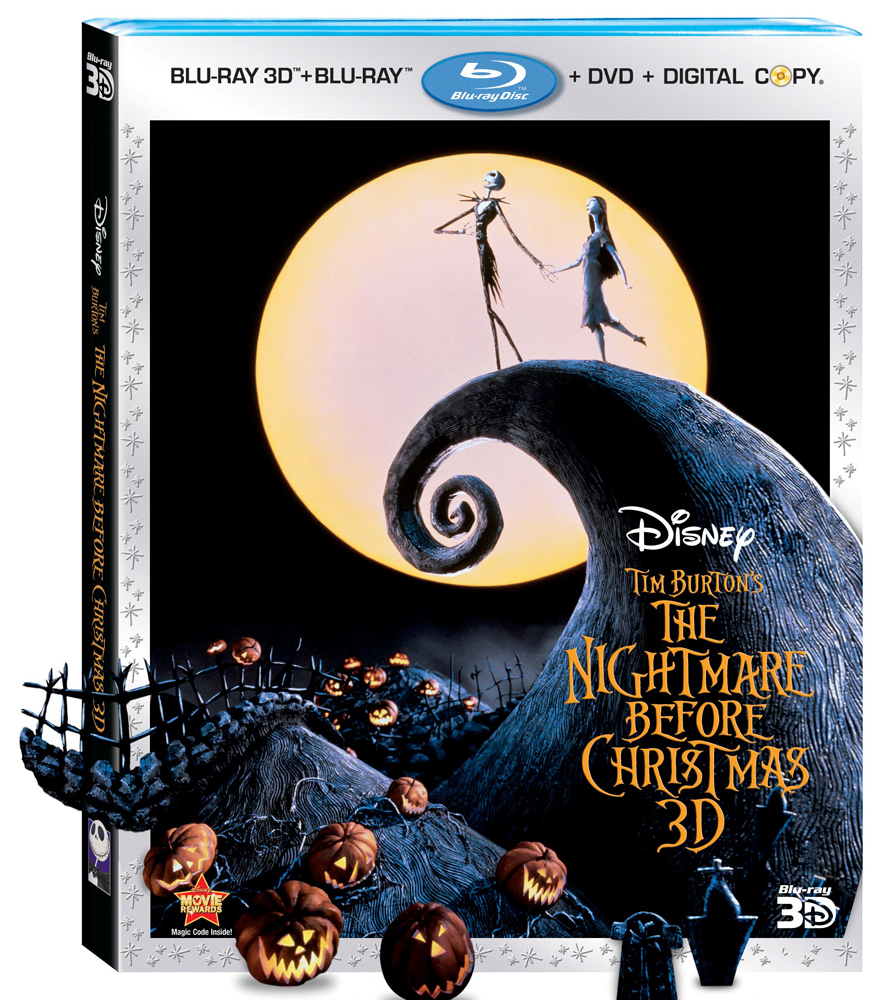 The ingenious and inspired fable by master storyteller Tim Burton cleverly mixes Halloween and Christmas in an eerily and unexpectedly wonderful holiday celebration in The Nightmare Before Christmas. Introduce your kids to Jack, Sally, Oogie Boogie, and the rest of the characters in this creepy classic, now offered on Disney Blu-Ray 3D ($49.99) and 3D Movie Download ($25).
The film combines stop-motion animation with three-dimensional sets and superb graphics to create a stunningly original movie experience, complete with a Grammy-nominated soundtrack by Oscar-nominee Danny Elfman ("Corpse Bride," "The Simpsons").
Bored with his perennial role as Halloween Town's frightening Pumpkin King, Jack Skellington wanders off and discovers the cheerful village of Christmas Town. Determined to shake things up in Halloween Town, he enlists the help of some mischievous trick-or-treaters to kidnap Santa Claus and takes over the job of delivering gifts to the children of the world himself. When his plan goes awry, Jack attempts to restore Santa to his rightful place. But first, he must rescue St. Nick from the clutches of the evil Oogie Boogie.
Bonus Features Include:
- Special Introduction by Tim Burton
- What's This? Jack's Haunted Mansion Holiday Tour
- "Frankenweenie" (short film with introduction by Tim Burton)
- "Vincent " (short film)
- Tim Burton's original poem that inspired the movie, narrated by actor Christopher Lee
- Film commentary
- The Making of Tim Burton's The Nightmare Before Christmas
_ The Worlds of Tim Burton's The Nightmare Before Christmas
- Deleted scenes
- Storyboard and film comparison
- Original theatrical trailers and posters