We remember, from our own childhoods, how we came to dread piano practice. We had to practice those scales before we could go outside and play. Yet, now we're glad we learned to read music.
Or the gymnastics classes we had to stick with, even though we'd grown tired of the Saturday routine. But then again, we'd have to acknowledge that swinging on the rings probably did give us confidence to tackle other kinds of tasks.
As parents, we want to be able to expose our children to the arts, or to sports, but we also want to make sure our kids can maximize their experiences by starting them at the right time.
PIANO
Alexander Fleitman has been teaching piano in Manhattan for over 16 years; his motto is "No pressure piano."
"My mother was a piano teacher, so I was probably sitting on the piano bench taking lessons as a 2-year-old," he says. But he wouldn't necessarily recommend that for most kids. "Depending on the individual child, generally speaking, children aren't ready to study piano until they're about 5 years old. They have to be old enough to comprehend how things are put together and why, and to know that the piano is more than a toy. Of course, the more exposure to music they've had — either singing or listening — the better. And they should have some sense of discipline and responsibility, because the more they practice, the more they learn."
Gary Bratt, a Westchester-based piano teacher who is also music director and organist at St. Theresa's in Briarcliff Manor, and director of the Old Mill Singers community chorus in Ossining, agrees. "I suggest to parents that they start their children on piano in the second grade. I think the connection between learning the spoken language in school and learning the language of music for use on the keyboard is very powerful. In both contexts, the students are learning to express themselves. Children at this age are bright, enthusiastic, and willing to establish practice patterns that carry on throughout their time as music students." At this age, too, he points out, there is generally less competition for time with other extracurricular activities — a bonus for getting kids started on the keys!

STRING
INSTRUMENTS
Advancements in design — created in small sizes for little hands — means that children can start on stringed instruments (as opposed to most other musical instruments) as early as age 3 1/2 or 4, says Donatas Stanciauskas, associate director of the Brooklyn College Preparatory Center for Performing Arts. Advancements in methodology mean more accessible programs and structured classes for such young children, as well. But Stanciauskas points that as children learn to play, and as kids age, the emphasis changes. At first, with very young children, classes should be "more like play class." By 6 and 7, "discipline and practice are emphasized."
Children can start learning about music "really early with appropriate work," agrees John DeBlass, co-director and instructor at Manhattan's City Music Schools. Though it is never too early for kids to begin listening to and appreciating music, tapping out the rhythm and learning what they like, DeBlass claims that the "human develops from the center out." The hands are the last extremities to really develop and it is only when kids "can use the fingers separate from their hands" that they are ready to begin playing string instruments such as the violin. Typically this occurs at age 5, but can be as early as 4. DeBlass recommends a few tests for parents to judge whether or not their child is ready. Toss a ball; if the child catches it with his hands as opposed to his forearms, that shows greater physical maturity. Additionally, pay attention when your child colors. Does he color with his hands or does he use his fingers? Tests like this allow a parent to judge for themselves before bringing the child in for the half-hour session recommended for young children.

A word about Suzuki:
The Suzuki violin method of teaching — where children start as young as 2 or 3 — is a controversial one. Children listen to recorded beginning pieces for extended periods, memorizing the music and internalizing the nuances. Suzuki teachers wait until the student has mastered basic skills and has the ability to memorize the music before they teach the reading of music. They believe that learning to play and reading music at the same time delays mastery of the instrument. Children play in groups, observing and learning from their peers; and parents attend classes, following up at home with practice and study sessions.
Its proponents believe that preschool children learn naturally and that almost any child can learn to play the violin if they start with Suzuki. Critics claim this is just too young, and that Suzuki players learn to play, but lack the emotion that comes with a certain maturity.
More information about the method can be found at: www.suzukiassociation.org/parents.

WIND INSTRUMENTS
Developmental readiness is also taken into account when children start lessons on wind instruments at Manhattan's Diller-Quaile School of Music. Physically, teachers look for body strength and dental structure (such as, whether children have regained their lost baby teeth). Emotionally, teachers check "the comfort level of the child in a one-on-one learning situation," explains Kathleen Yiannoudes, head of the instrumental/vocal department. At Diller-Quaile, children come in for an interview before beginning wind instrument lessons. Yiannoudes is quick to point out that this interview is not an audition to see how accomplished they are, but rather a meeting to discover whether they are physically and emotionally ready to study.
Here, students begin taking recorder at age 6, but wait until age 8 to begin the flute and clarinet. Children begin learning to play the saxophone at age 9. According to Yiannoudes, a child may begin the recorder much earlier because "the recorder requires much less force of air, much less pressure." A child doesn't "need as much body structure to get early results out of it. For beginners, it is much more comfortable."
Above all, Yiannoudes says, parents should look for interest. If a child is too young for some of the more advanced instruments, then start them on the recorder, which works well as a precursor to other wind instruments. This way, they "are able to sustain their involvement before they are ready to start their instrument."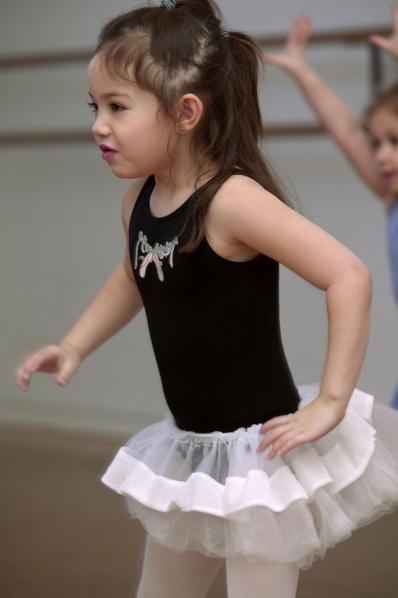 BALLET
Don't start children on ballet training too early, says Carolyn Eaton, who teaches at The Ailey School and at Marymount Manhattan College; Eaton has been a classical ballet teacher for 32 years, most recently as principal of the 600-student body Boston Ballet MetroWest School. "The wonderful discipline of ballet creates a structure where students perform exercises at the barre and then similar exercises in the center of the room. Part of the class concentrates on jumps, and then, usually at the end of the class, a series of steps is done in a combination that travels across the floor. The ability to perform all these steps to music enhances the student's awareness of musicality. But it often takes a long time for students to combine all these movements with fluidity and grace.
"The rigors of classical ballet, properly taught, are too difficult for bodies younger than age 8 to cope with," Eaton believes. Most classes last one hour (some are one and a half hours) — "which is a long time for students to concentrate and to co-ordinate their bodies and minds."
Younger children who are interested in movement and music might better benefit from creative movement classes, Eaton suggests. Such classes, she says, "can also be beneficial for children who tend to be hyperactive because it concentrates certain movements and at the same time gives structured freedom and creativity. Children can begin creative movement classes at 4 years, or even 3 if they can concentrate long enough to gain benefit from such a class."
Jennifer Pollock, owner and director of the Academy of Dance Arts in Pleasantville, as well as a former performer with the Mark Morris Dance Company and the Nikolais/Louis Dance Company, wholeheartedly agrees. "The true educational process of ballet technique doesn't traditionally begin until the age 7 or 8. However, I encourage parents of students starting as young as 2 to take part in creative movement classes to begin building the foundation of what will later be ballet. "
Jennifer Dell, artistic director of the Pulse Performing Arts Studio in Bedford Hills, might start a child on ballet at a slightly younger age — "between 6 and 7, depending on the student. This is the age when they are able to understand how the body works, along with musicality and coordination. At younger ages, ballet is great for developing a sense of rhythm and coordination, but until they're old enough, students don't really have an understanding of what they are doing."

MODERN DANCE
The age at which children should begin modern forms of dance is "very specific to style," says Renata Celichowska, director of the Harkness Dance Center at the 92nd Street Y. She notes that generally children are not capable of showing form before the age of 6. "It is not appropriate for young children to be put in situations that involve form and memorization. Children benefit more from accessing their physicality through creative play." Wait till 6 or 7 to start them on modern basics or tap basics; both styles involve a great deal of improvisation and learning through storytelling — as opposed to memorized routines. Jazz and hip-hop lessons should begin later, around age 9, because, says Celichowska, "isolation classes are difficult to do and they emphasize style."
Children are encouraged to take ballet or modern basics, as a foundation for other types of dance. "All jazz and hop-hop dancers benefit from having ballet or modern," Celichowska points out.
Anne Lederfeind, associate director of Manhattan's American Youth Dance Theater, agrees. "Ballet is an integral part of achieving success in any form of dance, and should be introduced at the same time or prior to any modern style," she says. Structured dance — more formal classes that involve routines, technique, and memorization — can be introduced to first graders; says Lederfeind, "This is a good age for children to begin to understand and accept the dedication and hard work required of them." But, she points out, every child is different, and a level of understanding and maturity is important when it comes to dance. Lederfeind stresses that it "depends on the maturity of the student as well as the quality of training."

SPORTS
GYMNASTICS
At the recreational gymnastics school, Circus Gymnastics, on the Upper West Side, youngsters can begin tumbling at age 11 months in their Mommy & Me classes, what manager Melissa Lenz describes as "basic motor skills development" activities — forward rolls, baby cartwheels and baby handstands. "It's just about developing body awareness at that age," Lenz explains. By around age 18 months, little ones have "muscle memory"; in the classes for up to age 3 1/2, they have control of their muscles, allowing them to attempt forward and backward rolls and real handstands.
But when it comes to the real gym stuff, 4 or 5 would be a minimum age, depending on the child, says Lenz, who is a gymnast and dancer and has been teaching for 17 years. "If the child is expressing a desire for gymnastics, asking to do it, you could get them started."
"We offer classes for children as young as 9 months old, but it's not really gymnastics. It's a way for parents and children to be moving and socializing together," says Jodi Levine, owner and director of Jodi's Gym in Mt. Kisco and Manhattan, who believes that "under age 3 it's fine to enroll a child in a gym program as long as it's unstructured with lots of freedom. It's important to not push children. Classes should be child-directed with lots of opportunity to move and to explore."
Once a child reaches the age of 3 they are ready for more organized, structured activity — "again as long as it is really geared toward that preschooler. There should be very reasonable, attainable goals with lots of progression and many small successes. Be sure it's a healthy environment for kids. It should be about developing basic motor skills, increasing physical activity and moving a lot. It shouldn't be sport specific, but about improving strength, flexibility and coordination, and building a solid foundation while having lots of fun. It should be teaching that moving feels good. If you try to do more than that with a preschooler, all it's going to do is turn them off."
Once kids reach school age, you can begin to introduce more structure, says Levine, a former National level competitive gymnast in her pre-mommy days. "You can start to teach gymnastics skills — handstands and cartwheels — but it shouldn't be competitive, and it shouldn't be a race to do things faster. The focus should just be the child improving themselves."
Some parents can push, even when the child is not emotionally or physically ready for it, Levine has observed over her 25 years in business. "Just because they can do it doesn't mean they should. And always be sure that if the child begins competitive gymnastics, it is because the child wants it, not the adult.
"Kids," she wisely points out, "are not mini adults and don't get a second chance at childhood. The main thing is to instill a love of movement and keep them active. Enjoyment, without pressure, is key."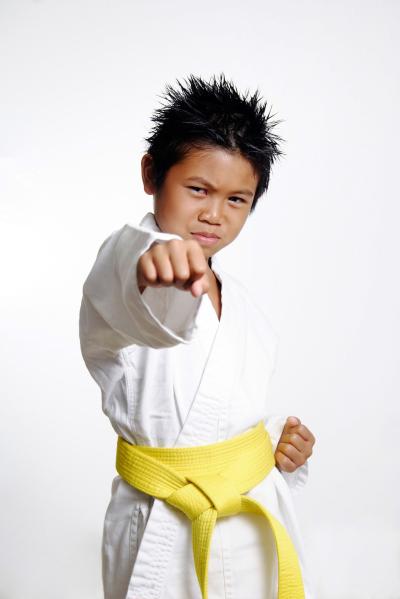 MARTIAL ARTS
Discipline is key in martial arts study, making developmental readiness important in this sport. At Manhattan's West Side Tae Kwon Do, children start as young as 3 years old. But as manager Paul Lim points out, "Three-year-olds are in a separate group in terms of focus, concentration and physical maturity."
At Traditional Karate America's studios in Ozone Park, Bedford Hills, and on Long Island in Franklin Square and Bethpage, 3- and 4-year-olds go into "Tiger" classes where the emphasis is on strengthening gross motor skills and teaching the youngsters to follow directions, says president Sensei Gustavo Larrea, himself a dad of five. "We'll have them run, jump, do splits and karate-like games. They'll go through obstacle courses, and then will have to stand still. But we keep it fun and non-competitive, with a lot of positive reinforcement." Ages 5-8 go into "Dragon" classes. "This age group can focus a lot more," says Larrea, "so we build on strength, flexibility, concentration and coordination, and flowing directions. We start to introduce a stricter structure." By age 9, karate kids who have
mastered basic skills move on to a much more disciplined level.
Most martial arts studios emphasize physical and emotional readiness, and a gradual progression to higher, more demanding levels. Every child is different. "Ninety percent of parents tell us they are enrolling their child to give them focus, and as a form of exercise," says Larrea. Some preschoolers will benefit from a physical class; others may not be ready. "I recommend 5 years as a minimum age," says Steven Sciandra, owner of The Martial Arts Studio in Forest Hills, who adds, "From experience, I find children don't have the emotional maturity and physical coordination to do what I'm teaching until that age."

SWIMMING
Being able to swim does not guarantee safety in the water. But classes that teach even the tiniest children to be able to turn around and propel themselves back to the edge of a pool can be life saving. Swim instructors are usually adamant that children learn to swim when they are developmentally ready, and that children should never be forced into the water; the idea is to gradually venture in and become comfortable, being held by a parent at first. Slowly, they can begin to be taught skills like coming back up to the surface if they go under, and rolling on the back to make breathing easier. The concept of throwing infants into the water and assuming that natural instincts take over has become controversial; most instructors have stories to tell about young children who have water fears because they have been forced into the water too early.
But don't wait too long, parents are urged. 'The earlier the better', believes Fran Clifford, who has been teaching kids to swim for 30 years and is now aquatic director at the Chinatown YMCA Houston Street Center. "The most difficult part of learning to swim is comfort in the water," Clifford believes. "If children from 6 months on start with water adjustment classes, such as Baby and Me, and continue on with classes or time in the water with parents, then the adjustment to a Learn to Swim class is an easier transition. If an older child comes in for their first-time swim lesson, they may be tense and rigid in the water."
Rachel Peikes, water safety Instructor at Congregation Beth Elohim in Brooklyn, is also a veteran swim instructor and a strong advocate for classes that include both parent and child. Swim classes for 3- to 5-year-olds at Beth Elohim include the parent, to help kids feel more secure. Their classes actually start at age 6 months, with the aim of helping kids gain confidence in the water early.
INSPIRED BY THE WORLD CUP FERVOR?
If your kids are clamoring to start soccer, the American Youth Soccer Organization (AYSO) recommends 4 1/2 as a good starting age. Vinnie Falci, secretary of the board and a division coordinator at AYSO, says their introduction to recreational, non-competitive play has been working out very well; this year in Brooklyn alone, there were 330 kids playing in the under 6 age group. Says Falci, the developmental program AYSO promotes allows kids to progress and work their way up, with an end result: "It lets kids feel good about themselves. "
JUDY ANTELL, CAROLINE COLE, SUSAN HODARA, ALISON HOGAN and SUZANNE KELLY compiled these interviews.