Lacrosse is just starting to become popular in most of the New York metro area, but for Long Island residents, lacrosse has been a way of life for many years. Find out why and how you can get your children involved in this growing sport.
Lacrosse is just starting to become popular in most of the New York metro area, but for Long Island residents, lacrosse has been a way of life for many years - just ask Alysse Ruszkowski, who is in her second year as the assistant coach for the Eastport South Manor High School girls' lacrosse team.
Ruszkowski began her lacrosse career in Long Island, eventually playing at Sachem High School. She then helped Hofstra University win the Colonial Athletic Association championship. Knowing that she'd miss lacrosse too much if she stopped playing after graduation, Ruszkowski pursued a coaching career. Luckily, Becky Thorn, a former high school and college teammate, was coaching at Eastport South Manor High School and needed an assistant.
"It's the best feeling seeing players grow and mature as athletes and individuals," Ruszkowski says. "Especially when you know that you were there to guide them in some way."
Although Ruszkowski found lacrosse by accident, lacrosse leagues have been popular in Long Island for nearly two decades.
Unlike many locations, which have one regional chapter of U.S. Lacrosse that governs several states, the Long Island Metropolitan Lacrosse Foundation is solely dedicated to growing the sport in the New York metro area.
There are also many leagues for athletes of all levels. The Long Island Lacrosse League, which was established in 1994, introduces children to lacrosse. Unlike other organizations, the league focuses on the athletes' experience rather than their ability, and doesn't believe in keeping win-loss records.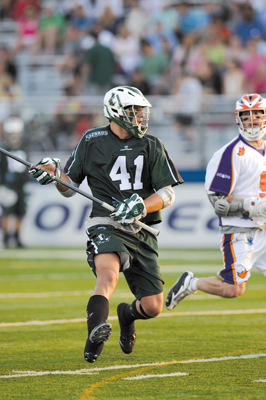 Athletes who are looking for more serious competition can register for a team with their local recreation department or the Nassau County Police Activity League. Many of these programs focus on teaching children lacrosse basics and, as the children age, focus on more advanced skills. Those who are having a hard time finding the right program for their child can ask middle school or high school coaches for league recommendations.
As athletes age and determine that they would like to compete at an elite level, there are more competitive teams like the Long Island Express, which is geared at preparing children to play college lacrosse. It also boasts U.S. Lacrosse and Under Armour All Americans and hundreds of Division I lacrosse players among its alumni network.
Parents who worry that their little athletes may not enjoy lacrosse can always take their children to watch the Long Island Lizards, one of the first three Major League Lacrosse teams, play when their season begins in May (for tickets, visit www.longislandlizards.com/tickets). After the game, children may have a better idea of whether they would like to begin playing lacrosse.
"The fast pace and exciting nature of the game attracts many followers," Ruszkowski says. "It isn't a game you can afford to be unprepared for and expect to win. Avid girls' lacrosse fans know the special skills and dedication it takes to play the sport, so it's what tends to keep them interested and attracts new followers."
Also see: Our guide to Long Island Lacrosse Clubs