A few months ago my niece turned 5, and I went to buy her a gift. Actually two gifts, because I won't bring one for her without bringing one for my nephew, and vice versa. He'll be 9 next month, loves to read and is fascinated by how things work so I looked for something educational and fun.
  Fast forward to the children's section at Borders, where
Grossology: The Science of Really Gross Things!
caught my attention. The lime-green cover of author Sylvia Branzei's book showed a caricatured about-to-barf toddler, hand over her mouth, illustrated by Jack Keely.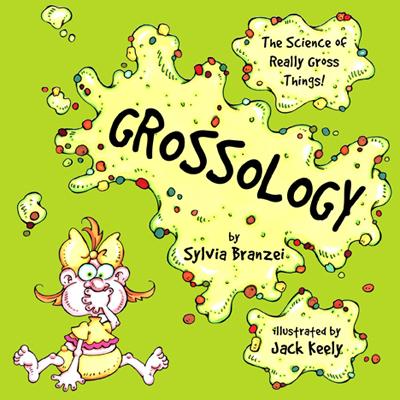 "With
Grossology
my goal is to teach kids (and adults) about their bodies," Branzei says. "The more aware you become, the better you will understand your body and care for it."
  Melanie Rhodes, a children's book buyer for Borders, says, "
Grossology
is for those who have a love (for) or interest in silliness. The books turn this around for the readers into science that's educational."
  "When they (kids) come across disgusting things, some of those will naturally elicit a response," says Branzei, a former science teacher. She has a Bachelor of Science degree in microbiology from the University of Michigan and a Master of Arts degree in science education from California Polytechnic University.
  The book's credits, table of contents and no-nonsense text were contained within barf or goopy-looking stuff. My nephew got a kick out of the distasteful-to-adults words that kids love to say like boogers, pee, zits, fart and blisters. There are even phonetic spellings, like mucus (MEW cuss).
  Patricia Cohn, children's librarian at Warner Library in Tarrytown, said its copy of
Grossology and You
has been checked out twice since the library acquired it in September. "These types of books are often appealing to kids because of their humorous treatment of scientific subjects and their "ewww" factor," Cohn said.
  "The hook is to educate kids to use words in proper context," Branzei says. "They like to get a rise out of adults so gross stuff works."
 Not long after Thanksgiving, I checked in with my nephew and was told, "You know the
Grossology
book? They copped it!" I told him his daddy took the book because he wanted to read it. The little guy laughed however Branzei agrees.
  "Mostly, I find that parents end up reading the books as well as the children," she says. "We're all very curious beings, and

Grossology
brings out the kid in us." 
  It also answers the age-old question about long lines at the ladies' room:  Men average about 45 seconds in the stall, women about 79 seconds.
  Claudia Saskey, a retired teacher, bought it for her 22-year-old son, a first-year teacher, when he was 10. "At the time he didn't like reading," Claudia says. "This book got him so interested he read it avidly and insisted on sharing every bit of newfound information with us."
  A few days later my friend Dessie Waites, an elementary school teacher, called to say hello. I asked her about the Grossology books. "I haven't heard of them but when I do hear of a book I don't know I find out about it because maybe my kids (students) will like it," Dessie told me.
  Grossology
sold more than 350,000 and has been translated into Japanese, Korean, Bulgarian, SA Spanish, French, and UK English. Less than five years after the
Grossology
book, the Children's Museum of Manhattan created 'BODY ODYSSEY,' 4,000 square feet of huge interactive innards that introduced kids to human anatomy. And it had plenty of ooze, goop and gunk appeal.Jennifer Kozel, CMOM director of school and outreach programs, said that the museum worked on the exhibit from design to conception for about three years before it opened in 1999."Kids were really excited about it," Kozel says. "They would come to the exhibit and create stories about things that went on in their bodies, and at the end of the project their stories would be turned into books." Jennifer says the storytelling project helped kids better understand how different systems in the body work together and not independently.
  While the "BODY ODYSSEY" exhibit was independent of the
Grossology
books, Branzei was there for a science show focusing on bodily excretions and, well, gross things like fake blood.You can find the recipe for this and other neat concoctions like Doodie Cookies at
grossology.org
.
 "If it'll get them reading, DO IT!!" Claudia says.