Remember when you were in school and you used to stare at problems on the blackboard or watch as your teacher used an overhead projector to show some diagram or graph — at least when the light didn't flicker on and off.
   Well, these days, classrooms are saying goodbye to the chalk and color markers that were used on these "prehistoric" learning tools. SMART boards are becoming all the rage.  
  SMART boards are 6-foot interactive computer screens projected for the class. They are large and colorful, they talk to students, and are easy to use with a keyboard, mouse or touch-screen function.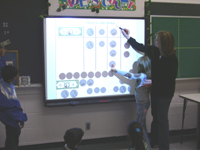 "SMART boards, when used effectively, can bring a classroom to life," says Kris Felicello, principal of James A. Farley Middle School in Stony Point. "Students love working with them, seeing video clips, pictures and sounds, and teachers love working with them as well." 
  Many schools around the country are making the switch to SMART boards, including those in North Rockland County, which currently have 40 boards throughout its school system. Currently the Nyack Union Free School District has more than 35 boards, the Ramapo Central School District over 40, and the Nanuet Union Free School District over 45.  
  "We have found SMART Boards to have a very positive impact on education for all ages," says Brian Monahan, superintendent of the North Rockland School District. "As the former technology director, I have been impressed with how students, even the very youngest students, use them with ease."  
  In fact, when it was time to show the school board what the SMART boards were all about, a group of youngsters were on hand to provide the demonstrations.
   "We recently had a presentation by pre-K students at a Board of Education meeting at which the students demonstrated how to use them in reading and learning colors," reports the superintendent. "They really are a wonderful way to learn."
   The one drawback is that SMART boards command $4,000-$6,000 apiece and some schools aren't able to purchase as many as they would like.  
  "My only regret is that they are expensive and we wish we had more," says Monahan. "Through some outside funding, we've been able to purchase a number of them. In North Rockland, the current tax situation makes it difficult to use local funds, though we have purchased some."  
  That's where the government has stepped in. The North Rockland school district has received several grants, including a substantial one secured with the assistance of Congresswoman Nita Lowey.  
  And New York State Senator Thomas Morahan has been responsible for bringing SMART boards to teachers and students at the nonprofit  pre-K-12 Rockland Country Day School.  
  Senator Morahan secured a $25,000 grant this year and a $15,000 grant for next year to purchase more. The first grant enabled RCDS to purchase six SMART Boards: three for the Upper School, two for the Middle School, and one for the Children's School. 
   Over in the Clarkstown School District, Superintendent Margaret Keller-Cogan has seen a great appreciation for the SMART boards in her schools. The district currently has around 40 in use and plans on bringing in more.  
  "They have been a great addition to the classrooms," says Keller-Cogan. "The children get excited about learning and the teachers can organize their lesson plans better. I hope to have them in every classroom eventually."  
  John Krouskoff, director of technology for the Clarkstown School District believes the technology gives kids a better perspective when learning,  
   "I have seen the boards connected to Google Earth and you don't need a map like when we were kids; you can zoom in on the school and zoom out to the neighborhood and learn in an interactive way. The focus is on students getting up and doing."  
  Sue Tomko, director of technology for the North Rockland School District, reports that SMART boards were first added to their schools three years ago.  
  "They are great for interaction between students, teachers and the curriculum," she says. "It's very engaging for students because they can actually go up and tap on the board; they can drag and drop on the board. Show videos, write notes, print out your notes . . . it's a nice tool."  
  The material written on the SMART Board — math equations, vocabulary lists and other lessons — can also be saved as notes and posted online for students who missed class.  
"There are different types of boards because technology is always evolving," Tomko reports. "There are bigger boards, smaller boards, boards you attach to a wall, boards you put on wheels and wheel from classroom to classroom.  Of course, with new technology comes the need for teachers to be trained. The better trained the teacher, the better the device."
   That may be why so many teachers are asking for such training. The district is doing what it can and offers classes throughout the year.  
  Martha Powers, principal of North Garnerville, has heard the requests from her teachers. The school currently has one SMART board in their computer lab and are adding a second one for the library. Teachers can use the boards when they're free, but it's getting more and more difficult to find a time they are not occupied. 
   "Several of our teachers and teaching assistants have been trained in the use of SMART boards by the district and they would love to have more of them at our school," acknowledges Powers. "They provide so much and really help the teachers with their lesson plans." 
 "There's no real argument for not having them in the classrooms," says Powers. "They make learning fun."