One-quarter of all retail goods move from store shelves into homes between Thanksgiving and Christmas every year. To prevent them moving one step further into landfills, consider giving gifts that will not only please the recipient but will please the planet, too. Gifts that come from the heart and get to the heart of the world's pressing challenges. Indeed, the world needs more partridges and more pear trees. Here's a guide for the virtuous consumer to the Twelve Days of Sustainable Giving…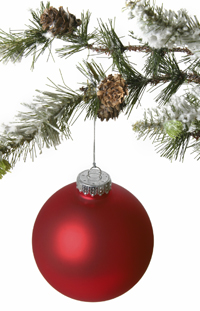 1st Day: One plant
   Any large plant looks as pretty all decorated and lit up as a chopped-down tree — and doesn't leave nearly the mess in the post-holiday weeks that follow. What's more, indoor plants are great at cleaning up indoor air pollution, which is at its worst in the colder months with windows shut tight.

2nd Day: Organic wine
   One red, one white: Organic wine has been earning itself a solid reputation in competitions against conventional wines. Some of my favorites include Bonterra's Carbernet Sauvignon and Frey's Chardonnay. Plus, I've heard it said that organic wine — which doesn't include sulfites as preservatives — doesn't give nearly the hangover of conventional vino. Not that I would know from experience, of course.

3rd day: Three compact fluorescent bulbs
   Light up someone's life — and lighten their energy load — with the gift of CFL bulbs. Using at least two-thirds less energy and lasting up to 10 years longer, these bulbs will radiate thoughtfulness.

4th Day: Beeswax lip balm for the whole family
   Heal those winter-chapped lips with lip balm that doesn't include toxic ingredients. Considering kids will often lick or bite off much of what is on their lips, you want to keep the ingredients safe. Burt's Bees offers affordable lip balm that's safe for the whole family. Look for it at your grocery store, pharmacy or natural food store.

5th Day: Books
   As a writer, I have a vested interest in convincing people to buy books. But even used books make a great gift and you can never (ever!) have too many books so just about everyone is happy to receive them. Some great new eco-books include Michael Pollan's The Omnivore's Dilemma, A Short History of Progress by Ronald Wright, Field Notes from a Catastrophe by Elizabeth Kolbert, Cradle to Cradle by William McDonough, and, for the kids, Earth Smart: How to Take Care of the Environment by — whattaya know? — me, Leslie Garrett. 

6th Day: Organic serviettes
   Certified French linen napkins and placemats add elegance (and a touch of eco-justice) to any occasion. Purchase them online at www.rawganique.com.

7th day: Candles
   Who knew those lovely flickering lights were sending up neurotoxic fumes from lead wicks. Most candles are made from petroleum-based paraffin, which carry with them the eco-issues of any petroleum product — non-renewable resource and pollution. And the synthetic fragrance of many candles contains hormone-disrupting phthalates. Instead, offer the gift of beeswax or soy candles. Safe brands include Bluecorn Naturals (www.beeswax.com), Aveda's Plant Pure-Fume Aroma Canadles (available at Aveda salons nationwide), and Candle in the Wind (www.candles-inthewind.com).

8th day: Organic ingredients to bake a batch of cookies
   Butter, sugar, eggs, flour, rolled oats, baking soda, baking powder, chocolate...

9th Day: Fair-trade teas
   Give a cuppa social justice that'll take the edge off any holiday stress. There are many brands available, but look for the Fair Trade and USDA certified organic logos.

10th Day: Support Ten Thousand Villages
   . . . by purchasing gifts at any of the 160 retail outlets in North America. The stores, operated by Mennonite Central Committee, sell fairly traded handicrafts from around the world, linking consumers to unemployed and underemployed artisans and farmers in developing countries. Find a store near you by visiting www.tenthousandvillages.com.

11th Day: Household items to detox the home
   What they lack in sentimentality, they make up for in common sense. It simply doesn't make sense to clean our homes using toxic chemicals, which many household cleaners contain. Instead, pack a cleaning basket with Method, Seventh Generation, Ecover or Mrs. Meyer's products (or find your own favorite natural brand).

12th day: A dozen (or more!) LED holiday lights to give long-lasting light
   LED lights are 90 percent more efficient than traditional lights. According to one U.S. Department of Energy study, if everyone replaced their conventional holiday light strings with LEDs, at least two billion kilowatt-hours of electricity could be saved in a month. That's enough to power 200,000 homes for a year. Which is a generous gift to Mother Earth.

LESLIE GARRETT is an award-winning journalist, author, and mother of three. Visit her at www.virtuousconsumer.com.