Broadway's newest holiday musical proves that "the best way to spread Christmas cheer is singing aloud for all to hear!"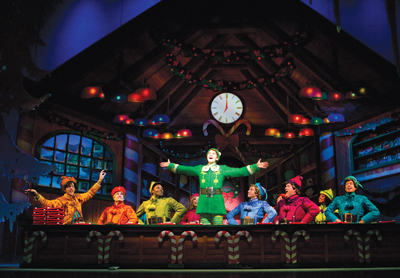 Oh, that Santa - just when you think you've seen every holiday show in town (some more than once), along comes a full-bodied stocking stuffer of a musical overflowing with Christmas spirit, lovable characters, and a score of joyous yuletide tunes. Thank you, Santa - thank you for Elf! Better make that, thank you Santa and collaborators.
For as much as I respect St. Nick's creativity and generosity, New York's latest tinsel-trimmed gift to "theatergoers of all ages" was brought to life courtesy of some of Broadway's most acclaimed talents, including Tony Award winners Thomas Meehan (The Producers, Hairspray) and Bob Martin (The Drowsy Chaperone) who wrote the book; Matthew Sklar and Chad Beguelin (The Wedding Singer) who penned the music; and Tony nominee Casey Nicholaw (The Drowsy Chaperone, Monty Python's Spamalot) who directs and choreographs. And should you be looking at their respective credits thinking, "These are all shows for adults," I assure you: These five grown-up guys are totally on top of channeling their - and our - inner kids.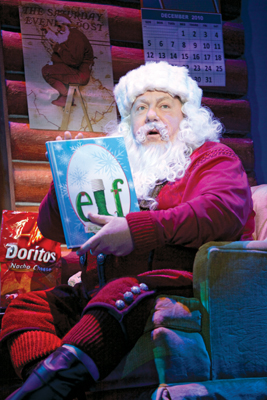 As you no doubt gathered, Elf: The Musical is based on the hit 2003 New Line Cinema film (starring Will Ferrell in the title role) about Buddy the Elf, an orphan baby who innocently crawls into Santa's sack of toys only to end up at the North Pole, where he is raised as an elf. That is, until his growth (to human size) and iffy toy-making skills make it impossible to keep the truth a secret anymore. This, of course, leads to Buddy's setting off on a journey to New York City in search of his birth father. Once there he not only finds his workaholic dad (naughty list!), but a 10-year-old Christmas skeptic of a half-brother, a very surprised stepmom, and ultimately, a slew of heartwarming adventures, new friends, and a very jolly happily ever after.
In keeping with the sort of honesty that will hopefully keep me off the naughty list, several elements you may remember from the movie have been altered for the stage. For instance, the role of Papa Elf (played by Bob Newhart onscreen) has been eliminated, with Santa stepping in as Buddy's main father figure - assisted by the entire elf community, of course.
And while we're on the subject of Santa, I'm happy to report he's being played by actor George Wendt, best known for his long run as rotund barfly Norm Peterson on the sitcom Cheers and last seen on Broadway as zaftig mom Edna Turnblad in Hairspray.
Wendt says that he was intrigued with the project when it was brought to him two years ago. "I'd never done a reading of a new [stage] work before, so this really appealed to me," he notes. "Interestingly, about 90 percent of the current cast was involved back then, which says a lot about the show."
A veteran film and TV Santa (Santa Baby, Santa Buddies, and Stephen Colbert's Christmas special, A Colbert Christmas: The Greatest Gift of All!), Wendt is enjoying his current sleigh ride, albeit without reindeer - in Elf, the sleigh is propelled by Christmas spirit. (According to the script, PETA objected to the potential dangers that could befall an airborne Prancer or Vixen, so Santa opted for a more benign way to launch his transport - which (spoiler alert!) becomes an important plot factor near the end of the show.)
The PETA reference is, incidentally, but one of several contemporary tongue-in-cheek references/sight gags that pepper the show, including Santa using an iPad and a Charlie Sheen joke that will no doubt float over the heads of young kids but give mom and dad a nice chuckle or two.
However, it's the performances, glorious pull-out-all-the-stops musical numbers that are the show's formidable engine. For instance, Sebastian Arcelus makes a most appealing Buddy - not as oafishly disarming as Ferrell's portrayal, but rather winning in a more wide-eyed, pixilated way. The kids adored him.
Elf is playing at the Al Hirschfeld Theatre, 302 West 45 Street, through Sunday, January 2.
For more information and performance schedule call 212-239-6200 or visit www.ElfMusical.com.
Running time with intermission: 2 hours, 15 minutes.
The two key women in the cast are Amy Spanger (
Rock of Ages
) as Jovie, Buddy's love interest, and Tony-winner Beth Leavel (
The Drowsy Chaperone
) as Emily, his supportive step mom. Both are wonderful, bringing believability to their fairy tale roles - and both have show-stopping numbers that put their musical comedy versatility front and center. Other standouts include Michael Mandell (
Ragtime
) as the store manager, and young Matthew Gumley as Buddy's newfound brother, Michael.
As for the score - well, let's just say once you've experienced "Sparklejollytwinklejingley," you'll be more than ready to dance your way into the holiday season with more optimistic gusto than you imagined possible.
And then there are the sets, unbelievably imaginative and diverse (from Tony-nominee David Rockwell, of Hairspray and Legally Blonde renown), and costumes by Gregg Barnes that run the gamut from divinely quirky and colorful (elves and such) to muted office garb to a couple of dandy Santa ensembles.
"The costume I wear most of the time in the North Pole scenes is very comfortable," says Wendt about his body-hugging Kringle-casual Santa suit. "However, my other costume, the one I wear in the Central Park [Christmas Eve] scene, is what you'd call 'full Santa regalia,' is quite heavy." And quite gorgeous.
But even without all the trimmings, the show's message about family and innocence would come through loud and clear.
"There's a scene in which Buddy the Elf is in his dad's office, pestering him for information about his [late] mom...that really gets to me," says Wendt, who admits that while his kids were growing up, his career interfered with family time. "I wasn't always around because the kind of work I do takes me out of town a lot. And I think other dads in similar situations will feel the same way and take to this show as a result."
No question the kids do - and the standing ovation at the end of the show may well be the biggest, and most heartfelt, on Broadway!
Also see: Our roundup of the best family-friendly holiday shows playing in Manhattan this December