Gustafer Yellowgold and creator Morgan Taylor return to Off-Broadway's DR2 Theatre in Manhattan with an all-new imaginative musical for families about Gustafer's journey to find the toe-end of the longest sock in the universe.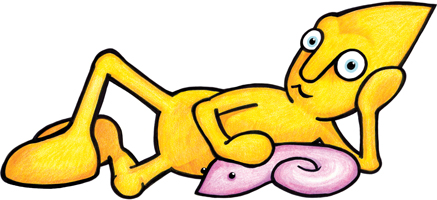 Confession: I have a new love in my life. He's all-over yellow with a Conehead silhouette from the neck up. And while he was born on the sun - actually a country on the sun known as Solaria - he currently resides in the Minnesota woods with his pets: Slim, a purple eel, and Asparagus, a dragon who makes his home in the fireplace. These facts alone should explain my giddy infatuation, but there's more.
Gustafer's fur smells of raisins, he has a sprinkling of freckles, oversized (and very round) eyes, and his best friend, Forrest Applecrumbie, is a flightless pterodactyl with a passion for fashion.
Sadly, I must share my affection for the irresistible G.Y. with others...many, many others. Kids, teens, adults, almost anyone it seems who has encountered this blissfully adventurous extraterrestrial in books, online, or during one of his "musical moving storybook" performances, described as "equal parts pop rock concert and minimally animated movie," that toured the U.S. with Gustafer's creator illustrator/songwriter/musician Morgan Taylor.
And it gives me no end of joy to report that Gustafer and Morgan have returned to Off-Broadway's DR2 Theatre with an all-new family show, Gustafer Yellowgold's Infinity Sock.
For those of you lucky enough to have caught Taylor's last New York outing in 2008, Gustafer Yellowgold's Mellow Fever, be advised that his latest world-premiere show marks the first in
the series to feature a storyline.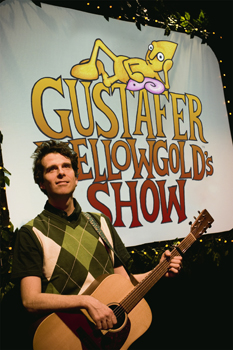 "Gustafer Yellowgold's life has been shown so far through the music videos that are mostly just little vignettes," says Taylor, a native of Dayton, Ohio who currently resides in the Catskills with his family. "With Infinity Sock I challenged myself to assemble a batch of all new songs that are linked together through a plot-driven narrative."
He goes on to explain that on the Infinity Sock DVD (which has just been released and is available at the theater along with other Gustafer merchandise), his focus is on the visual with between-song scenes that take the saffron-colored hero on a whimsically surreal journey to locate the toe end of a seemingly never-ending sock.
"My plan was to have some suspense and character development occur naturally, too," says Taylor, who has been tracking the audience's reaction to the new show. "In the live version I will talk during the between-song scenes, 'narrate' loosely, and have a bit of audience interaction," he adds.
According to Taylor, this does not necessarily mean his stand-up banter will veer totally towards the preschool crowd. "Most of the between-song humor of the live show is geared toward the parents," he admits, going on to acknowledge that while his hand-drawn characters may resemble Saturday morning cartoons, "the content is probably more akin to 1970s MAD magazine and The Beatles mixed together," influences he attributes to his love of 1970s pop culture.
Which explains why shadings of Yellow Submarine (both musically and artistically) can be found floating around Gustafer's gently psychedelic universe. Still, Taylor is a creative wellspring all his own, and Gustafer Yellowgold's Infinity Sock is a study in free-association creativity at its most imaginative.
What's the Story?
While doing laundry, Gustafer comes upon a sock that stretches ad infinitum. So he follows it...and follows it and follows it as it winds its way through a series of scenes, each with its own song and cast of characters. For instance, at one point he finds himself caught up watching a Band of Bees rocking out with the sock serving as a stage curtain; at another point, he stumbles upon an owl having a caterpillar brunch (sock tablecloth, of course!), and when he crosses the border from Minnesota to Wisconsin it just seems natural for him to visit an all-cheese clothing boutique where Jarlsburg finery is hung upon a free-form sock clothes line. The Cheese Store section also features my favorite song, a Broadway-inspired number called "Wisconsin Poncho."
All the songs are pretty awesome, with names like "A Sock Runs Through It," "Snake Proms," and "Sock of Ages." And I might add, Taylor's tunes and lyrics, as well as his hand-drawn characters in their semi-surreal world, are so dear and so original that it's hard to imagine letting Infinity Sock slip through your fingers. Go for the show, but be prepared to fall hard for the little yellow sun-dweller.
"I feel really blessed to be able to have such freedom to create," says Taylor. "When we began the Gustafer project back in 2004, I thought I was just taking a break from music and playing live concerts. The Gustafer material was so un-self-conscious that I think I really tapped into my true voice, as it were. It was a very liberating feeling, and now the flood gates have really opened for creativity and opportunity. My only obstacle is time. There aren't enough hours in one day to put all my ideas onto paper or record all the songs I have lined up on the planning board."
All the Details
Gustafer Yellowgold's Infinity Sock is currently playing at DR2 Theatre,
103 East 15th Street (between Union Square East and Irving Place)
Note: This all-new family show's limited run will end on April 2, prior to its first national tour
Playing Schedule: Saturdays, 11am and 1pm
Tickets: $25; $20 children under 12
Telecharge: 212-239-6200
YELLOW OVERLOAD!
Go Gustafer Yellowgold mad with a website brimming with fun.

Gustaferyellowgold.com may well be one of the smartest, well-conceived, easy to navigate, diverse-and fun!-websites ever. Here's what you and your kids get with the click of a mouse:
• Gustafer's Galleries (fan art, photos, videos, sightings)
• History (including early drawings)
• Downloads (wallpapers, buddy icons, coloring pages, paper puzzles)
• Interactive games (Cake Jumper, Remembery, Shrimpin, Eel Duck Bounce)
• Insider Tip: On the interactive home page, don't forget to click on things inside Gustafer's house, like the cereal box in the kitchen!
If your family can't get their Gustafer fill on the computer screen, there's always the TV. The Gustafer Yellowgold's Infinity Sock DVD/CD set (ages 4 and up; $19.99; Apple-Eye Productions) is out now. It includes songs and animated video from the new stage show, a CD soundtrack disc, and very cool bonus features including "PROOF or FOOF (Does Gustafer Yellowgold Exist?)"; Gustafer guitar lessons with Morgan Taylor; and step-by-step instructions on how to draw the character (90 minutes total content).