Literally Alive Children's Theatre in Greenwich Village brings this classic fairytale to life once more, to kick off its 2010 anniversary season.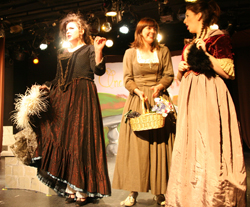 When it comes to kid lit, fairy tale division, Cinderella is about as good as it gets. Not only does it have a hefty dose of history on its side (Benet's Readers Encyclopedia goes so far as to call it "ancient... probably of Eastern origin"), it has also managed to entice countless writers, composers, filmmakers, choreographers and animators to its enduring storyline. No wonder the creative forces at Literally Alive Children's Theatre decided this would be the ideal piece to launch 2010-the year the company will celebrate its 10th anniversary come November.
The new musical adaptation of the 1656 Charles Perrualt version-fairy godmother, pumpkin coach, mice footmen, etc-was penned by Brenda Bell, who happens to be Literally Alive's founder and artistic director. It was she who made the decision to play up a sub-plot that cuts to the heart of every outsider: that of a vulnerable young girl desperate to belong to a family following the loss of her beloved mother.
"Before I could write the play I had to answer a lot of questions about the story. I had to know why Cinderella was so nice to those nasty stepsisters. Why didn't she go to her father for help when her new stepmother mistreated her?," says Bell. "I began to believe that she was terribly lonely after the death of her mother and truly needed to create a family for her father and her." Adds director Dustin Cross, "Children appreciate a wide range of emotions. We don't believe that a story has to be fast and furious to entertain a young audience."
Keeping with the family theme, Michael Sgouros and his 12-year old daughter, Emily, collaborated on the show's original score that is performed by two live percussionists and a trumpet player-visible to the audience throughout the performance. "People usually think that percussion means just rhythmic sounds when actually many percussion instruments, such as the marimba and vibraphone are melodic, similar to a piano," notes Sgouros, who also owns the Players Theater in the West Village where Literally Alive is in residence.
Indeed, the three musicians (including Sgouros), run the risk of stealing the show as they shift from instrument to instrument (40+) to create not only songs and dance numbers, but sound effects as well. [The trio's percussion expertise is especially winning in the show-stopping production number "Off to the Ball," performed with delicious abandon by the wicked stepmother and her two spoiled offspring (Brittney Steele, Daniel Beckman and AmandaSalvatore)-under disco lights, no less!]
Sgouros has also made sure the comfortable 180-seat theatre has superior acoustics, eliminating the distraction and distortion that can come with microphones. And, unlike many children's theatre productions, Literally Alive welcomes kids of all ages- even babies. "You would be amazed how much infants enjoy the show. The music and colorful lights are wonderful for their development," says Bell, whose extensive professional theatre background includes several years designing arts-in-education programs.
Cinderella
Where: Players Theatre, 115 MacDougal Street in Greenwich Village
When: Through April 25, 2010
Running Time: Show: 60 minutes/Pre-show workshop: 45 minutes.
Price: $25-$45. All tickets include pre-show arts workshop one hour prior to the performance. For tickets, call 212-352-3101 or 866-811-4111, or visit www.literallyalive.com.

Party Package: $15-$20 per child (minimum 10 children), includes: Current show; hands-on arts workshop; gift for birthday child; announcement of birthday ("Happy Birthday" is sung from the stage); and a photo op with the cast after the show.
For more information, call Brenda Bell at 212-866-5170 or email [email protected].
In 2009, Bell's vision also led her to introduce a children's chorus, whenever appropriate, to Literally Alive's shows. "Children love to see other children perform, it is very inspiring for them," she explains, adding that it also affords newly minted performers the opportunity to learn their craft while working side by side seasoned professionals.
In Cinderella, the kids play the mice, their shining moment coming when they sing the exuberant "At Your Service" to Cinderella (Carly Howard).
As with all Literally Alive productions-i.e., original musicals based on classic children's literature-the performance is preceded by an arts workshop where parents and kids learn how the production team (composer, playwright, choreographer, musicians, director, actors) is able to make "a story leap off the pages of a book and land on the stage singing and dancing." Afterwards, in the spirit of all things Cinderella, everyone is invited onto the stage to make magic wands and pumpkins, and to stand in front of the impressively gigantic picture book (7' x 12') that serves as a backdrop to the show.
In the end, the focus of every Literally Alive show and workshop is spelled out in the company's mission statement: "...to ignite children's imagination while instilling a love of reading by bringing literature to life. Our approach combines art forms including theatre, dance, music, art, and puppetry to explore a work of literature. Literally AliveTM encourages children to become expressive, open-minded, creative and to see the arts as a central part of life."
Concludes Bell: "We offer our audience a shared memory that will last long after the curtain comes down."
Coming Attractions at Literally Alive Children's Theatre
May-June: Treasure Island
September-October: The Little Mermaid
November 22-December 30: A Christmas Carol