That glorious, multi-colored time of year full of feasting, gift-giving, family, and friends is almost upon us, and with it comes one of New York's most cherished traditions: the sharing a magical afternoon (or evening!) at the theater with one's children - often a first-time-ever event.
Multitudes of New York kids got their first taste of stage enchantment in the vast auditorium known as Radio City Music Hall when parents or grandparents took them to see the pull-out-all-the-stops Christmas Spectacular, while others became mesmerized by George Balanchine's unforgettable ballet in which the little heroine and the Sugarplum Fairy dance and dazzle in The Nutcracker.
And so, I happily present this year's collection of holiday productions set to debut during November.
Here's to many, many years of "Forever Family Memories" courtesy of the glowing musicals and giggle-worthy, family-friendly shows being offered up in 2009!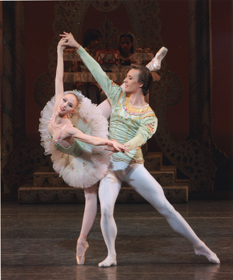 George Balanchine's The NutcrackerTM
Sure it's a classic - if not the classic holiday fantasy of fantasies - and not so much a splurge as you might imagine (single tickets range from $15 to $130). Winter, replete with a snowstorm made up of dancing snowflakes, is, of course, part of the wonderland that unfolds. And just a reminder: marching soldiers and a villainous Mouse King are around to keep even the junior guys enthralled.
BONUS: The opportunity to introduce the youngsters in your party to pre- and post performance activities, holiday special events, children's books, and online games. Check out the website beforehand and remember that opportunities to top off the performance with a hot chocolate abound, both at Lincoln Center and several restaurants within walking distance.
All performances of The Nutcracker take place at the David H. Koch Theater (formerly the New York State Theater), Lincoln Center Plaza at Columbus Avenue and 63rd Street, 212-870-5570; visit www.nycballet.com. Call or visit the website for playing schedule. DATES: November 28th through January 3rd.
Irving Berlin's White Christmas
The Broadway show that lit up Christmas, 2008 is back with a new cast - including David Ogden Stiers of M*A*S*H fame - and the ultimate holiday score teeming with Berlin classics.
This stage version of the classic film is quickly becoming a new holiday tradition for New York area families with its sparkling tale of a couple of showbiz buddies and two beautiful sisters, who bring song, dance and laughter to a struggling Vermont inn. And for the youngsters in your party, make note: there is a pivotal kid role, smart and sassy Susan Waverly, played by Madeleine Rose Yen.
At Broadway's Marquis Theater, 1535 Broadway, 212-307-4100; www.whitechristmasbroadway.com. Tickets range from $66.50 to $126.50. Call or visit the website for playing schedule. DATES: November 11th through January 3rd.
Peter and the Wolf
Sergei Prokofiev's legendary musical masterwork about a boy who faces down danger and captures a wolf with help from his animal friends is back in a vibrant new production. This import from the U.K. company "In The Wings" not only stars noted British film and stage actor Brian Blessed (Locksley in Robin Hood: Prince of Thieves with Kevin Costner) as the Narrator, but it also features something truly unique: a prequel, seamlessly partnering a lively and whimsical score with the original 1936 composition.
In the prequel, a classical piece (by composer Philip Feeney), Peter meets his friends Bird, Duck and Cat for the first time and audiences are introduced to the Wolf, who is lurking nearby.
A glorious blend of music, dance and theater, the production features 10 dancers and an ensemble of eight musicians to bring the story to life.
BONUS: Check the website for special Peter and the Wolf Music & Storytelling Workshops overlapping certain performances.
At The New Victory Theater, 209 West 42nd Street, 646-223-3010; newvictory.org. Tickets range from $12.50-$35 for nonmembers; $8.75-$24.50 for members. Call or visit the website for playing schedule. DATES: November 13th through November 29th.
The Radio City Christmas Spectacular 2009
A huge, overstuffed stocking bursting with every Christmas fantasy imaginable - and the Radio City Rockettes®! From the annual show's iconic "Parade of the Wooden Soldiers" to a more recent addition: a thrill ride with Santa to his workshop at the North Pole where rag dolls come alive and dance up a storm - this is a production to be savored and anticipated each and every holiday season. And of course, as always, there's the stunning reenactment of the first Christmas in the "Living Nativity" replete with live animals and breathtaking visuals. At Radio City Music Hall, 1260 Avenue of the Americas, 212-307-1000; radiocitychristmas.com. Tickets range from $52 to $250. Call or visit the website for playing schedule. DATES: November 13th through December 30th.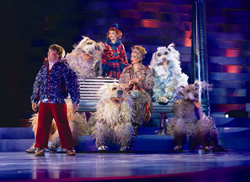 Wintuk
Introduced to NYC audiences for the first time last year, Cirque du Soleil's enchanting adventure - boasting an endless array of signature Cirque attractions - is returning to Madison Square Garden's WaMu Theater by popular demand!
The tale being told is of a young boy's quest for snow that takes him to the imaginary land of Wintuk...but trust me, this is only the beginning. Thanks to a cavalcade of irresistible characters with staggering, if not mind-blowing physical abilities, the show offers audiences layer upon layer of eye-popping moments and not-to-be-missed excitement and intrigue.
WaMu Theater, Madison Square Garden, 7th Avenue and 32nd Street, 212-307-1000; www.wamusatmsg.com or www.cirquedusoleil.com/en/shows/wintuk. Tickets range from $40 to $220. Call or visit the website for playing schedule. DATES: November 11th through January 3rd.