To be honest, I had never heard of the Long Island Children's Museum (LICM) before I was asked to review its new exhibit, Your House, My House.  But with winter on its way, I have now added this treasure trove of kids' activities to my list of great indoor things to do when we become desperately snowbound. 
  Tucked away just over the border of Nassau County at one end of Long Island's Museum Mile, a visit to the LICM feels like stepping inside 15 of your children's friends' houses, with all their best toys laid out and ready to play with.  It's the only children's museum I have been to where, instead of enthusiastic parents dragging tired kids from exhibit to exhibit, enthusiastic kids drag their worn-out parents from station to station.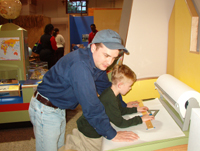 The museum, designed for infants to 12-year-olds, is Long Island's most well attended museum and one of Grand Magazine's Top 20 Children's Museums in America.  It has 14 play-based exhibit galleries and a changing schedule of hands-on workshops and interactive theater shows.  Adults must be accompanied by a child.   My 2-year-old's favorite permanent exhibits were the Bubbles, Sandy Island and mUSic rooms, but you really need membership to make the most of this museum because sensory overload begins to set in within a few hours and there is just so much to do, see and play with.  Older children could spend an entire day on the Climblt@LICM exhibit, a two-story climbing structure; TotSpot, a free-play environment for the youngest visitors, is so popular you need to pick up a (free) timed ticket to enter.
   The new bilingual exhibit, Your House, My House (Su Casa, Mi Casa), runs until January 6, 2008, and takes you on a journey into the homes of people around the world.  Aimed at school-age children, this exhibit, unlike much of the museum, is probably most usefully viewed with the guidance of a parent or teacher. It gives visitors the chance to experience a Mongolian herder's ger, a stilt house from a Malaysian fishing village, and an m'bure from the tropics of Fiji.  At the same time, children can learn about geography, history, architecture and climatology, allowing them to make connections about how the physical environment influences the way houses are built.  
  The museum has a cafeteria with plenty of seating but only a couple of poorly-stocked food vending machines, so plan in advance how you are going to feed your hungry offspring when they can tear themselves away from their activities long enough to eat.
Info
Where:
Charles Lindbergh Boulevard, Garden City, near Nassau Coliseum
NYMetroParents.com
When:
Tuesday-Sunday, 10am-5pm
How much:
$9 children and adults, $8 seniors, free for children under 1
For more info:
(516) 224-5800;
www.licm.org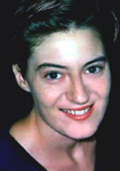 TANYA BURKE, an Australian mom living in New York, is one of our parent bloggers. Check out her parent musings at www.NYMetroParents.com..