Adventureland
2245 Route 110, Farmingdale, NY
www.adventureland.us; (631) 694-6868
Hours: open weekdays at 11am, Saturdays and Sundays at noon; closing times vary.
Price: Pay-one-price: 48" and up is $23.99, under 48" $19.99. Single tickets $1; rides are 3-5 tickets.

Astroland
1000 Surf Ave., Brooklyn
www.astroland.com; (718) 372-0275
Hours: Weekends only until June 10. Open daily, June 15-September 3.
Price: Pay-one-price wristbands $22.95. Individual rides $2.50-$5.50 each.
There is a new kiddie ride, Pirate Jet; the Cyclone Roller Coaster celebrates its 80th birthday.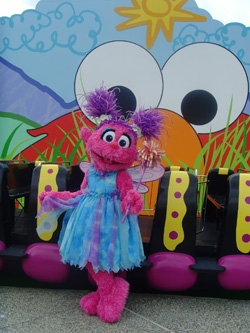 Abby Cadabby debuts at Sesame Place

Camel Beach
Exit 299 I-80, Tannersville, PA
www.camelbeach.com; (570) 629-1661
Hours: 10am-6pm, later on weekends.
Price: Adults $29.95, seniors and children 3-11 $24.95, children under 3 FREE.
This waterpark also offers a swimming pool, bumper boats, chairlift rides and miniature golf.

Dorney Park & Wildwater Kingdom
3830 Dorney Park Road, Allentown, PA
www.dorneypark.com; (610) 395-3724
Hours: 10am-7:30pm, later on weekends.
Price: $37.95, seniors and kids over 3 but under 48" $15.95, 2 and under FREE.
The water park, Wildwater Kingdom, has a new addition, the AquaRacer, a six-lane mat racing waterslide. There are now designated smoking areas to keep the rest of the parks smoke-free.

Dutch Wonderland
2249 Lincoln Highway East, Lancaster, PA
www.dutchwonderland.com; (866) 386-2839
Hours: 10am-6pm, later on weekends.
Price: Royalty (ages 3-59) $28.95, Senior Royalty (ages 60-69) $23.95, Senior Plus Royalty (ages 70+) $16.95, Royalty-in-Training (ages 2 and under) FREE.
Dutch Wonderland has family rides, little kids rides and miniature golf. There are two additions this year: Treehouse Terrace and Turtle Whirl, a Tilt-A-Whirl ride with a turtle theme. Treehouse Terrace is a new eating area with a woodland theme.

Hershey Park
100 W. Hersheypark Drive, Hershey, PA
www.hersheypa.com; (800) Hershey
Hours: 10am-8pm, later on weekends.
Price: Regular (ages 9-54) $43.95, senior or junior (ages 3-8) $24.95, senior+ (70+) $17.95.
Hersheypark celebrates its 100-year anniversary with The Boardwalk, a re-created seashore with a huge water play area, East Coast Waterworks; a body surfing simulator; water slides and a special area just for little kids. There are also new food and game areas, and plenty of lounges so you can relax 'at the beach'.

Lake Compounce
822 Lake Avenue, Bristol, CT
www.lakecompounce.com; (860) 583-3300
Hours: Opens 9am or 11am, closes 4pm, 8pm or 10pm on certain days of the week.
Price: Regular (52" and taller) $33.95, junior (under 52") $24.95, senior (over 60 years) $16.95, 3 years and under FREE. After 5pm, $17.95 for all.
There's a waterpark, a few rollercoasters and Kiddyland for ages 3-10. New kiddie rides for 2007: Zoomers Gas N' Go antique car ride and Rainbow Riders balloon ride.

Land of Make Believe
352 Hope-Great Meadows Road, Hope, NJ
www.lomb.com; (908) 459-9000
Hours: 10am-6pm.
Price: Adults $19, ages 2-18 $21, seniors 62 + $17.
This low-tech park geared to families, not teens, has the new Pirates Plunge, a huge waterslide.

Mountain Creek Waterpark
200 Route 94, Vernon, NJ
www.mountaincreekwaterpark.com; (973) 827-2000
Hours: Weekends only through mid-June; beginning June 23 10am-6pm, till 7pm in summer.
Price: Over 48" $29.99, seniors $19.99, under 48" or age 3 FREE.
This wild water park has 'extreme thrills' and 'wild rides' for those over 48 inches; the 'just for kids' area has sprays, slides, a 'Fishing Village', and a water play fort, for little kids.


Playland Park
Playland Parkway, Rye, NY

www.ryeplayland.org
; (914) 813-7010
Hours: Vary. Check the website.
Admission: FREE. Rides are $2-$4 each, $40 for unlimited.
There's a separate Kiddyland for kids under 36". A new 'major ride' is Catch-A-Wave, a high-speed thrill ride with strobe lights (limited to those over 48").
Quassy Amusement Park
2132 Middlebury Road, Middlebury, CT
www.quassy.com
; (203) 758-2913
Hours: Vary. Check the website.
Price: Pay-one-price: Adults $19.95, seniors and kids under 45" $15.95. Individual tickets $3 each, book of 12 tickets $27; each ride is one ticket.
This 99-year-old park has added "Tunnel Twister" waterslides to its water play area, "Saturation Station".
Sesame Place
100 Sesame Rd. Langhorne, PA
www.sesameplace.com
; (215) 752-7070
Hours: 10am-8pm.
Price: $44.50, seniors 55+ $39.50, kids under 2 FREE.
This year, the TV show Sesame Street added a new character, Abby Cadabby. She debuts in the new show, Abby Cadabby's Treasure Hunt. There is also a new Elmo's World Live show.
Six Flags Great Adventure
1 Six Flags Boulevard, Jackson, NJ
www.sixflags.com/greatadventure/index.aspx; (732) 928-1821
Hours: 10am-9pm.
Price: $59.99, junior (under 54") $24.99; 3-park, which includes Wild Safari and Hurricane Harbor waterpark is $84.99, 48.99 for juniors.Six Flags is making a major commitment to families, adding Wiggles World, with rides and attractions for ages 2-6. In addition to rides and daily live shows with Dorothy and Friends, the Wiggles themselves will be at the park this summer. All Six Flags parks are now smoke-free. If Thomas the Tank Engine is your thing, head up to Six Flags New England, where Thomas Town includes a Thomas train ride, Harold the Helicopter ride and Bertie the Bus ride.

Splish Splash
2549 Splish Splash Dr, Riverhead, NY
www.splishsplashlongisland.com; (631) 727-3600
Hours: Begins daily operation June 15; generally open 10am-6pm, with longer hours in late summer.
Price: $33.99, seniors and under 48" $24.99, ages 3 and under FREE.
Thrill rides, family rides, and rides for little kids. Get away from the water at the daily tropical bird show.

Victorian Gardens
Wollman Rink, Central Park, New York, NY
www.victoriangardensnyc.com; (212) 982-2229
Hours: Open weekdays at 11am, 10am on weekends.
Price: $6.50 on weekdays, $7.50 on weekends, plus $2-$3 for rides and games. Unlimited rides $12 weekdays, $14 weekends.
Big thrills for small kids, plus you're in Central park. In the new ride, Jumpin' Star, you are lifted 20 feet in the air, then go through a "jumping" vertical descent with a quick series of short drops. Live performances every Friday through Sunday all season.

Zoom Flume
91 Shady Glen Rd, East Durham, NY
www.zoomflume.com; (800) 888-3586
Hours: 10am-6pm.
Price: $22.95, ages 7 and under $19.95, spectator pass $11.95, infants FREE.
This water park has a new attraction, "The Hydrostorm", a 30-foot tower at the Lagoon Activity Pool that periodically dumps hundreds of gallons of water on everyone in the pool.