Related:
These events have already taken place.

Click Here for the Latest Calendar of Events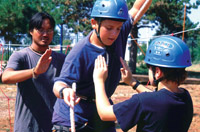 Manhattan is not only home to great cultural institutions, shops and events; it's also a place where there are plenty of things to do outside. If you're looking for ways to enjoy New York City?s beautiful summer weather, we've got some great suggestions for things you can do outdoors. New York City has everything from parks and outdoor cafes, to flea markets, sporting events, and street fairs. Here are some of our favorite things to do in NYC this week that will get you out of the house! Want to see what's going on next weekend or when you have those few days off? Check out the NY Metro Parents' calendar!
These events have already taken place. Click Here for the Latest Calendar of Events


More Articles
Be a good fellow parent and share this with a friend who would be interested
Local Sponsors
See Our Directory