Related:
These events have already taken place.

Click Here for the Latest Calendar of Events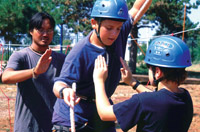 Weekend daytrippers and out-of-town visitors might want to look beyond Manhattan for weekend activities. The boroughs of Brooklyn, the Bronx, Queens and Staten Island have plenty of fun activities to enjoy during your downtime. From fine art exhibits at museums, to walking tours, from music outdoors, to children's activities the outer boroughs have many things for everyone to do. Want to see what's going on next weekend or when you have those few days off? Check out the NY Metro Parents' calendar!
These events have already taken place. Click Here for the Latest Calendar of Events


More Calendar Stories Articles
Featured Health Listings for 11/28/2014
Featured Parenting Services Listings for 11/28/2014
Featured Birthday Parties Listings for 11/28/2014
Today's Family & Kids Activities in Long Island-Nov 28
Today's Family & Kids Activities in Fairfield-Nov 28

Be a good fellow parent and share this with a friend who would be interested
Local Calendar Stories Sponsors
See Our Calendar Stories Directory