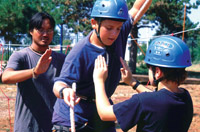 The choices for finding fun kids and family activities in New York City are never ending. Whether your family prefers concerts, museums, theater or gardening, check out this weekend's family activities in Manhattan. Making plans for next weekend? Take a glance at the NY Metro Parents' calendar!

Knit At The Museum - Mount Vernon Hotel Museum & Garden
November 14, 2012 - Upper East Side

Enjoy knitting at an historic site while creating gifts to donate to the Christmas at Sea program for mariners away from home for the holidays. Beginners will receive basic knitting instruction. Lectures will address life at sea and on the New York City waterfront in the 19th century. These knit-for-a-cause workshops will be held on three Wednesdays: September 19, October 17, and November 14. All supplies included. Proceeds benefit the Christmas at Sea program.

Forty Years of 'Free to Be...You and Me' - 92YTribeca
November 14, 2012 - Tribeca

Celebrate the 40th anniversary of "Free to Be... You and Me" with historians Lori Rotskoff and Laura Lovett, co-editors of the new book "When We Were Free to Be," as they discuss the creation and legacy of this popular children's classic with a lively panel of songwriters, authors, and commentators. Were things really better in the days before Bratz dolls and Batman remakes? How has the world of gender changed for boys, girls, and the folks who raise them? Does children's media make a difference? An unabashed discussion of how songs, stories, toys, and television have inspired audiences to challenge gender and racial stereotypes from the 1970s through the present day.

Yak Packers Early Childhood Art Making - Rubin Museum of Art Education Center `
November 14, 2012 - Chelsea

The Yak Packers look at, touch, and explore Himalayan art inspired by the museum's collection. Classes include play, storytelling, trips to the galleries, and art-making activities.

RAMMELLZEE In The Gallery Workshop - Children's Museum of the Arts
November 14, 2012 - SoHo

Inspired by the work of exhibiting artist, RAMMELLZEE, kids will work closely with media lab teaching artists to explore collaborative film-making. Workshops will employ various techniques including character design, set building, puppetry, and stop-motion animation.

Round Table Discussion: 'Treatment Options for Children with OCD' - Spectrum Neuroscience and Treatment Institute
November 14, 2012 - Upper East Side

askStefanie and Spectrum Neuroscience and Treatment Institute are now hosting monthly round table discussions with top experts in the field of mental health. This is an opportunity to listen to some of NY's best doctors in an intimate setting and ask questions as well as hear concerns and struggles that people "just like you" are feeling too. This month will kick off the series with Dr. Eric Hollander and Dr. Steven Poskar. They will be speaking about "Treatment Options for Children with OCD." Dr. Hollander is the director of Spectrum Neuroscience and Treatment Institute, a clinical professor of Psychiatry and Behavioral Sciences at Albert Einstein College of Medicine, and the director of Autism and Obsessive Compulsive Spectrum Program at Montefiore Medical Center. Dr. Poskar is the vice president and co-founder of OCD New York, and a psychiatrist at Spectrum Neuroscience and Treatment specializing in Cognitive Behavior Therapy for OCD.

Architecture Education Open House: Building Connections 2012 - Center for Architecture
November 15, 2012 - Greenwich Village

View CFAF's annual exhibition of K-12th grade student work from the 2011-2012 school year, Building Connections. Through student models, drawings, and photography, guests will learn about CFAF's teaching methodology developed through over 20 years of built environment education experience. Program and teaching staff will be on hand to answer questions and provide more information about how you can bring built environment education to your school or community. Attendees can enter to win a free 2 hour, hands-on architecture and design workshop for one K-12 grade classroom at the Center for Architecture.

Yak Packers Early Childhood Art Making - Rubin Museum of Art Education Center `
November 15, 2012 - Chelsea

The Yak Packers look at, touch, and explore Himalayan art inspired by the museum's collection. Classes include play, storytelling, trips to the galleries, and art-making activities.

Black Violin - The New Victory Theater
November 16, 2012 - Times Square

They played to sold-out New Vic houses in 2009, and now virtuoso violinists Kev and Wil B are back to once again raise the roof sky-high with their funky fusion of classical, jazz, hip-hop, blues, and R&B. With DJ TK on the turntables, Beatdown on the drums, and Joe Cello rounding out the band, Apollo Legends Black Violin compose a concert with booming new beats, classic favorites, and cool pop covers finely tuned to fiddlin' perfection. Black Violin smashes musical stereotypes and will enthrall lovers of Bach and Beyonce. They inspire kids from Texas to Times Square to get fired up about classical music?proving that their hearts are as big and soulful as their sound.

Unpackiong Jewish Folklife: Discovering the Heart of Jewish Cultlure - 14th St. Y
November 16, 2012 - East Village

The City Congregation for Humanistic Judaism hosts Dr. Ilana Abramovitch of Brooklyn College, who explores how customs, traditions, tales, legends, and sayings, as well as recipes, folk tunes, and clothes have informed Jewish life. Follows 7:30pm secular Shabbat service. Childcare available.

Pajama Glow-in-the-Dark Yoga - Karma Kids Yoga
November 16, 2012 - West Village

Kids should wear their pajamas to this special Friday night class. They'll take a fantastical yoga adventure, followed by a story and yummy smelling foot rubs. Milk and cookies will be served after the class, then sweet dreams to follow. Call to reserve a space for your child.

Hunt's Point Farmers' Market - Msr. Raul Del Valle Square at Southern Boulevard and E.163rd Street
Through November 17, 2012 - Bronx

Featuring fresh, local produce Find fresh local apples, radishes, beets, eggs, meats, multi-grain breads, pastry, honey, chutneys, pickles, cider, and much more. EBT accepted.

Circle Line Gobble Gobble Party Cruise - Circle Line Sightseeing Cruises
November 17, 2012 - New York Harbor

Take a Thanksgiving-themed cruise around New York Harbor. There will be story telling hosted by Books of Wonder, a juggle and a balloon artist, a live performance by Princess Katie and Racer Steve, and a kid-friendly interactive tour guide.

Black Violin - The New Victory Theater
November 17, 2012 - Times Square

They played to sold-out New Vic houses in 2009, and now virtuoso violinists Kev and Wil B are back to once again raise the roof sky-high with their funky fusion of classical, jazz, hip-hop, blues, and R&B. With DJ TK on the turntables, Beatdown on the drums, and Joe Cello rounding out the band, Apollo Legends Black Violin compose a concert with booming new beats, classic favorites, and cool pop covers finely tuned to fiddlin' perfection. Black Violin smashes musical stereotypes and will enthrall lovers of Bach and Beyonce. They inspire kids from Texas to Times Square to get fired up about classical music?proving that their hearts are as big and soulful as their sound.

Junior Engineer: Dig It! - New York Transit Museum
November 17, 2012 - Brooklyn Heights

Archeological artifacts have been found when the subway tunnels were first dug. Here, kids dig up treasures from a makeshift archeological site.

Family Art Project: Cornhusk Dolls - Wave Hill
November 17, 2012 - Bronx

Celebrate corn and harvest time by listening to Native American tales and the story of the first cornhusk doll as you tie, weave, and shape your dried husks into a single action figure or corny doll family.

Junior Detective Day - The New York City Police Museum
November 17, 2012 - Lower Manhattan

Solve a mystery at the museum. Using Crime Scene Investigation techniques and working through experiments in the 'lab,' children will learn the clues to solve the crime.

Oh, Hello Baby-Minna Krook. Dans - Scandinavia House: The Nordic Center in America
November 17, 2012 - Midtown

Discover a world of dance, happy colors, and exciting sounds that your child can experience together with a close grown-up. Dance on soft blankets, sing, and make music with water and toothbrushes. Minna Krook. Dans is a dance company that caters to both children and grown-ups. Based in Stockholm, the company tours frequently in Sweden and has also made several guest appearances abroad. Minna Krook is one of the most well established choreographers of dance performances for children. She created the first dance performance in Sweden for babies, Oh, Hello Baby, with much positive attention.

Discovering Iceland through Art and Story with Pratt Institute Art Educators - Scandinavia House: The Nordic Center in America
Through November 17, 2012 - Midtown

Hovering just below the Arctic Circle, Iceland is a small island with enormous volcanoes, icy glacial rivers, and ancient lava fields. Passed on orally from generation to generation, the sagas are the stories of the early settlement of Iceland by Scandinavians searching for farmland in AD 900. These tales were later collected and written down by unknown authors in the 13th and 14th centuries and are ranked with the world's finest literature. Join art educators from Pratt Institute in a unique series of Saturday afternoon workshops inspired by the landscape and medieval tales of Iceland. Children will "visit" Iceland through stories, watercolors, and photographs from the Saga-Sites exhibition and make a visual record of their journey in drawings, paintings, and sculptures. Enrollment is limited; early registration is encouraged.

Super Sábado!: Gran Caribe - El Museo del Barrio
November 17, 2012 - Upper East Side

Explore the Caribe with your familia at the Super Sabado Caribbean celebration! There will be art-making, Haitian folk-tales, Caribbean and Brazilian dance moves, and a special concert by the Yosvany Terry Quintet.

'Rumpelstiltskin' - Galli Theater
November 17, 2012 - Midtown

When a pompous miller boasts that his daughter can spin straw into gold, she is left to pay the price if she wants to marry the king and keep her life. Given a nearly impossible task, the daughter turns to a magical creature for help. In exchange for his magic, she makes a deal that continues to haunt her once she has become queen. Kids can interact with actors throughout the play, and a 45-minute acting workshop for kids follows the performance.

'The Gustafer Yellowgold Show' - Symphony Space
November 17, 2012 - Upper West Side

Morgan Taylor and his Gustafer Yellowgold return for their annual blockbuster show at Symphony Space. This creative combination of catchy original songs performed by a live band, accompanying beautifully animated on-screen illustrations of a sun creature and his earthly friends.

Whitney Wees - Whitney Museum of American Art
November 17, 2012 - Upper East Side

Even the littlest museum-goers can enjoy the sculpture the museum has to offer. Families will look at three-dimensional works by artists like Richard Artschwager and others on view at the museum. Registration recommended.

From Farm To City: Staten Island, 1661-2012 - Museum of the City of New York
November 17, 2012 - Upper East Side

Explore From Farm to City: Staten Island 1661-2012 with an educator to discover the transformation of this borough from farmland, to suburb, to an urban center, and beyond. Learn about Staten Island's hidden history of farming, manufacturing, and sports and discover its natural beauty during a family friendly tour of the exhibition. Then create your own tile celebrating the borough's past and present inspired by Staten Island's Kreischer Brickworks and American Linoleum Manufacturing Company. Reservations required.

Owl Prowl - Bartow-Pell Mansion Museum
November 17, 2012 - Bronx

Join naturalist, photographer, and writer, Deborah Allen, on an owl prowl around the mansion. After a half-hour talk and presentation, head outside to look for Long-eared and Saw-whet owls. Registration requested.

Shade and Shadow: A Selection of British and American Silhouettes - Bartow-Pell Mansion Museum
Through November 18, 2012 - Bronx

This exhibition presents a small selection of 19th-Century British and American silhouettes from Bartow-Pell Mansion Museum and four private collections. Before photography became widely available, silhouette portraits were quick, easy, and affordable. Elegant ladies, family scenes, charming children, and more, reveal a compelling slice of life from the golden age of this art form. Through November 18.

MoMA Studio: Common Senses - Museum of Modern Art (MoMA)
Through November 19, 2012 - Midtown

Organized in conjunction with the exhibition Century of the Child: Growing by Design, 1900-2000 (July 27-Nov. 5, 2012), MoMA Studio: Common Senses is a multi-sensory environment at the intersection of education, design, and art that aims to foster a child's evolving relationships with nature, technology, and everyday surroundings through community interactions and creative play. A series of drop-in activities, workshops, and ongoing projects for audiences of all ages integrates components such as light, nature, food, textiles, games, and technology. Artists, designers, and educators including Fritz Haeg, J. Morgan Puett, Karen Hewitt, Reggio Children, and others engage visitors in generative and sensory experiences, from harvesting an edible garden and hand-weaving rugs to creating light-based scapes and playing familiar and new games.

GreenMarket Farmers' Market - The New York Botanical Garden
Through November 21, 2012 - Bronx

The New York Botanical Garden's Greenmarket provides affordable, locally grown produce along with fresh, nutritious baked goods, and other specialty items. Talk to the farmers to learn more about the nutritional and health benefits of gardening and eating locally. Learn how to use produce from the market to make easy, nutritional meals at weekly cooking demonstrations and find out about composting, recycling, growing vegetables, and more at special demonstrations throughout the season. Hear "what's fresh" at the market each week by calling 718-362-9561 and pressing 406# to find out what you can incorporate into your meals. Open every Wednesday, through November 21, at the base of Library Allee inside the Garden's Mosholu Gate entrance. Free admission and parking to shop at the Greenmarket.

'The Lion, The Witch and the Wardrobe' - St. Luke's Theatre
Through November 24, 2012 - Times Square

Off Broadway Family Theatre presents an adaptation of C.S. Lewis' beloved tale from his Chronicles of Narnia series. In this creative adaptation, two actors play eight characters, both human and animal. Travel to Narnia through the old wardrobe with the four Pevensie children, and get swept into their journey to stand with the great lion Aslan against the evil White Witch. She has placed the land of Narnia under enchantment and now it is always winter, but never Christmas. Audiences will be drawn into the theater's "magic circle," where children and animals, fauns and mythical creatures come to life in this enchanting tale.

Little New-Yorkers - DiMenna Children's History Museum at New-York Historical Society
Through November 30, 2012 - Upper West Side

On Tuesdays and Fridays kids ages 2-4 can explore New York City through singing, stories, and activities. Each class will include story readings, time with historic toys, free exploration, a special Little New-Yorkers hello song, and time in the museum or a craft project, which will alternate each week. Some of the stories that will be featured include Larry Gets Lost in NYC, Don't Let the Pigeon Ride the Bus, The Little Red Lighthouse and the Great Gray Bridge, New York from Above, and Knuffle Bunny.

Spiders Alive! - American Museum of Natural History
Through December 02, 2012 - Upper West Side

The American Museum of Natural History announces Spiders Alive!, a new exhibition about the fascinating and complex world of spiders. For centuries, spiders have inspired mythmakers from Ovid to E. B. White to the creators of the eponymous superhero, but their actual role in diverse ecosystems around the globe is just as captivating. Among the most versatile animals on the planet, spiders inhabit every continent but Antarctica and are able to survive in environments that range from deserts to rainforests to crowded cities. "Spiders Alive! continues a tradition of museum exhibitions that bring people, especially children and families, face-to-face with ambassadors from the natural world," says Ellen V. Futter, President of the American Museum of Natural History. "In this exhibition, as in previous popular presentations of live lizards, snakes, frogs, and butterflies, our visitors will meet some of the world's most exotic and fascinating creatures who have much to teach us about the diversity of life, the fragility of natural systems, and our own responsibility to study and steward life on Earth." In Spiders Alive!, visitors will explore spiders' anatomy, diversity, venom, silk, and behavior including little-known defensive mechanisms such as mimicry and noise-making. In addition to live spiders representing 19 species, the exhibition will also include larger-than-life models of spiders, videos, a climbable spider model, and fossils. Museum staff will be handling live arachnids for visitors to see up close, and the exhibition will focus on debunking spider myths, such as: spiders need gravity to build webs, all spiders neglect their offspring, and all spiders are poisonous to humans Spiders are also important predators; without them, insect populations would explode. By one estimate, the spiders on one acre of woodland alone consume more than 80 pounds of insects a year. Scientists have identified over 42,000 species of spiders to date, and they believe that there are at least as many more yet to be discovered. Among the live spiders visitors will encounter in this exhibition are the goliath bird eater, one of the largest spiders in the world, whose prey includes snakes, mice, and frogs; the western black widow, member of one of the few North American spider groups that can be harmful to people; the fishing spider, who senses prey by resting its front legs on the surface of the water; and the golden orb-web spider, which weaves a golden web that can reach more than 3 feet in diameter. Species from other arachnid orders will also be on display, including African whip spiders, whose whip-like feelers, up to 10 inches in length, help the animal find its way; the giant vinegaroon, which may spray a foul-smelling vinegar-like chemical from its abdomen if disturbed; and the desert hairy scorpion, the largest scorpion in America. The exhibition is curated by Norman Platnick, curator emeritus in the Department of Invertebrate Zoology.

Thirty Years of Collecting: Treasures from Intrepid's Collections - Intrepid Sea, Air & Space Museum
Through December 02, 2012 - New York Harbor

Thirty Years of Collecting: Treasures from Intrepid's Collections will showcase objects from the museum's collections related to the historic aircraft carrier Intrepid, Growler submarine, Concorde, and the space shuttle Enterprise. The exhibit will include nearly 30 objects, many of which will be displayed publicly for the first time, such as original helmets, uniforms, letters, photographs, books, and other items that will display the "humanity behind the hardware" of the vessels at the museum.

Thirty Years of Excellence: An Intrepid Museum Celebration - Intrepid Sea, Air & Space Museum
Through December 02, 2012 - New York Harbor

Thirty Years of Excellence: An Intrepid Museum Celebration will trace Intrepid's historic journey from being transformed from an aircraft carrier into one of New York City's most iconic cultural institutions. A collection of nearly 40 items including artifacts, video footage, photographs, and other archival materials highlight the major milestones of the museum and its affiliated nonprofit organizations, including the Intrepid Fallen Heroes Fund, to commemorate the 30th anniversary of the Intrepid Sea, Air & Space Museum.

Studio School Tours and Open Houses - The Studio School
Through December 05, 2012 - Upper West Side

The morning tours give you an opportunity to see the teachers and students working together in the classrooms. You will receive an overview of the program and the Studio Approach, and have a Q&A session with the head of school. Studio parents will also be present to meet and greet you.

New 'China': Porcelain Art from Jingdezhen, 1910-2012 - China Institute Gallery
Through December 09, 2012 - Upper East Side

A new exhibition of modern and contemporary porcelain art from Jingdezhen, the renowned porcelain capital of China, will be on view at China Institute Gallery from September 21 to December 9, 2012. New "China": Porcelain Art from Jingdezhen, 1910-2012 will offer more than 45 works spanning over a century, including sculpture, paintings on porcelain, as well as vases and other objects. A fully illustrated catalog will accompany the exhibition. New "China": Porcelain Art from Jingdezhen, 1910-2012 includes work by such noted contemporary artists as Zhu Legeng, Ah Xian, Zhu Dequn, and Wayne Higby, all of whom have studied in or traveled to Jingdezhen in Jiangxi province. Bridging traditional and utilitarian practices with pioneering techniques, the exhibition opens with a selection of modern work by artists who worked in the first decades of the 20th century. Most of the work in the exhibition is on exhibit for the first time in the United States.

Weekly Cooking Class - Taste Buds Kitchen
Through December 26, 2012 - Chelsea

Cook up a new and delicious culinary adventure each week in this signature weekly class. Recipes vary from savory to sweet and the class focuses on ingredients, tastes, techniques, and making new friends. This class is a great way to introduce new ingredients and flavors to your child. You'll be amazed at what your budding chef makes and eats. Class size is limited to 10 students. Starting with our youngest chefs at age 2 on up to our advanced teens classes, we have a weekly class for everyone.

Breastfeeding Support Group - 92nd Street Y
Through December 30, 2012 - Upper East Side

Breastfeeding is an evolving process that raises many questions and concerns. Meet with other moms, babies and a lactation specialist from 92nd Street Y Parenting Center to discuss topics such as the emotional ups and downs of breastfeeding, what happens when your milk supply is weak, how to juggle breastfeeding and work, and whether and how to supplement. Come when you can; no registration necessary.

Radio City Christmas Spectacular: The Rockettes Celebration! - Radio City Music Hall
Through December 30, 2012 - Midtown

This year's Radio City Christmas Spectacular celebrates 85 years of the Rockettes in New York. The show features dazzling dance numbers, beloved favorites, and breathtaking special effects. A new scene will be added this year, in honor of the 85th anniversary: a costume retrospective featuring the most interesting and unique Rockettes costumes throughout the decades. The show is interactive and inspired, and highlights the attributes that have made the Rockettes so engaging for so long.

'Falling' - Minetta Lane Theatre
Through December 30, 2012 - West Village

"Falling" boldly explores the dynamic and complicated reality of a family with an autistic young man. When a relative comes to visit, the entire family is thrown out of equilibrium, with everyone trying to balance what is best for the family and what is best for them. The play bravely speaks a truth about love and family and about hopes and dreams. It asks "How do you love someone who is difficult to love?"

Inclusive Weekend Classes - Children's Museum of the Arts
Through December 30, 2012 - SoHo

An opportunity for children with physical disabilities ages 7 and older and their able-bodied siblings or friends to participate in a drop-off art class together. This program is intended to make the museum's art-making accessible to all needs and provide an opportunity for siblings to spend time with each other and with peers who have similar experiences. If a child with a physical disability doesn't have a sibling to attend the session with him or her, the child may bring along a friend instead. Each session offers a new workshop that is designed to meet the needs of the participants. This program is staffed with CMA teaching artists and a licensed occupational therapist(s). This program is based on a class-like model in which the teaching artists and the OT work to facilitate the group experience, with a keen eye towards the special needs of the participants; if your child requires dedicated one-on-one attention you should consider bringing a paraprofessional or other adult to help facilitate your child's experience. Parents are encouraged to drop off their children, though they are welcome to stay if they wish or remain close by in another part of the museum. To sign up for a session, discuss your child's needs with the program director in advance of the session. Contact Valerie for more information at [email protected] Each session accommodates 16 participants.

Sam Eaton Presents 'The Quantum Eye' Magic & Mentalism Show - Theatre 80
Through December 31, 2012 - Manhattan

In this longest running Off-Broadway magic show, Sam Eaton explores mentalism, magic, perception, and deception, mixing extraordinary ability, humor, and audience participation to make for a different performance every time.

'Dialog in the Dark' - South Street Seaport
Through December 31, 2012 - Lower Manhattan

This exhibit leads visitors through a series of NYC environments highlighted by city-centric scents, sounds, temperatures, and textures, all in complete darkness. Relying on blind and visually-impaired guides, exhibit goers will "see NYC" and visit many well known landmarks without the sense of sight while armed with an authentic walking cane. Imagine taking a rumbling subway to your favorite location or maneuvering the crossroads of the world in Times Square while not being able to see a thing. Rest assured, the sounds and the smells will all be there to greet you. But will that be enough to guide your safe passage? The experience will forever change your perception of what it means to be blind or have low vision.

Sha'Baby Shabbat - Romemu
Through December 31, 2012 - Upper West Side

Sha'Baby engages your child's special energy to warm him/her up for creating sacred time during Shabbat. Dancing, laughing, praying, and singing are all a part of this special Shabbat service.

Disney Theatrical Productions Presents 'Newsies The Musical' on Broadway - Nederlander Theatre
Through December 31, 2012 - Manhattan

Set in New York City at the turn of the century, this movie-turned-musical is the rousing tale of Jack Kelly, a charismatic newsboy and leader of a ragged band of teenaged 'newsies,' who dreams only of a better life far from the hardship of the streets. But when publishing titans Joseph Pulitzer and William Randolph Hearst raise distribution prices at the newsboys' expense, Jack finds a cause to fight for and rallies newsies from across the city to strike for what's right. "Newsies" is inspired by the real-life Newsboy Strike of 1899, when newsboy Kid Blink led a band of orphan and runaway newsies on a two-week-long action against Pulitzer, Hearst, and other powerful newspaper publishers. The stage version introduces several brand-new songs by the original team while keeping many of the beloved songs from the film, including "Carrying the Banner," "Seize the Day," "King of New York," and "Santa Fe."

New York TV & Movie Sites Tour - On Location Tours
Through December 31, 2012 - Manhattan

This tour showcases more than 40 locations from some of the most famous places seen on screen, including sites from "Friends," "Blue Bloods," "Seinfeld," "Enchanted," "Spider-Man," "I Am Legend," "Men in Black," and "The Devil Wears Prada."

Storytime and Singalong for Kids - Housing Works Bookstore Cafe
Through December 31, 2012 - SoHo

Join Beth and Amy for reading, singing, and dancing! Appropriate for kids 3 and younger and their caretakers. Only $5 per family at the door.

The Cultural Sunday Kidschool and Bar and Bat Mitzvah Programs - City Congregation for Humanistic Judaism
Through December 31, 2012 - Upper West Side

This class allow youngsters to connect to their Jewish heritage from a secular perspective. Two Sundays a month, children ages five and up have fun exploring Jewish history, traditions, holidays, culture, and ethics. The innovative Bar/Bat Mitzvah program involves classes and an individual mentored journey to discover roots, connections, and beliefs.

Vital Theatre Company Presents: 'Pinkalicious, The Musical' - 45 Bleecker
Through December 31, 2012 - West Village

Pinkalicious can't stop eating pink cupcakes, despite warnings from her parents. Her pink indulgence lands her at the doctor's office with Pinkititis, an affliction that turns her pink from head to toe - a dream come true for this pink loving enthusiast. But when her hue goes too far, only Pinkalicious can figure out a way to get out of her predicament.

Playtime with Sammie and Tudie - Sprout San Francisco
Through December 31, 2012 - Upper East Side

Playtime with Sammie and Tudie is a 'mommy and me' style class. The interactive class includes themed week such as ducks, butterflies, teddy bears, fish, and dinosaurs. Great for ages 1 to 3 1/2 years. Come by the class once or buy a multiple class package.

'Flying Monsters' - American Musem of Natural History, LeFrak Theater
Through January 04, 2013 - Upper West Side

"Flying Monsters" is a new giant screen adventure about the awe-inspiring world of a group of reptiles who ruled the skies about 220 million years ago. Produced by award-winning Atlantic Productions and distributed by National Geographic Entertainment, the film follows world-renowned naturalist Sir David Attenborough as he sets out to uncover the truth about the enigmatic pterosaurs, who, after insects, were the first creatures to fly. Attenborough, who wrote and narrates the film, works with scientists and engineers to try and understand how and why pterosaurs flew, traveling to New Mexico's "Ghost Ranch," Big Bend National Park in Texas, Lyme Regis in the United Kingdom, an ancient pterosaur landing site in Southern France, a fossil pit in Germany where near-perfect pterosaur specimens have been found, and China's remote Liaoning Province in search of answers. How did creatures the size of giraffes with a wingspan of 45 feet fly through the air? The audience will be immersed in the world of the pterosaur and experience the enormous challenges these creatures faced to survive, let alone flourish, in prehistoric skies. The film will introduce viewers to Dimorphodon, the earliest known pterosaur with a complete fossil, Darwinopterus, which, with a lighter build than Dimorphodon, had a wingspan of 2.3-3.3 feet, Tapejara, which may have configured its body to sail across the ocean in search of prey, and Quetzalcoatlus, which, with a wingspan of 33-40 feet and an 8-foot-long beak, is the biggest known animal that has ever flown. Flying Monsters 3D won a BAFTA award in 2011 from the British Academy of Film and Television Arts in the Specialist Factual category, Best 3D Program at the 2011 Jackson Hole Wildlife Film Festival, and Best Science Film from the Association of International Broadcasting. The film will screen at the museum through January 4, 2013. Entrance to the museum is included in movie ticket price.

RAMMELLZEE Fine Art Gallery Workshop - Children's Museum of the Arts
Through January 05, 2013 - SoHo

Experience RAMMELLZEE's unique world of neon color, edgy design, and vast imagination in this series of fine art workshops. To fully explore his vision, CMA Teaching Artists will introduce kids to a variety of mediums and techniques including illustration, painting, sculpture, and music.

Creatures of Light: Nature's Bioluminescence - American Museum of Natural History
Through January 06, 2013 - Upper West Side

This exhibition features the extraordinary organisms that produce light, from the flickering fireflies found in backyards across the Northeast to the alien deep-sea fishes that illuminate the perpetually dark depths of the oceans. Rare among plants and animals that live on land, the ability to glow--that is, generate light through a chemical reaction--is much more common in the ocean, where up to 90 percent of animals at depths below 700 meters are bioluminescent, including many unknown to science. Like the crystal jelly whose glow led to a revolution in cell biology, these animals may hold important clues to essential questions, but scientists are in a race against time as habitats are increasingly threatened by pollution, overfishing, and global climate change. Visitors will move through a series of re-created environments, from the familiar to the extreme, to explore the diversity of organisms that glow and how they do it; discover the variety of ways in which light is used to attract a mate, lure unsuspecting prey, or defend against a predator; and learn how, where, and why scientists study this amazing natural phenomenon. Throughout the exhibition, iPads featuring videos, infographics, photo albums, and animations will provide opportunities to hear directly from researchers about their work. Starting in a local meadow on "a summer's night," where fireflies use unique patterns of flashing light to communicate with potential mates, visitors will descend into "a mysterious cave" in New Zealand to watch a fantastic spectacle of luminescent "fishing lines" strung by larval gnats (glowworms) to trap prey. A unique interactive environment in "a sparkling sea" will introduce the brilliant light displays of Mosquito Bay on Puerto Rico's Vieques Island, where high concentrations of microscopic dinoflagellates, a type of plankton, create a halo around anything that moves through the water. Visitors will activate the bioluminescent bay as they move through this section. "The night dive" will feature a large-scale, day-and-night interactive image of the Cayman Islands' Bloody Bay Wall, a remarkable coral wall that is home to both bioluminescent and biofluorescent animals, which glow only after exposure to light. In "altered light," visitors will encounter the jellyfish Aequorea victoria, which combines bioluminescence with biofluorescence (in which an organism's molecules absorb blue light, then radiate it at a lower energy, longer wavelength) to emit flashes of green light. The protein found in its light organs, known as the green fluorescent protein (GFP), has become a critical tool in cellular and developmental biology, used for mapping neural circuits, observing cancer cells, and much more. Borrowed Light will feature live flashlight fishes, which harbor bioluminescent bacteria in an organ under their eyes, and highlight symbiotic relationships. "The deep ocean" will take visitors into the perpetually dark deep ocean, which comprises the vast majority of the planet's habitable space. A deep sea theater will reveal the diversity of animals that marine biologists have captured on camera, including female anglerfishes waving bioluminescent "lures" to attract prey and mates, and jellyfishes that light up like a flashing pinwheel when threatened.

Tunes with Tina - Bar on Fifth at Setai Fifth Avenue
Through January 06, 2013 - Midtown East

Singer/jazz pianist Tina deVaron will take center stage at this interactive weekend brunch where kids and parents are invited to sing along and request songs while enjoying a prix-fixe menu. September's theme is "Back to Broadway," October's theme is "Let's See Your Costume", November's theme is "Move with the Movies," and December's theme is "Here Come the Holidays."

Nybelwyck Hall: A Mansion in Miniature - Hudson River Museum - Glenview
Through January 08, 2013 - Yonkers

Nybelwyck Hall, a dollhouse representing Lilliputian life at its most luxurious, makes its appearance in Glenview, the Museum's 1897 river home. The 24-room, granite-and-mortar Glenview, and Nybelwyck, the 24-room dollhouse, share architectural features - a Great Hall and a double staircase that curves from the top floor down to the Hall. Nybelwyck's central facade is loosely based on the Hudson River estate, Staatsburg, the Ogden Mills House. The orange-and-green colors on its Victorian addition are reminiscent of Wilderstein, in Rhinebeck, the family home of Franklin Delano Roosevelt's personal secretary. Dollhouse enthusiast Mark O'Banks created Nybelwyck Hall over the course of a decade and looked to the wisdom of a ouija board to name his creation. The house is furnished with found objects in its 24 rooms, as well as rugs O'Banks designed. Among its 900 objects are minute musical instruments that play, doors with intricate locks that work, and a tiny dollhouse within the dollhouse's nursery.

Scandinavian Sing-Along - Scandinavia House: The Nordic Center in America
Through January 12, 2013 - Midtown

Scandinavia holds a treasure-trove of children's songs and games. Danish musician Vibe Normann will introduce children to English versions of these songs, play musical games, and perform a selection of songs in modern, jazzy arrangements. Come prepared to move, dance, imagine, and sing your heart out. Vibe Normann is a Danish musician living in New York with a background in classical and Danish folk music. She has a special love for the Danish children's songs that she grew up with, and has performed all over the eastern United States. Normann will be accompanied by pianist Sean Wayland.

The Amazing Max and the Box of Interesting Things - Manhattan Movement and Arts Center
Through January 13, 2013 - Midtown

The Amazing Max and The Box of Interesting Things is a Magic Show with a mind of its own. Magician Max Darwin makes objects appear out of thin air, as the laws of physics are defied, and miracles are performed inches from spectators' faces. As the props onstage seem intent on surprising even the magician himself, this out of control show bursts with striking visual magic, comedy and juggling, and loads of audience participation. The Amazing Max and The Box of Interesting Things is the wackiest, most interactive, highest energy magic show for families on the market today.

Witness: The Art of Jerry Pinkney - Hudson River Museum
Through January 13, 2013 - Yonkers

In 100 books, Jerry Pinkney has turned his artist's eye and hand to the story - a classic, a folktale, a fable - and readers all over the world saw something new, something they wanted to read and to remember. Pinkney is the master of the American picture book. More than 120 watercolor illustrations by the artist, who lives in Westchester, will be on view in the first major overview of his career as a designer and illustrator in "Witness: The Art of Jerry Pinkney." The exhibition follows his 2010 award of the Randolph Caldecott Medal for "The Lion and the Mouse." The Hudson River Museum is the only New York showing for this exhibition on national tour, organized by the Norman Rockwell Museum in Stockbridge, Massachusetts. Pinkney has found it interesting to trace how the chapters of his life have knitted themselves into his art, touching on the cultural themes of the African-American experience. He uncovers, again and again, the energy in a small moment that surprisingly can change a life or turn an event in history. Most recently in his almost wordless adaptation of the Aesop fable, "The Lion and The Mouse," two creatures on a faraway African plain choose not the hard chase and bloody battle but, instead, exchange kindnesses. Fascinated with wildlife, Pinkney, in many books including "The Brer Rabbit" in "The Last Tales of Uncle Remus" shows us the human qualities of an animal as he shows us the animal in its natural setting. Pinkney, Philadelphia born and bred, and now a long-time New Yorker, has illustrated children's books since 1964, but it was not an easy path. Blacks were not expected to be able to forge careers in the art field. Trained as a commercial artist at a vocational school, he persisted and won a scholarship to the Philadelphia College of Art where his work took on the shading and detail for which he is now renowned, and he where he began to use color to convey mood and emotion. He has most often worked on children's books that celebrate multiculturalism and African-American heritage, as he took on the task of reshaping the perceptions of the stereotypes of blacks. He designed the first nine stamps of the US Postal Service's Black Heritage series. Art critics will look at the color of Pinkney's illustrations, the scarlet curve of Little Red Riding Hood's cloak, the golden blade of grass on the Serengeti plane. Sociologists will look at Pinkney the little boy, who without a visit to a museum or an art class, drew at home on the back of wallpaper samples. What the viewer will see though, in "The Art of Jerry Pinkney" is his wish: "It has always been my intent for my work to continue to breathe after publication. My hope is that (museum visitors) will believe that Jerry Pinkney cares deeply for people, making art, and visual storytelling." The exhibition includes a 96-page illustrated catalog that provides new scholarship into Pinkney's work in essays by the exhibition's co-curator Stephanie Haboush Plunkett, Dr. Gerald L. Early, and others. On view through January 13, 2013.

Big Apple Circus - Lincoln Center Damrosch Park
Through January 13, 2013 - Lincoln Center

The Big Apple Circus presents Legendarium, where you will experience the nostalgic thrills of bygone big tops and get a first-hand view of beauties, daredevils, and clowns from another era. Travel back to when circus traditions were born and witness incredible acts that would have had the villagers chattering for days. The courageous mid-air flips and catches of a man on the trapeze, a captivating contortionist whose flexibility is as impressive as her steadfast poise, an agile, adept acrobat and her strapping suitors, a swaying wire act of sure-footed strength and stability! The dizzying delights of a daring inventor in his tumbling, twirling hoop, the stunning, soaring beauty of a pair on aerial straps and a woman held aloft by hanging silks, a jaw-dropping juggling tango team performing to passionate rhythms! Bicyclists whose spinning wheels turn smooth and speedy stunts, majestic horses with graceful gaits and playful pups with teasing tricks, and what circus would be complete without bumbling clowns who bring the spirit of timeless comedy? It's all led by an affable ringmaster and the great Big Apple Circus Band playing the iconic songs of yesteryear. So run away with the Big Apple Circus and relive big tops of old in a memorable one-ring show for the ages!

Holiday Train Show - New York Botanical Garden
Through January 13, 2013 - Bronx

Marvel at the charming model trains and New York City landmark replicas, stroll the spectacular grounds, and decorate (and eat!) gingersnaps. Within the enchanting setting of the Enid A. Haupt Conservatory, model trains zip over bridges and past replicas of New York landmarks made of plant parts such as nuts, bark, and leaves. Show favorites include the original Yankee Stadium, Statue of Liberty, and Brooklyn Bridge. The Artist's Studio provides an insider's look at how the replicas are constructed as you get up close to G-gauge trains.

'Angelina Ballerina The Very Merry Holiday Musical' - McGinn/Cazale Theatre
Through January 13, 2013 - Upper West Side

Based on the characters created by Katharine Holabird and illustrated by Helen Craig, the Angelina Ballerina The Musical creative team returns with book and lyrics by Susan DiLallo, music by Ben Morss, and direction and choreography by Sam Viverito.

Preschool Art Class - Arts in Action Studio
Through January 22, 2013 - Upper West Side

Founded and directed by Angela Tripi-Weiss, who provides a unique, sequentially-structured fine art education. Preschool artists will embark on an exploration of how they feel while creating laughable long lines, silly sassy shapes, fabulous forms, and colossal kaleidoscopes of colors using many of the art materials that artists use to express themselves. These classes are designed to expose your child, ages 3 to 5, to a variety of fun art materials, and the many exciting ideas and concepts that artists employ while creating their own art. They will tell their own visual stories through art based activities that foster fun, and an understanding of concepts of line, shape, form, and colors in a fun filled way.

Afterschool Art Class - Arts in Action Studio
Through January 23, 2013 - Upper West Side

Founded and directed by Angela Tripi-Weiss, who provides a unique, sequentially-structured fine art education. Arts in Action teaches a visual language as a means of communication that's fun to learn.

'The Velveteen Rabbit' - DR2 Theatre
Through January 27, 2013 - Union Square

Based on the book by Margery Williams and adapted for the stage by Kevin Del Aguila ("Click Clack Moo," "Altar Boyz"), this wonder-filled production is a testament to the power of a child's imagination. With a little bit of nursery magic, three actors and their simple props transform into a wise old rocking horse, a cavalcade of mechanical playthings, a kind-hearted fairy, and of course, a stuffed rabbit who is transformed by the love of a young boy.

Beatrix Potter: The Picture Letters - Morgan Library & Museum
Through January 27, 2013 - Midtown

Beatrix Potter: The Picture Letters brings together for the first time twenty-two letters, including the famous Peter Rabbit letter, from important American private holdings as well as from three major institutional collections: the Morgan, the Victoria & Albert Museum in London, and the Cotsen Children's Library at Princeton University. The letters will be supplemented and enhanced with more than eighty related items, including Potter's privately-printed "The Tale of Peter Rabbit" and other printed books, original artwork, manuscripts, and early children's toys and games inspired by Potter's stories.

'The Velveteen Rabbit' - DR2 Theatre
Through January 27, 2013 - Union Square

A joyous testament to the eternal power of a child's imagination, this classic tale comes to life for a whole new generation in a wonder-filled, interactive production created by Kevin Del Aguila. With a little bit of nursery magic (and a whole lot of audience participation), three actors and their simple props transform into a wise old rocking horse, a cavalcade of mechanical playthings, a kind-hearted fairy and, of course, a stuffed rabbit who is transformed by the love of a young boy.

The RAMMELLZEE Galaxseum - Children's Museum of the Arts
Through January 30, 2013 - West Village

The Children's Museum of the Arts presents the most comprehensive collection of works to-date by visionary artist and MC, RAMMELLZEE. Entitled The RAMMELLZEE Galaxseum, the exhibition will reveal the inner workings of RAMMELLZEE's artistic vision and trace his career trajectory which began in the 1970s as a pioneering "Wild Style" graffiti writer and hip hop MC and evolved in manifesto and medium to the far reaches of the imagination. RAMMELLZEE's legend grew in a Tribeca loft known as the "Battle Station," where the artist conceived a new vision for the future – a self-made mythology, known as Gothic Futurism, with its own set of heroes and villains, which he called Recyclers and Trashers or more notably, Garbage Gods and Monster Models. For over 30 years, RAMMELLZEE inhabited the universe he created, building layer upon layer of legend and legacy. The RAMMELLZEE Galaxseum showcases a visual encyclopedia of RAMMELLZEE's artworks including full-body life-sized costumes, masks, character frescoes, figurines, large scale paintings and video and audio recordings from some of his performances. Suspended from the gallery's ceiling are RAMMELLZEE's legendary letter racers, or car-like vehicles representing letters of the alphabet seeking to "break free." In addition to his visual artwork, RAMMELLZEE is well-known for his contributions to hip-hop lyricism and vocalization, as illustrated in the documentaries Style Wars and Wild Style, as well as the hip-hop single Beat Bop, which was produced by Jean-Michael Basquiat and consists of a 10 minute narrative rap by RAMMELLZEE and K-Rob that is considered to be one of the most essential hip-hop recordings ever made.

Spy: The Secret World of Espionage - Discovery Time Square
Through March 31, 2013 - Times Square

Spy: The Secret World of Espionage is a new exhibition launching in May at Discovery Time Square. This interactive exhibition is a once-in-a-lifetime opportunity to step inside the real world of intelligence, showcasing real items from the actual vault of the CIA. Encounter real stories and actual gadgets revealed for the first time ever from the CIA vault. Experience what it's like to be a spy firsthand by creating your own disguises, altering your voice, and navigating laser beams. Plus, gain exciting new insights into how intelligence really works: how science and technology play a major role, and discover how the men and women who do this kind of work shape the course of history every day.

Harry Potter: The Exhibition - Discovery Times Square
Through April 07, 2013 - Times Square

Back by popular demand, this stop in New York City will serve as the exhibition's return to North America after a yearlong international tour. Since it was last here in 2011, the exhibition has been updated significantly with artifacts from the film series, including the final film. The 14,000-square-foot experiential exhibition includes dramatic displays inspired by the Hogwarts film sets and authentic costumes and props from the films. Fans will have a firsthand view of hundreds of artifacts displayed in settings inspired by the film sets including the Great Hall, Hagrid's hut, the Gryffindor common room, and more. In addition to the hundreds of original props and costumes from the Harry Potter films displayed during the exhibition's first time in New York, original artifacts from the series finale, Harry Potter and the Deathly Hallows: Part 2, will be on display for the first time, including a new vignette dedicated to the epic battle of Hogwarts.

Magnificent Trees of The New York Botanical Garden - New York Botanical Garden
Through April 14, 2013 - Bronx

Larry Lederman, landscape photographer and member of NYBG's Board of Advisors, has spent years walking the garden grounds to observe and photograph trees and vistas in all seasons and at all times of day. Lush images featuring their diversity and visual impact are on view in the gallery space. The New York Botanical Garden is home to more than 30,000 trees, some in woodland, some in groves, and some standing in solitary majesty. Magnificent Trees is lavishly illustrated with photographs by Larry Lederman and accompanied by descriptions by Todd A. Forrest, Arthur Ross vice president for horticulture and living collections at the garden. An authority on the diverse species present across the 250-acre landscape, Forrest details their fascinating histories -- from their vital role in Native American life and culture to their function in neutral territory during the Revolutionary War. Lederman captures their grandeur in hundreds of stunning images and portrays their diversity with photographs that reveal the trees in myriad fascinating perspectives: in landscape views that convey the garden's genius loci; portraits illustrating the architecture and profound visual impact of select trees; remarkable details of flowers, fruit, leaves, and bark; and impressionistic images, abstract in character yet beautiful in composition.

Shababa™ Saturday Mornings with Karina - 92Y
Through May 25, 2013 - Upper East Side

Celebrate the joys of Shabbat with the Shababa™ community in this intergenerational family Shabbat experience including singing, art projects, playground visits, holiday themed celebrations, and more. Saturdays, ongoing, 10:30am-12pm.

Shababa™ Saturday Club - 92Y
Through May 25, 2013 - Upper East Side

Let your child explore and expand their connection to Shabbat, Jewish holidays, and Jewish values in a warm, informal communal setting. The staff will engage them through creative and traditional approaches. Saturdays, ongoing, 10:30am-12pm.

Manolo Valdes Monumental Sculptures - The New York Botanical Garden
Through May 26, 2013 - Bronx

Drawing inspiration from the natural landscape of the Botanical Garden, seven towering sculptures by acclaimed Spanish artist Manolo Valdes showcase the relationship between art and nature.