According to a recent article in the Daily News, 40 percent of teens lose their virginity by age 14. As the mother of three girls, including a 14-year-old, I was therefore particularly intrigued by the book, Boy Crazy! Keeping our Daughter's Feet on the Ground When Her Head is in the Clouds (BroadwayBooks, $14). Written by Long Island residents Charlene C. Giannetti and Margaret Sagarese (also co-authors of The Rollercoaster Years), it speaks to parents of all kids (if you have boys, you probably ought to know what's going on with the girls they know).
In a recent telephone interview, Sagarese said that in today's sexualized culture, it is especially important that parents teach their kids about relationships — a part of the equation that is left out of the media's obsession with underage sex. The book recommends a dozen movies to view with your daughter, and while most teens will sneer at watching Disney's "Beauty and the Beast", the other suggestions, from "Casablanca" to "Win a Date with Tad Hamilton", are right on the money.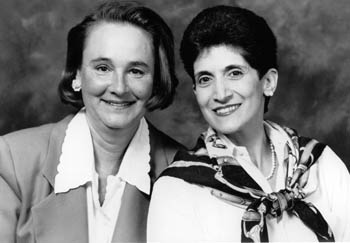 Boy Crazy! gives simple, concrete examples that help parents (and kids) out of sticky situations. For example, when it comes to fighting about clothing, the authors write:
"Your daughter picks out a tight white dress that is clingy, clearly too sexy in your view.
DON'T SAY: You look too sexy
DO SAY: White is a very tricky color. Your panty lines, the wrong light, feeling chilled or hot – you could wind up showing more than you want to, looking foolish."
The book also advises parents to keep tabs on friendships with other girls, noting that "the leap from letting a friend treat you badly to allowing a boyfriend to do likewise is not very far."
Many teens nowadays go on "group dates" rather one-on-one outings, which parents may find reassuring. But this is not necessarily better, according to the authors of Boy Crazy!. They warn that, "…in a group, there may be pressure to 'hook up' before she [your daughter] is ready for such physical contact."
Sagarese also pointed out that while many parents (and the media) are quick to vilify such technology as chat rooms and text messaging in the sexualization of teens, 'It is not technology that is the villain." She noted that the values and boundaries parents teach to young children apply online as well as off: don't talk to strangers, be wary of bullies.
The authors came to their literary success in a roundabout way. Giannetti was writing a business newsletter and hired Sagarese to write for her. Sagarese's daughter was 11 at the time, while Giannetti had a nine-year-old daughter and an 11-year-old son. Unable to find a book addressing the problems that tween girls have, they decided to "write the book we needed," said Sagarese.
They began by sending questionnaires to parents, students and educators at middle schools all over the country, and used the responses to write The Rollercoaster Years. The authors said they became better parents as a result of writing the book. And though Sagarese has a degree in sociology, she said their approach has been as parents, asking the questions they (and thousands of other parents) are interested in. Although their children have aged out of the middle and high school woes, this area is still their métier.
According to Sagarese, her daughter, now a senior in high school, has been supportive of her mother mining her private life in print. "She jokes to her friends, 'Don't say anything around my mom – she'll put it in her book!'" Sagarese said.
Sagarese cautioned against invading a child's privacy, crossing the line into snooping. "Parents are much more controlling now," she said. In fact, the book identifies four types of parents the authors encountered in their research: authoritarian, absentee, friend-parents, and authoritative. Authoritative parents, they observed, "allow, and even encourage, their children to voice their opinions and share in decision making. They have rules and try to be consistent. However, they make room for flexibility and a child's point of view."