The last time I took my kids to an observatory was three years ago, just minutes before the big blackout hit the tri-state region. We were at the top of the Empire State Building, and had to walk down 86 floors (and home to Park Slope). So we were not rushing off to the new Top of the Rock Observation Deck, at 30 Rockefeller Plaza. But finally the deck, which re-opened in November, 2005, beckoned with its panoramic views, outdoor platforms, and light shows.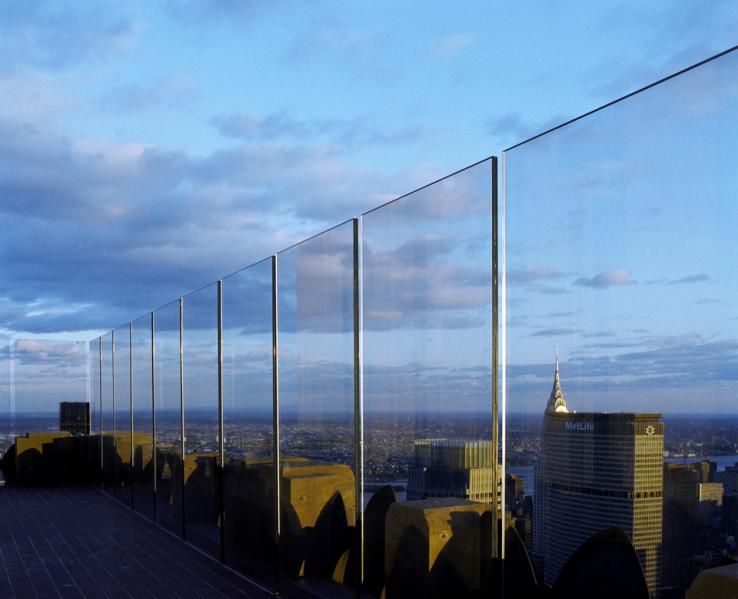 Visitors first take an elevator one flight up where wall panels give a brief history of Rockefeller Center's construction and the Depression. There are also a couple of short films on Rock Center. If you are daring, you can walk across a beam that looks like it is suspended 800 feet in the air. There is also an original wood model of the Art Deco building.
Then you take the elevator ride to the top. Be sure to look up — the elevator literally speeds into the light, with images from the '30s to now superimposed on the glass ceiling.

There are three levels to visit, all with indoor and outdoor viewing areas. You can see clear into the boroughs and New Jersey, and kids who know the city can be challenged to find landmark buildings.

My daughter loved the "Target Breezeway" room, where motion-sensor lights followed her as she ran in circles. Target's signature circle gets a bit wearying, but other LED lights join the corporate bulls-eye. Swarovski made two crystal sculptures for the space, a huge waterfall and a geode wall, both of which my 8-year-old examined at length. There are also light shows at night, when you can see the city illuminated (sadly for adults, you can't enjoy a cocktail at the Top of the Rock; maybe all that safety glass is a poor mix with alcohol).

For those who hate waiting on line, the very civilized timed-ticket system means no waiting. Even if you don't make a reservation, you can buy a ticket with little wait time.

Info:
Where: West 50th Street, between Fifth and Sixth Avenues.
When: Open daily, 8:30am-midnight.
How much: $17.50 adults, $16 seniors, $11.25 ages 6-11, free, under age 6. Remember quarters for the binoculars, or bring your own.
Reservations: www.topoftherocknyc.com or (877) NYC-ROCK.