For most new mothers, just getting dressed is a feat.  But for a new mom who is also a makeup artist, not having the time to apply her makeup was both earth-shattering and inspiring.  Upper West Sider
Debra Rubin-Roberts
, mother of 3-year-old Daisy, had her brainstorm about a new makeup line almost immediately after giving birth.  She needed makeup that was easy to apply — and if she needed it, surely other moms did, too.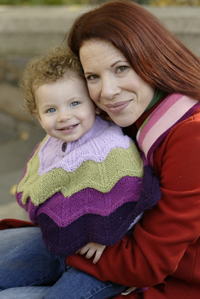 Thus,
Mommy Makeup
was born.  The line, in development for three years, was just launched with kits for "Chic Moms on the Go".  Each kit, either Clean-n-Casual, for everyday wear, or Pretty-n-Polished, for times when you've snagged an evening babysitter, contains makeup that does double duty. The lip gloss comes with built-in lipliner; the mineral powder, with an SPF of 8, works as a foundation, face protector and powder in one.  This powder, along with a powder bronzer, is perfect for airline travel when liquids are restricted.
   And Roberts' products are designed for maximum efficiency. She realized how much time she saved by not having to screw and unscrew so many different caps, explaining that shaving off those few seconds could mean the difference between being made up or going out au natural.
   Roberts has chosen cute, catchy names for her products: the concealer is called "Mommy's Little Helper" and the lip gloss is "Mommy's Kisses".  And the different lip gloss colors are named for Daisy's friends ($23 each).
   Once you've mastered Roberts' five- (for Clean-n-Casual) or six- (for Pretty-n-Polished) step process, you are ready for her "Incredible Add-Ons", which include brow tint and eyeliner.  But the kits ($87 for Clean-n-Casual and $120 for Pretty-n-Polished) are a great way to get started on a quick, simple makeup regimen.
   The concept has proven so popular, in fact, that Roberts is considering a new line that emphasizes busy women, and doesn't target only moms. Women who haven't had kids yet may feel the makeup is too 'old', but if you have girls in your house, a great way to keep them from 'borrowing' your makeup is to use products with a 'mommy' label.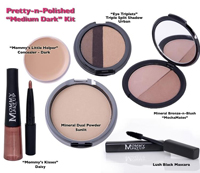 Mommy Makeup kits, in five shades, from very light to dark, come with an easy-to-follow instruction chart ("Paint by Numbers", drawn by Roberts' husband, Jeremy). Roberts promises that the makeup takes only five minutes to apply — time well spent when a colicky baby leaves you with raccoon eyes and blotchy cheeks.
   Roberts is considering various retail options; right now, the makeup is sold online, at
www.mommymakeup.com.