If you're worried about teaching your child a new language that you don't actually speak, we can help with these tips. Here are some top tips for helping your kids learn a language when you are not a native speaker.
We polled local experts to determine what monolingual parents can do to help their children endeavor to become bilungual.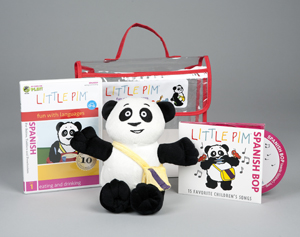 This introductory Spanish set from Little Pim includes a
board book, a DVD with 60 everyday words and phrases,
and a Spanish Bop music CD featuring Dan Zanes and
Milkshake ($39.95; littlepim.com). Nine other languages
are available, so finding music to play with your child is a cinch.
1. Buy music in the target foreign language.
By playing music in a foreign language on a regular basis, parents and children develop an ear for the language. Soon, both of you will sing along! "This type of activity should help with vocabulary recognition and aid with the correct pronunciation of the new foreign language words or phrases," says Stacy Paulino, director of the language studio at Lingua-Genius Foreign Language Studio in Mamaroneck.
2. Attend classes with your children (and pay attention!).
When a child is enrolled in a toddler-age language educational play class, one of the biggest secrets to his or her success lays in the behavior of their caregiver, says François Thibaut, founder and director of Language Workshop for Children. "At the LWFC, we've noticed a tremendous correlation between a child's accomplishments and the way their caregiver acts in class," says Thibaut, whose organization has locations in Manhattan and Manhasset. Merrily prompt children to watch and listen to the teacher. React enthusiastically to new activities when they're introduced, too.
3. Encourage relationships with native speakers.
Whether your children meet them at a local group, cultural institute, or school, relationships with native speakers are crucial to learning to speak a foreign language properly, says Meredith Farrelly, assistant manager of instruction at Manhattan's Berlitz Language Learningn. Organize game nights with other speakers and only speak that language.
4. Label your house.
Buy a pad of sticky notes and put them on items in your house in the target language as your child learns the associated vocabulary. "Be creative! If you don't have a fish, let your child draw a goldfish bowl and label it 'le poisson' if your child is learning French," suggests Shawn Scott, director of instruction, North America at Berlitz. "When your child opens the door, remind him or her that it is a 'porta' if he or she is studying Italian. When your child encounters the new words on a daily basis, he or she is much more likely to remember them."
5. Celebrate the new language.
Prepare a dinner with cuisine from a country that speaks the language. Try participating in a cultural event like Cinco de Mayo or Chinese New Year. Such immersion activities that are not focused on rote learning make adopting the language more exciting, less like a chore.