When their kids develop a princess obsession, many parents succumb and trek to the Disney store to outfit their daughters in the complete Princess line.  When investigative reporter Susan Gregory Thomas' 3-year-old daughter got caught up in preschool princess politics, Thomas "embarked on a curriculum" of Cinderella legends around the world, and got the idea for her book, Buy, Buy Baby: How Consumer Culture Manipulates Parents And Harms Young Minds (Houghton Mifflin, $25).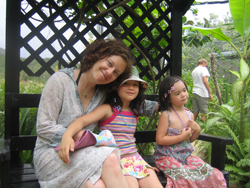 Thomas describes the game as one focused on the wearing of the particular powder blue of Cinderella's dress, as rendered in the Disney movie.  Thomas had thought fairy tales too frightening to introduce before age 5, adding that she was "astonished that this kind of materialism was playing a role at such an incredibly tender age."  What she uncovered was a concerted effort by marketers to sell directly to infants and toddlers.
   She lives in Park Slope, which wears its anti-materialism on its organic cotton sleeve, even as brownstones top the $3 million mark and chain stores creep in.  But Thomas confesses,  "I don't hold myself up as a paragon and stand on a lofty aerie.  I love clothes, I like to shop." And she isn't espousing an aestheticism that her daughters Zuzu, now 6, and Frankie, almost 4, might not embrace. But she does question why they are interested in a certain licensed product.
   In the book, Thomas examines the toy and media marketing shift from parents to babies, and a 'cradle to grave' marketing mentality that infects every level of American society — from characters on diapers to advertising on television.  She also delves into the rise of companies like Little Einstein and Leapfrog, and Scholastic's shift from an educational publisher to one "pushing the merch".  Thomas says marketers studied Gen-X parents like herself who claim not to want to push their kids, but then buy any toys labeled educational.
   Buy, Buy Baby looks at television and educational videos and Thomas writes that, "very young children learn from concrete, simple repetition; Baby Einstein offers bright, shiny chaos."  And she believes marketing of licensed characters is so successful through TV and videos because "the only verifiable learning that very young children get from repeated television viewing is recognition of characters or puppets that have become familiar."
   Along the way, Thomas actually taught a popular afterschool class at her older daughter's elementary school.  "Ad Busters" encouraged kids to look closely at the products marketed to them, and to consider whether macaroni and cheese with a character on the box is better than mac 'n cheese without the product tie-in.  Though this sounds weighty for 5-year-olds, Thomas insists that the kids got into it, with a field trip to a local supermarket to closely examine products.  The book forced Thomas to re-examine her own "presumptions and prejudices", particularly in what she calls "the deeply American idea that every single moment has to be productive somehow."  She concludes the book with a defense of 'nothing', a new-for-her parenting practice of "appreciating the wonders of just hanging out."
   But she is not remaining idle.  She says, "I was raised in large part by babysitters and I had some really upsetting experiences as a young child." So she and her husband have crafted careers where they both work from home, and use each other (and school) as childcare.  Her next book examines childcare in America.
A Question for Susan Gregory Thomas, author of BUY, BUY, BABY
Q: You write that marketing to babies and toddlers started with videos and TV designed for that age group. How?

A: When I was at a children's marketing conference in Orlando, one of the country's foremost kids' marketers summed it up quite pithily: "How do you get a kid to buy your product? Simple: Make a commercial, put it on TV." Amazingly, before 1997, there was no notion that setting a baby or toddler down in front of a video or TV show could be a good thing. As far as educational TV goes, there was Sesame Street, but that was for older kids — preschoolers. Babies and toddlers might be in the room when the television was on, but nobody considered it especially appropriate for children in that age group to watch TV.
   But 1997 was big turning point. Not only was the brain conference held, there was also a lot of press that year about what was called the Mozart Effect. It was based on an experiment at the University of California showing that college students did marginally better on an intelligence test after listening to a particular Mozart piece. That result was thoroughly debunked later on, and it had never been tested on babies or toddlers. But somehow, the two specious ideas, that 0- to 3-year-olds needed special stimulation to be smart and that Mozart could make you a math whiz, spread like a flu virus and then kind of converged. Within weeks the Baby Einstein Company was born. It was founded by a stay-at-home mother, Julie Aigner-Clark, who said that she just wanted to create what she called a "video picture book" for her own baby, and her first product was Baby Mozart. She was careful to say that her videos were not genius-makers, but rather supported infants' natural curiosity. Aigner-Clark had a great marketing plan. But she had never done any research on how infants or toddlers process videos.  And, as it turns out, it is a radically different one from adults — or even 4-year-olds.