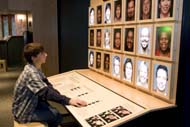 Daily activities for kids and the family are abound in Fairfield County! Whether you want to spend the day with your children at a zoo, a museum, or just outdoors, we've got it all here. Want to see what's going on next weekend or when you have those few days off? Check out the NY Metro Parents'
calendar
!
Books & Beasts - Stamford Museum and Nature Center
April 23, 2014 - Stamford
Enjoy an afternoon story in the Heckscher Barn. Then, make the pages from the book come alive with a themed craft and "meet and greet" with one of the animals. Animals will vary each week. Meet at the Heckscher Barn. No registration needed.
TEEN MINECRAFT - Westport Library
April 23, 2014 - Westport
Play Minecraft on the Fairfield County Minecraft server, a project designed to bring Minecrafters together in a safe environment. Bring your own laptop. For grades 6-12.
SPRING BIRDING - Audubon Greenwich
April 23, 2014 - Greenwich
Morning bird walks are a spring tradition. Get out and enjoy two local 'birding' hot spots. No charge or RSVP required. Bring binoculars and/or camera. Loaner binoculars may be available. Call Ted Gilman at x230 with any questions. Saturdays meet in Audubon Greenwich parking area on Riversville Road. Wednesdays meet at Fairchild Wildflower Garden parking area on North Porchuck Road.
Lego® Club - Wilton Library
April 23, 2014 - Wilton
Kids in grades K and up are invited to join this weekly Lego® Club. Each session will be based on a new theme such as castles, vehicles, towers and more. Children will learn about the theme through stories and non-fiction books and then create a Lego® masterpiece from the library's Lego® collection. There are 20 spots available for this program on a first come, first served basis each week. Tickets will be passed out at the Children's reference desk starting at 3:45pm the day of the program.
Books for Babies - Wilton Library
April 23, 2014 - Wilton
Bring your baby to this infant friendly program for songs, playtime and gentle stories geared for babies under 12 months old. This is an excellent forum to meet other new parents in the area. This program runs for 11 Wednesdays. No registration, no fee.
Wonderful Ones and Twos - Wilton Library
April 23, 2014 - Wilton
This program is a sharing time for 1 and 2 year-olds and their caregivers. The emphasis is on books, with some songs and toy time. No registration, no program fee.
'Thingamabob' Exhibit - Maritime Garage Gallery
Through April 25, 2014 - Norwalk
Machines, gadgets and all things technology inspire the artwork at a new exhibit at the Maritime Garage Gallery."Thingamabob" features art that is in the eye of the mechanically inclined in a group show of artists, including John Jackson of Jefferson, New York, Tom Hlas of Norfolk, CT, Lewis Schaffer from Ridgefield, Deborah Rauh from Westport, Sara Roche from Weston, and others. The Maritime Garage Gallery is part of the Norwalk Parking Authority's "Art in Parking Places" initiative, an effort to support art in public spaces making Norwalk a more vibrant destination. January 29-April 25, 2014.
Exhibition--Garden Party - Greenwich Art Society Gallery
Through April 26, 2014 - Greenwich
The Garden Party theme is the inspiration for artwork by artists from the Society, many of whom are present or former students of the Society's Studio School.
Wonder Women of Fairfield - Fairfield Museum and History Center
Through April 28, 2014 - Fairfield
Discover the vision and determination of Fairfield's most famous women, who forged new avenues of achievement not open to earlier generations. Through portraits, biographical information, objects and documents,the exhibit highlights the fascinating lives of notable women who helped build and shape our community, including Pepperidge Farm founder Margaret Rudkin and Connecticut Audubon Society founder Mabel Osgood Wright February 27-April 28, 2014.
Fairfield's Rockin' Top Ten - Fairfield Museum and History Center
Through April 28, 2014 - Fairfield
This interactive exhibition takes a look at some of America's most renowned musicians—such as Keith Richards, David Brubeck, Jose Feliciano and Chris Frantz and Tina Weymouth--who have called Fairfield and surrounding communities home and have shaped our musical legacy. March 1-April 28, 2014.
The Greenwich Art Society presents 'The Art of Lina Morielli' - Greenwich Hospital - Garden Cafe
Through April 30, 2014 - Greenwich
This exhibition is comprised of paintings and mixed media from the artist's personal collection. February 1 – April 30 at the Garden Café at Greenwich Hospital. Lina Morielli was born in Montreal, grew up in Darien, CT and is a graduate of Parsons School of Design. As an artist/arts activist she has been in involved in many aspects of the local art scene in the Stamford area for over twenty years. She was president of Stamford's Loft Artists Association and received three City Arts Partnership Program grants to produce their Annual Open Studios and Performance Series. February 1-April 30,2014.
Pack Chat for Kids (ages 4-8) - Wolf Conservation Center
Through April 30, 2014 - South Salem
An excellent introduction to wolves for families with young children. Kids learn about the mythology surrounding wolves and the important role of wolves in the natural world. Guests will visit Ambassador wolves Atka, Alawa, and Zephyr, as well as the center's other endangered wolves. Don't forget a camera. Pre-registration required. Apr. 13 and 27 at 11am.
LOST EGYPT: ANCIENT SECRETS, MODERN SCIENCE - Connecticut Science Center
Through May 04, 2014 - Hartford
Lost Egypt blends ancient artifacts and hands-on activities to create a learning experience for families, students, and all those with a passion for Egypt and Egyptology. The interactive exhibit features real human and animal mummies, as well as mummy scans and forensic facial reconstructions. Visitors can explore a re-creation of an Egyptian tomb and see authentic art and artifacts from the daily life and funerary culture of ancient Egypt, plus the first ever life-size rapid prototype of a mummy in a stage of "unwrapping". They can also build a pyramid, sit atop a friendly camel and read hieroglyphics as ancient Egyptians did thousands of years ago. Feb 1- May 4, 2014.
Forrest Bess: Seeing Things Invisible - Neuberger Museum of Art
Through May 18, 2014 - Purchase
Self-described "visionary" artist Forrest Bess (1911-1977) is a unique figure in the history of American art. He eked a meager living fishing and selling bait by day in Bay City Texas, while, in his free time, he read, wrote, and painted prolifically. He created an extraordinary body of mostly small-scale canvases rich with enigmatic symbolism based on symbols he saw in his dreams. Bess drew meaning for these symbols from various disciplines such as medicine, psychology, anthropology, and philosophy, eventually formulating a theory, which he referred to as his "thesis," that the unification of male and female within one's body could produce immortality. Despite his remote location, Bess gained recognition in the New York art community, showing his work between 1950 and 1967 with the prominent artist and dealer Betty Parsons. "Forrest Bess: Seeing Things Invisible" is organized by the Menil Collection, curated by Assistant Curator, Clare Elliott, in collaboration with contemporary artist Robert Gober, expanding on a project he created for the 2012 Whitney Biennial. It will feature a selection of over 40 paintings, along with rare works on paper and selected letters, and will be accompanied by a fully illustrated catalogue. At the Neuberger Museum the exhibition is organized by Chief Curator Tracy Fitzpatrick. Through May 14.
The Art of Video Games - Hudson River Museum
Through May 18, 2014 - Yonkers
One of the first major exhibitions to explore the 40-year evolution of video games as an artistic medium, "The Art of Video Games" focuses on the medium's striking graphics, creative storytelling, and player interactivity. Organized by the Smithsonian American Art Museum, the exhibition travels to the Hudson River Museum for its only appearance in the New York Metro area, from Feb. 15-May 18. "The Art of Video Games" features the most influential artists and designers across five eras of game development, from early pioneers to the contemporary artists, who created some of the best games for 20 gaming systems that range from the Atari VCS to PlayStation 3. Video games - a compelling and influential form of narrative art - use player participation to tell stories and engage audiences in the same way as film, animation, and performance. The exhibition features 80 video games selected with the help of the public to demonstrate the evolution of the medium. The games are presented through still images, video footage, and video interviews with developers and artists, historic game consoles, and large prints of in-game screen shots. Five featured games are available for visitors to play (Pac-Man, Super Mario Brothers, The Secret of Monkey Island, Myst, and Flower), which show how players interact with the virtual worlds, highlighting the innovative techniques that set the standard for many subsequent games. "Video games are a prevalent and increasingly expressive medium within modern society," said Chris Melissinos, former chief gaming officer for Sun Microsystems, founder of Past Pixels, and guest curator of the exhibition. "In the 40 years since the introduction of the first home video game, the field has attracted exceptional artistic talent. Video games, which include classic components of art, offer designers a previously unprecedented method of communicating with and engaging audiences by including a new element, the player, who completes the vivid, experiential art form by personally interacting with the game elements." Visitors to the exhibition are greeted by excerpts from selected games projected 12 feet high, accompanied by a chipmusic soundtrack by 8 Bit Weapon and ComputeHer, including "The Art of Video Games Anthem," recorded by 8 Bit Weapon specifically for the exhibition. An interior gallery includes a series of short videos showing the range of emotional responses players have while interacting with games. The Smithsonian invited the public to help select the video games in the exhibition. A pool of 240 games was selected by Melissinos and an advisory group consisting of game developers, designers, industry pioneers, and journalists. More than 3.7 million votes were cast by 119,000 people in 175 countries. "The Art of Video Games" is organized by the Smithsonian American Art Museum with generous support from the Entertainment Software Association Foundation; Sheila Duignan and Mike Wilkins; Shelby and Frederick Gans; Mark Lamia; Ray Muzyka and Greg Zeschuk; Rose Family Foundation; Betty and Lloyd Schermer; and Neil Young. Promotional support is provided by the Entertainment Consumers Association. The C.F. Foundation in Atlanta supports the museum's traveling exhibition program, "Treasures to Go." On view through May 18, 2014.
BLACK-WHITE-COLOR-LIGHT: The Art of Rick Shaefer & The Sun as Art: NASA Photographs - Stamford Museum and Nature Center
Through May 27, 2014 - Stamford
The science behind the perception of color is explored in this two-part exhibition. Colossal black charcoal drawings on white velum capture the intricate details of two precious natural resources: bison and trees. Artist Rick Shaefer, from Fairfield, juxtaposes the majesty and frailty of nature in his life-size renditions with an injection of humor from his crows: a cast of characters atop a fence. The second part of this exhibition involves twenty stunning, full-color, high-resolution images of the sun demonstrates the color spectrum of light. QR codes allow visitors to scan and learn more about the dramatic images captured by NASA scientists ? some of which have been "modified" to suggest familiar forms and images. The brainchild of Dr. Steele Hill, a media specialist at NASA's Goddard Space Flight Center in Greenbelt, Maryland; the images showcase the incredible details of the sun in a unique way. An interactive light box allows visitors to mix color shadows with body movement to experience the range of color in the light spectrum. Our world is awash in color and light, highlighted by the nuances of shadow, contrast and darkness. How does the light from the sun influence the way we perceive color? How is our imagination challenged by black and white imagery? These questions are explored in our exhibition, Black, White, Color, Light. March 22-May 27, 2014.
The Katonah Museum of Art presents Jasper Johns & John Lund: Masters in the Print Studio - Katonah Museum of Art
Through June 15, 2014 - Katonah
The Katonah Museum of Art presents "Jasper Johns & John Lund: Masters in the Print Studio," the first in-depth exhibition to focus on the collaboration between the iconic American artist and his master printer. An extraordinary, little-known story unfolds in the exhibition "Jasper Johns & John Lund: Masters in the Print Studio" Over the past 30 years Johns and Lund have forged a rare artistic collaboration: side-by-side, master printer Lund has helped one of America's foremost living artists achieve precisely the desired effect he seeks in his prints, 47 of which are featured in the exhibition. This is the first museum exhibition to explore these two masters' working relationship. Johns is one of the most prominent and prolific printmakers of the 20th and 21st centuries. While he has collaborated with several master printers during his long career, his relationship with Lund is unique due to the exclusive nature of their working process. Johns and Lund first worked together in 1973 at Universal Limited Art Editions (ULAE), the fine art print publisher, where Lund was a lithography printer, working with art world luminaries including Robert Rauschenberg, Larry Rivers, and James Rosenquist. A decade later Lund became integral to Johns's printmaking process as the sole printer to work on the artist's intaglio prints. In 1996 Lund and his family moved into a home on Johns's rural Connecticut property, establishing a private print studio and becoming his on-site master printer. Together they have created over 70 editions, the vast majority of which are made with intaglio techniques, including etching and aquatint. The imagery in the prints is often related to paintings Johns is in the process of creating, or has just completed. There are two layers of singular ability involved in making these prints - the technical and the artistic. Lund's expert skill is a means by which Johns achieves his creative vision. The exhibition's chronological installation includes the seminal series The Seasons (1987); Flag on Orange (1998), the first edition published under Johns's own Low Road Studio imprint; and the Shrinky Dink series (2011-12), which references elements from The Seasons while featuring new imagery. This one-on-one relationship is uncommon in the print world. Says Lund, "It's more solitary and concentrated but, hopefully, the result is an instinctual feel for the intention of the artist, knowing what the artist is looking at, and what I can do to make it all happen." The luxury of having his own print studio permits Johns the freedom of extended experimentation and exploration. Says Lund, "We've made spontaneous monoprints, worked out 'what if' issues, used printmaking elements that end up as drawings, used equipment and/or print techniques in his paintings - it can be very fluid since I'm just down the hall. In between projects or even in the middle of a print, I never know what Jasper might walk in and ask for..." Johns' print and painting studios are housed in the same converted carriage barn; their proximity permits the artists' effortless movement between the different techniques. The exhibition offers an exclusive glimpse into Johns' private print studio through a selection of recent photographs. "This is a story that's never been publicly told," says exhibition curator Ellen Keiter. While many of the works featured in "Jasper Johns & John Lund: Masters in the Print Studio" have been included in other museum and gallery exhibitions, they have not been viewed through the lens of these two masters' working relationship. Process is explored in proofs and plates, and Lund's personal photographs of Johns at work are also on display. "Mr. Johns is a famously private person," says Keiter. "I believe it is out of respect for Lund and his untold contributions that Mr. Johns has granted us open access to his print studio." Interim executive director, Belinda Roth, adds: "We are delighted to bring this new perspective to Jasper Johns' scholarship. The works on display form a telling representation of the second half of his printmaking career. We're equally proud to recognize John Lund and his singular role in contemporary printmaking." The exhibition "Jasper Johns & John Lund: Masters in the Print Studio" will be on view at the Katonah Museum through June 15, 2014. In connection with the exhibition, the Museum will publish an illustrated catalogue with an essay by Wendy Weitman, former curator in the Department of Prints and Illustrated Books at MoMA, and now an independent curator.
Pasture to Pond: Connecticut Impressionism - Bruce Museum
Through June 21, 2014 - Greenwich
Drawn from the permanent collection of the Bruce Museum, private collectors, area museums, and the trade, this exhibition speaks to the quality and beauty of this perennially popular art and celebrates Connecticut's role as the birthplace of American Impressionism. Tour Connecticut's landscapes through the canvases of American Impressionist artists including Childe Hassam, J. Alden Weir, John Henry Twachtman, Leonard Ochtman and others. March 22- June 21, 2014.
Great White Shark - Maritime Aquarium - IMAX
Through June 30, 2014 - Norwalk
No other modern animal may command both fear and fascination as much as the great white shark ? but The Maritime Aquarium's new IMAX?film suggests, instead, that these predators mainly need help and respect. This film unravels the mystery of the creature by telling the true story of its role atop the oceanic food chain. "Our mission is to change people's attitudes toward the great white," said Steve McNicholas, co-director of the film. "It's not the menacing, evil predator it's made out to be. It's simply performing its crucial role at the top of the ocean's food chain. Great whites are not monsters any more than the polar bears or lions that we revere." The 40-minute film takes viewers around the world to great-white hotspots and examines the animals through the eyes of several people whose lives and work have become inextricably linked to the great white, including shark expert Michael Rutzen, who openly scuba dives among them. Through June 30,2014.
Sensory Jump Time - Pump It Up Norwalk
Through June 30, 2014 - Norwalk
Pump It Up has partnered with Autism Speaks to offer Sensory Jump Time, a program for all children on the autism spectrum. They have created a sensory-friendly environment specific to the Sensory Jump Time program. Children who attend have the opportunity to make new friends, jump, slide and play sensory-friendly games within a controlled, safe environment. This program is open to children on the autism spectrum and their siblings only. Advanced registration is encouraged as this program is not open to the general public in order to provide a safe environment for the children. Pump It Up is a proud supporter of Autism Speaks. The program takes place on Tuesdays and Saturdays.
Fun & Games with Miss Melissa at Pump It Up Norwalk - Pump It Up Norwalk
Through June 30, 2014 - Norwalk
Children enjoy a select mix of games, stories, crafts or other fun filled activity depending on the theme Miss Melissa has planned for that day. Takes place Tuesdays, Wednesdays and Thursdays.
Island of Lemurs: Madagascar - Maritime Aquarium - IMAX Theater
Through June 30, 2014 - Norwalk
The creative forces behind the popular IMAX movie "Born to Be Wild" come together again. Writer-producer Drew Fellman, filmmaker David Douglas and narrator Morgan Freeman team up again for a whirlwind romp through the island nation off Africa's eastern coast. Lemurs are a unique line of primates that have been bounding around on the island paradise – and only on that single island paradise – after arriving there millions of years ago. But now habitat destruction is a serious threat to lemurs' existence. The film follows Dr. Patricia Wright, a professor of biological anthropology whose lifelong mission is to help these unusual creatures survive in the modern world. April 4-June 30, 2014.
Story and Animal Program - Earthplace
Through August 10, 2014 - Westport
Children 5 and younger can visit Earthplace every week for story time and an animal encounter. Thursdays and Fridays year-round.
Tiny Titans: Dinosaur Eggs and Babies - Yale Peabody Museum
Through August 30, 2014 - New Haven
This family-friendly exhibition features amazing collections of dinosaur eggs, nests, embryos and young with video presentations summarizing the latest findings of dinosaur experts. It will be on view from February 8 through August 30, 2014.
New and Improved Healthyville - Stepping Stones Museum
Through September 01, 2014 - Norwalk
Enjoy updated versions of old favorites such as riding a bike next to a skeleton, shopping for foods in the market and brushing a giant mouth, while new activities allow children to explore even more about fitness and nutrition. Study circulation and digestion, learn about go/slow/whoa foods, play food detective, get an up-close look at a giant nose, row a boat in tandem with a skeleton and create a warm up and cool down routine. Children and adults will have hands-on opportunities to explore topics in ways that help them understand their bodies, understand the importance of making healthy choices and apply concepts in everyday situations. February 1, 2014-September 1, 2014.
Dinosaur Safari: Mysteries Revealed - Bronx Zoo
Through November 02, 2014 - Bronx
Dinos are back at the Zoo, bigger and badder! The attraction includes a ride through the Cretaceous and Jurassic periods with more than two-dozen animatronic dinosaurs up to 40 feet long which move, snarl, roar, and spit. Board a paleontologist's wagon for a trip back in time. Dig for fossils at a field site and explore artifacts. Take a tour through the pre-historic world at Erth's Dinosaur Zoo. Dinosaur Safari: Mysteries Revealed includes a ride through a two-acre area of the zoo, and highlights the physical or behavioral adaptations many share with species that are alive today. This limited engagement runs through November 2, and will be included in the Total Experience Ticket. Special events will take place all spring and summer. Tickets can be purchased in advance at bronxzoo.com.
Meerkats - Maritime Aquarium
Through December 31, 2014 - Norwalk
Meerkats are members of the mongoose family that live in social ?mobs? in the Kalahari Desert, in the southern African nations of Botswana and South Africa. No mere cats, meerkats are fascinating for living in structured but cooperative societies, including a foraging strategy where adults take turns standing guard upright on their hind feet, watching for predators, while the others eat. The meerkats? exhibit offers opportunities for climbing, digging and exploring, with several feeding locations to keep them on the alert for incoming crickets. A viewing bubble lets visitors pop up right among the meerkats. February 1-December 31, 2014.
Animal Feeding at Earthplace - Earthplace
Through January 01, 2015 - Westport
Ever wonder what you feed a turkey vulture? Curious about how a box turtle chews with no teeth? Join Earthplace staff in the Animal Hall and Connecticut Birds of Prey exhibit for scheduled feeding times. Earthplace staff will be able to answer all your questions while giving each of the animals their daily meal. On Mondays, Wednesdays and Fridays watch the animals in Animal Hall get fed. On Tuesdays, Thursdays and Saturdays it's time to feed the Birds of Prey. The activity takes place year-round.
Toy Boat-Making Workshop - Maritime Aquarium
Through December 31, 2015 - Norwalk
Visit the toy boat-making area on weekends for a fun 20-minute boat-building project. Build and decorate a toy sailboat to take home as a special keepsake of your visit. Saturdays and Sundays year-round.
Creating Community: Exploring 375 Years of Our Past - Fairfield Museum and History Center
Through December 31, 2015 - Fairfield
This new, hands-on exhibit invites visitors to look inside a Native American wigwam, climb into an American Revolution fort, decipher spy code, and learn how factories fueled the area's growth. Young and old alike will enjoy learning how people worked, lived, and built a community over time by exploring original objects, individual stories, and engaging activities. October 27-December 31, 2015.
Africa: From the Desert to the Sea - Maritime Aquarium
Through December 31, 2015 - Norwalk
Explore the aquatic wonders of Africa, including amazing fish from the Nile River, the lakes of Africa's Great Rift Valley and the Red Sea. Species highlighted include exotic air-breathing lungfish that can survive for a year if their waterhole goes dry, and colorful cichlids and coral reef species that shine in shimmering rainbows. January 1 2014 - December 31, 2015.
Born to Be Wild - Maritime Aquarium
Through June 30, 2024 - Norwalk
Academy-Award winner Morgan Freeman lends his voice to this film which follows orphaned baby orangutans and elephants, and the people who rescue and raise them for eventual release back into the wild. Through June 30,2014.