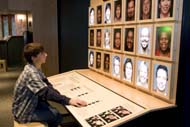 Daily activities for kids and the family are abound in Fairfield County! Whether you want to spend the day with your children at a zoo, a museum, or just outdoors, we've got it all here. Want to see what's going on next weekend or when you have those few days off? Check out the NY Metro Parents'
calendar
!
Holiday Book Sale - Wilton Library
Through December 23, 2013 - Wilton
Look for bargains on new or like-new items such as books, unopened CDs and DVDs, children's books and a huge assortment of art books. As items are sold, new ones appear daily. All sales support the library. November 26-December 23, 2013.
Holiday Howl at the Wolf Conservation Center - Wolf Conservation Center
December 23, 2013 - South Salem
Get outside during the holidays at the Wolf Conservation Center! Learn about the mythology, biology, and ecology of wolf families and discover why this season is such a magical time for packs in North America. Guests will assemble "wolfy" gifts for Ambassador wolves Atka, Alawa, and Zephyr, then then enjoy watching the wolves tear them open! Guests will also visit the WCC's critically endangered red and Mexican gray wolves. Pre-registration is required.
The North Pole Comes to Stepping Stones - Stepping Stones Museum
December 23, 2013 - Norwalk
Enjoy hands–on activities and meet and take your own photos with holiday favorites, from Santa Claus to Frosty the Snowman to other surprise characters.
Jingle Bounce - Pump It Up Norwalk
December 23, 2013 - Norwalk
At this Pop-In-Play time you'll get a free jingle bell necklace.
Wilton Library Holiday Book Sale - Wilton Library
Through December 23, 2013 - Wilton
The library's holiday book sale in the gallery is a seasonal opportunity to find bargains. Most of the items are new or like-new condition and include books, unopened CDs and DVDs, children's books and a huge assortment of art books. As items are sold, new ones appear daily, thanks to the hard-working book sale volunteers. All sales support the library. Sale is during regular library hours from December 1-December 23, 2013.
5th Annual Greenwich Reindeer Festival & Santa's Workshop - McArdle's Florist & Garden Center
Through December 24, 2013 - Greenwich
Santa and his live reindeer return to Santa?s Workshop at McArdle?s Florist & Garden Center. At approximately 2pm on Friday November 29, Santa will arrive down Greenwich Avenue with Dancer, Dasher, Prancer and Blitzen. Families can visit the reindeer and have their photo taken with Santa at his special workshop. Adults, children, company employees and even pets are welcome. Reindeer feeding times will take place daily at 9am and 4pm. November 29-December 24, 2013.
19th Holiday Gift Show - Rowayton Arts Center
Through December 24, 2013 - Rowayton
Visit the center for unique holiday gifts, decorations and collectibles by some of Fairfield County's finest artists and craftspeople.
5th Annual Greenwich Reindeer Festival & Santa's Workshop - McArdle's Florist & Garden Center
Through December 24, 2013 - Greenwich
Families can visit the reindeer and have their photo taken with Santa at his special workshop. Adults, children, company employees and even pets are welcome. November 29-December 24, 2013. Reindeer only available through December 23.
A Grand Display of Holiday Traditions: Victorian Era Presents and Decorations - Lockwood-Mathews Mansion
Through December 29, 2013 - Norwalk
Visitors to the Mansion will explore the development of American holiday traditions during the Victorian era, including holiday technologies and toys. Each Period Room of this National Historic Landmark will tell a story, such as the Dining Room, which will highlight New Year's feasts and menus. Throughout the Mansion the exhibit will tell the evolving story of the Christmas tree and its decorations. Visitors will see its evolution from 1850 to 1900s, from small tabletop tree with edibles and handmade ornaments, to lavishly embellished trees that stood on the floor and almost reached the ceiling. The Museum will also explore the Mansion during the 1930s, and the decorations and gift-giving traditions during Florence Mathews era. November 29-December 29, 2013.
Santa Dives with Sharks - Maritime Aquarium
Through December 31, 2013 - Norwalk
On select dates in December, Santa Claus will join The Maritime Aquarium's dive team to demonstrate that sharks aren't the blood-thirsty killers of myth. Santa will strap on scuba gear and enter the Aquarium's 110,000-gallon "Ocean Beyond the Sound" exhibit, which is home to 7-foot sand tiger and lemon sharks. It's all part of the regular dive-team program, in which Aquarium visitors can see ? and talk with ? divers swimming in the exhibit on Thursdays, Saturdays and Sundays. Check the Aquarium's website for specific dates when Santa can pull himself away from the North Pole and exchange his snow boots for swim flippers. Thursdays, Saturdays and Sundays December 1-December 31, 2013. Check the website to confirm dates.
Pack Chat for Kids (ages 4-8) - Wolf Conservation Center
Through December 31, 2013 - South Salem
An excellent introduction to wolves for families with young children. Kids learn about the mythology surrounding wolves and the important role of wolves in the natural world. Guests will visit Ambassador wolves Atka, Alawa, and Zephyr, as well as the center's other endangered wolves. Don't forget a camera. Pre-registration required. Dec. 1, 7, 15, 22, 28, and 30 at 11am; Dec. 26 at 2pm.
'The Polar Express' - IMAX Theater, Maritime Aquarium
Through January 01, 2014 - Norwalk
See this popular holiday film about a young boy who doubts the existence of Santa Claus and gets taken on a magical Christmas Eve trip to the North Pole. Through January 1, 2014.
Echoes of Egypt: Conjuring the Land of the Pharoahs - Yale Peabody Museum
Through January 04, 2014 - New Haven
This exhibition will take you on a journey through two thousand years of fascination with ancient Egypt, the land of the pharaohs. Visitors will enter through a reproduction of the Egyptianizing gateway that is the entrance to New Haven's Grove Street Cemetery (designed by Henry Austin in 1839), and then discover how a culture that flourished thousands of years ago has impacted our own world. Echoes of ancient Egypt appear in art, architecture, and literature around the world from ancient Africa to medieval Europe and the Middle East, to modern North America. April 13, 2013-January 4, 2014.
Secrets of Circles - Stepping Stones Museum
Through January 05, 2014 - Norwalk
If you look around, you'll see that circles are everywhere: in the wheels of a car, the clock on the wall, the tortillas on your table, and the frisbees and tops you play with. This exhibit invites visitors to climb into a circular boat, play and pretend in a market full of circles from around the globe and make objects spin using colorful gears. Featuring eighteen hands-on components, the highly-interactive Secrets of Circles inspires children and adults to ask questions and investigate the answers as they explore the math, science, and engineering of circles. September 8-January 5, 2014.
In Vogue: A Runway of 19th Century Women's Fashion - Fairfield Museum and History Center
Through January 05, 2014 - Fairfield
The exhibit features the fashion-forward women of the late-18th and 19th centuries. Every decade from 1780 to 1900 will be on the runway. From cage hoop skirts to sleeves so large a woman could barely turn her head, this exhibit will emphasize the making of a fashionable woman throughout the Colonial, Regency, and Victorian Eras of Fairfield's history. Peer through a sea of posh hats to catch a glimpse of these historical fashionistas. July 20, 2013 - January 5, 2014.
BODIES REVEALED - Connecticut Science Center
Through January 05, 2014 - Hartford
This exhibition offers visitors an opportunity to see inside carefully preserved anatomical specimens and learn the detailed structure and function of the human body. The Exhibition takes visitors through galleries providing an up-close look inside the skeletal, muscular, reproductive, respiratory, circulatory and other systems of the human body. Many of the whole-body specimens are displayed in athletic poses, allowing the visitor to relate them to everyday activities. In addition, specimens illustrate the damage caused to organs by over-eating and lack of exercise. A healthy lung is featured next to a black lung ravaged by smoking in a vivid comparison more powerful than any textbook image. The human body specimens in the Exhibition are preserved through a revolutionary technique called polymer preservation. In this process, human tissue is permanently preserved using liquid silicone rubber that is treated and hardened. The end result is a rubberized specimen, preserved to the cellular level, showcasing the complexity of the body's many bones, muscles, nerves, blood vessels and organs. The full-body specimens can take more than a year to prepare. September 21-January 5, 2014.
Holiday Express Train Show - Fairfield Museum and History Center
Through January 05, 2014 - Fairfield
Kids and adults will delight in the magic of model trains winding around a winter wonderland of spectacular trees and beautiful holiday scenery. December 6-January 5, 2014.
Holiday Train Show - New York Botanical Garden
Through January 12, 2014 - Bronx
The Holiday Train Show is back with plenty of holiday fun and new surprises for the whole family! This year features more trains than ever before, and a new holiday dining experience inspired by the historic streets of New York. Marvel at model trains zipping around New York landmark replicas made of plant parts such as nuts, bark, and leaves. The Artist's Studio provides an insider's look at how the building replicas are constructed and - new this year - features a showcase of unique and historic model trains. Explore the exhibition in the warmth of the Enid A. Haupt Conservatory, enjoy hands-on holiday fun for the entire family, and get your holiday shopping done too...it's a whole day of fun!
'Tornado Alley' - Maritime Aquarium
Through January 16, 2014 - Norwalk
This film invites the audience to follow along with a daring team of "storm chasers" as they work to understand the origins and evolution of tornadoes. Sean Casey, star of the Discovery Channel's "Storm Chasers" reality series, leads this mission to document one of Earth's most awe-inspiring events - the birth of a tornado.
Industrial Sublime: Modernism and the Transformation of New York's Rivers, 1900-1940 - Hudson River Museum
Through January 17, 2014 - Yonkers
The opening of the Erie Canal in 1825 assured the Hudson River a vital role in the evolution of what would become New York City into the nation's industrial and financial powerhouse - its "Empire City." The same year, artist Thomas Cole was "discovered," setting in motion a tradition of painting that transformed American art, much as the Erie Canal was rapidly transforming the landscape. For the most part, artists ignored the industrialization of the region; Cole was a strong proponent of the British traditions of the sublime and the beautiful, and his melding of these romantic ideals to direct observation of nature became the mainstay of American landscape in the mid-19th century. The ideal expressed in thousands of Hudson River School canvases from the 1820s through the turn of the century constituted a moving vocabulary many artists clung to, even decades after the reality of the landscape had changed. It was not until the first decade of the 20th century, as artists like Robert Henri and John Sloan turned their attention to the urban scene, that American art shifted its focus from bucolic landscapes to the cities, the towns, and the crowds, especially the raucous urban scene of Manhattan - by then the nation's most important metropolis. The movement away from painting the land to painting the life on the street is often seen as a clean break with the depiction of the landscape, and with landscape painting generally as a mainstay of American art in the face of European Modernism. However, artists continued to paint the Hudson River, as well as its tributaries, the Harlem and East Rivers, and the great harbor of New York City into which they flowed. What was different was their approach. Having jettisoned the romantic ideals of their forebears, artists like Henri and Sloan, and later, Georgia O'Keeffe, George Ault, Edward Hopper, and Preston Dickinson, celebrated the changing way of life along the city's waterfront. As the century progressed, they did so with sharper focus and with ideals borrowed from the Machine Age. Instead of majestic mountain ranges, their subjects were the arching bridges, swinging cranes, and streamlined ocean liners resting in the harbor. Artists took the elements of the Sublime, combined them with Modernism's interest in structure and form, and applied them to the manmade industrial one - thereby creating a new visual vocabulary for the 20th century - the Industrial Sublime. "Industrial Sublime," the exhibition, takes as its focus the shift in both style and sensibility during the years 1900 to 1940, and explores the development of a new mode of landscape painting and pictorial ideals suited to America's role as a global industrial power. Museums lending works to the exhibition of more than 60 paintings include The Metropolitan Museum of Art; The Solomon R. Guggenheim Museum; The Art Institute of Chicago; Hirshhorn Museum and Sculpture Garden; Munson-Williams-Proctor Arts Institute; High Museum of Art; Museum of Art, Ft. Lauderdale; Georgia Museum of Art; The New-York Historical Society; Museum of the City of New York; Newark Museum; the Phillips Collection; Flint Institute of Arts; Smithsonian American Art Museum and the Norton Museum of Art. The exhibition, accompanied by a fully illustrated catalogue, is co-curated by Kirsten Jensen, Curator, Hudson River Museum and Bartholomew F. Bland, Director of Curatorial Affairs, Hudson River Museum. Additional essayists for the publication include Wendy Greenhouse, co-author of "Chicago Modern 1893-1945: Pursuit of the New;" Katherine E. Manthorne, professor of modern art of the Americas, Graduate Center, City University of New York; and Ellen E. Roberts, Harold and Anne Berkley Smith Curator of American Art, Norton Museum of Art. "Industrial Sublime: Modernism and the Transformation of New York's Rivers, 1900-1940" is the fifth exhibition in the Hudson River Museum series, "The Visitor In the Landscape." The exhibition will travel to the Norton Museum of Art, March 20-June 22, 2014. The exhibition and the accompanying catalogue have been made possible by a generous grant from the Mr. and Mrs. Raymond J. Horowitz Foundation for the Arts, Inc. The exhibition catalogue is supported, in part, by Furthermore: a program of the J.M. Kaplan Fund. On view through January 17, 2014.
2013 Festival of Lighthouses Contest - Maritime Aquarium
Through January 20, 2014 - Norwalk
Enjoy a display of imaginative handcrafted lighthouses ? and then vote for your favorite. Your votes determine the winners of this exhibit, which will present 24 large model lighthouses throughout the aquarium galleries. The lighthouses will be the creations of regional artists, crafts people and just folks with an idea. Some entries come in as scale models of real lighthouses. Others will be wildly creative. The lighthouse that gets the most visitor votes will win $1,500. Other prizes to be announced in a special evening reception on Jan. 23 are: $750 for second place, $375 for third; $300 for fourth; $225 for fifth; and $150 for sixth. Lighthouses must be 3 to 6 feet tall and have a working light ? Beyond that, it's up to the creators' imaginations. (Prohibited are animal remains, including shells.) November 16-January 20, 2014.
ART OF THE AUTOMOBILE - Westport Library
Through February 08, 2014 - Westport
Visit this exhibit of photorealistic paintings by Weston artist Ken Scaglia celebrating the elegant lines and polished surfaces of classic cars. Through February 8, 2014.
Exhibition: Eye to I...3,000 Years of Portraits - Katonah Museum of Art
Through February 16, 2014 - Katonah
The curatorial staff of the Katonah Museum of Art is developing an exhibition of portraiture that will represent diverse cultures and span more than 3,000 years of history and art. "Eye to I...3,000 years of Portraits" is not intended as an encyclopedic account of portraiture; rather, it will use portraits to explore the myriad ways that individuals look at and understand imagery. Each of the 60 portraits on display will offer interpretive copy from a range of individuals - scholars, teachers, actors, doctors, politicians, art collectors, and community members - explicating the work from their personal perspective. Visitors will be invited to add their own responses as well. The conceptual framework for this show is based on the premise that in art, as in life, there is no single piece with a meaning that is objective, value-neutral, or accessible to all. The importance assigned to an art object corresponds to the viewers' perspectives, which vary according to language, culture, socialization, education, and other aspects of their personal histories. The portrait genre in particular presents multiple layers of interpretation and represents a broad sampling of eras, media, and artistic periods. The earliest works on display will be a carved Egyptian bust of Amenhotep III, dating from 1,500 BC, and a marble sculpture of a Roman priest (AD 125). From there, the exhibition moves forward to feature portraits from Europe, Asia, Africa, and South America to contemporary American artists who create portraits in astounding ways. The artists included are Diane Arbus, Chuck Close, John Singleton Copley, Gustave Courbet, Edward Curtis, Eric Fischl, Felix Gonzales-Torres, Duane Hanson, Oliver Herring, Byron Kim, Vik Muniz, Alice Neel, Shirin Neshat, Julian Opie, Pablo Picasso, Gordon Parks, Martin Schoeller, Cindy Sherman, Auguste Rodin, Edouard Vuillard, Andy Warhol, and Kehinde Wiley, among others. On view Oct. 27, 2013 through Feb. 16, 2014. Museum hours: Tuesdays through Saturdays: 10am-5pm; Sundays: 12-5pm. Closed Mondays.
Winter Farm Bingo - Stamford Museum & Nature Center
Through February 28, 2014 - Stamford
Pick up a copy of the new Winter Farm Bingo in the Bendel Mansion Museum Building and visit Heckscher Farm to see how the animals adapt to winter. Find five in a row to make BINGO and turn your sheet into our Front Desk for a prize. December 1-February 28, 2014.
A BILLION BRICKS: LEGO T-Rex, Turtles & Trains! - Stamford Museum & Nature Center
Through March 02, 2014 - Stamford
Bill Probert & I LUG (LEGO Users Group) NY returns for a fifth season with a LEGO? landscape of epic proportions. "BILLions" of bricks recreate the subterranean world of the Teenage Mutant Ninja Turtles and a prehistoric park with T-Rex and velociraptors. Subways, trains, roller coasters, and mine trams will chug, spin, whirl and speed across a multi-level imaginary world built completely of LEGO? bricks. Peek into the new underground portals as subway cars whiz by before your eyes. Custom-designed LEGO? houses will offer visitors a glimpse into the abstract and fantastic architectural potential of the LEGO? brick. December 14-March 2, 2014.
Inside the Artists' Studios: Small-Scale Views - Bruce Museum
Through March 16, 2014 - Greenwich
This exhibition features scale model constructions of artists' studios created by four artists -- Joe Fig, Richard Haas, Lori Nix and Jimmy Sanders -- who also work in painting, printmaking, and photography. December 14-March 16, 2014.
Exhibition: Oysters, Pearls of Long Island Sound - Bruce Museum
Through March 23, 2014 - Greenwich
Found in estuaries around the world, oysters are a favored delicacy for humans and play a valuable role in ecosystems and economies. These unassuming mollusks have sustained Native Americans, cleaned polluted harbors, provided critical habitat, and created waterside cultures. Explore the science and natural history of oysters, particularly the Long Island Sound's native Eastern oyster, Crassostrea virginica. November 2 - March 23, 2014.
Great White Shark - Maritime Aquarium - IMAX
Through April 03, 2014 - Norwalk
No other modern animal may command both fear and fascination as much as the great white shark ? but The Maritime Aquarium's new IMAX?film suggests, instead, that these predators mainly need help and respect. This film unravels the mystery of the creature by telling the true story of its role atop the oceanic food chain. "Our mission is to change people's attitudes toward the great white," said Steve McNicholas, co-director of the film. "It's not the menacing, evil predator it's made out to be. It's simply performing its crucial role at the top of the ocean's food chain. Great whites are not monsters any more than the polar bears or lions that we revere." The 40-minute film takes viewers around the world to great-white hotspots and examines the animals through the eyes of several people whose lives and work have become inextricably linked to the great white, including shark expert Michael Rutzen, who openly scuba dives among them. October 11-April 3, 2014.
Exhibition: Six Ladders - Katonah Museum of Art
Through April 21, 2014 - Katonah
Bright swaths of vibrant colors transform the Katonah Museum of Art's exterior in its newest outdoor exhibition, "Six Ladders," by artist Andrea Lilienthal. Lilienthal created a series of giant bamboo ladders for the Museum's stately Sculpture Garden that are whimsical and enigmatic; their brilliant colors electrify the natural surroundings. Five ladders, with their cheerful colors and playful patterns, lean against the Museum's enormous spruce trees in various positions and at different angles. On the building's facade, a sixth, 30-foot ladder extends just short of the roofline - its form and ribbons of color energizing the wall and lending sculptural dimension to the flat expanse. Each of the ladders are hand-constructed from sturdy commercial bamboo, harvested in China, and painted with high-gloss outdoor enamel paint from Holland. Their surfaces are smooth and reflective, in contrast to the course-textured tree bark. According to Katonah Museum of Art Curator Ellen Keiter, "These are not functional structures - their bottom rungs are too high to mount and the ladders fail to reach the top of their intended destinations. These are instead beautiful works of art; Andrea Lilienthal responds to the inherent geometry of ladders and the repetitive rhythm of their rungs. She finds beauty in their simple, minimalist construction." "Lilienthal's ladders instill a sense of wonder and suggest that seemingly unreachable goals can be attained," she says. Keiter explains that bamboo is a hollow-stemmed, woody plant that "bows, sways, and splits, so slight imperfections, even substantial cracks, add distinctive character to each ladder. No two ladders are painted the same, yet their similarly saturated hues coalesce into a lively visual harmony." She adds, "The bands of luscious color wrap around the bamboo like candy confections, and bright confetti patterns alternate with stark black-and-white designs. A causal link exists between the artificial colors and the natural bamboo. On one ladder, Lilienthal painted white rings around the growth nodes of the bamboo; on another, the nodes demarcate the lengths of painted blue and orange sections." Says Lilienthal: "These magnificent and mysterious trees [at the Katonah Museum of Art], whose tops are not even visible, dwarf the people and furniture below. In response to their super scale, I chose the ladder, a form with human scale and multiple readings: utilitarian ancient, mythic, and universal. The severe and stately trees support the bamboo ladders in an implied partnership; rooted and stable, the trees assist the ladders in their attempt to ascend. But ultimately, how do you mount an 80-foot Norwegian spruce tree? My answer was to climb it with imagination, affirming our connection to the natural world." Lilienthal has used bamboo in her artistic practice for several years. In earlier installations, she aligned multiple painted, wrapped, or taped bamboo poles along a wall - works awash in color, but still relatable in size. However, her current exhibition at the Katonah Museum of Art is in keeping with the majesty, diameter, and spacing of the giant spruce trees. Adding to the intrigue of this exhibition are enlarged photographs of the Garden's spruce trees displayed in the Museum's two west windows adjacent to the lone 30-foot ladder. On first impression, the images appear as reflections. In this way, Lilienthal reinforces the relationship between the ladders and the trees while further playing with the viewers' perceptions and expectations. Historically, ladders carry rich and universal associations. In many faiths and fables, ladders are a symbol of ascent, of travel, of reaching upward. In modern times, they represent progress and growth, allowing us to reach higher than we would otherwise be able to go. Ladders symbolize elevation: from darkness to light, from ignorance to knowledge, and from the material to the spiritual. They are featured in art from prehistoric cave paintings to contemporary times. Jacob's Ladder, the metaphysical passage between heaven and earth, is mentioned in the first book of the Bible, and is represented in such disparate media as Renaissance paintings and popular video games. There is a popular African-American spiritual, "We Are Climbing Jacob's Ladder," Eric Carl's beloved children's picture book, "Papa, Please Get the Moon for Me," and innumerable colloquialisms regarding "the ladder of success." On view through April 21, 2014 during Museum hours: Sundays: 12-5pm; Tuesdays through Saturdays: 10am-5pm. Closed Mondays.
Story and Animal Program - Earthplace
Through August 10, 2014 - Westport
Children 5 and younger can visit Earthplace every week for story time and an animal encounter. Thursdays and Fridays year-round.
Animal Feeding at Earthplace - Earthplace
Through January 01, 2015 - Westport
Ever wonder what you feed a turkey vulture? Curious about how a box turtle chews with no teeth? Join Earthplace staff in the Animal Hall and Connecticut Birds of Prey exhibit for scheduled feeding times. Earthplace staff will be able to answer all your questions while giving each of the animals their daily meal. On Mondays, Wednesdays and Fridays watch the animals in Animal Hall get fed. On Tuesdays, Thursdays and Saturdays it's time to feed the Birds of Prey. The activity takes place year-round.
Toy Boat-Making Workshop - Maritime Aquarium
Through December 31, 2015 - Norwalk
Visit the toy boat-making area on weekends for a fun 20-minute boat-building project. Build and decorate a toy sailboat to take home as a special keepsake of your visit. Saturdays and Sundays year-round.
Creating Community: Exploring 375 Years of Our Past - Fairfield Museum and History Center
Through December 31, 2015 - Fairfield
This new, hands-on exhibit invites visitors to look inside a Native American wigwam, climb into an American Revolution fort, decipher spy code, and learn how factories fueled the area's growth. Young and old alike will enjoy learning how people worked, lived, and built a community over time by exploring original objects, individual stories, and engaging activities. October 27-December 31, 2015.