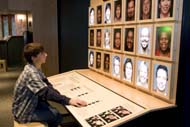 Daily activities for kids and the family are abound in Fairfield County! Whether you want to spend the day with your children at a zoo, a museum, or just outdoors, we've got it all here. Want to see what's going on next weekend or when you have those few days off? Check out the NY Metro Parents'
calendar
!
'Ice Age' to the Digital Age: The 3D Animation Art of Blue Sky Studios - Katonah Museum of Art
Through January 20, 2013 - Katonah
This unique interactive exhibition looks at the imaginative work of Greenwich, Connecticut-based Blue Sky Studios, a leader in the animation industry for over 20 years. Creator of such blockbuster films as the "Ice Age" series, "Robots," and "Rio," the studio prides itself on technical innovation, while retaining a strong narrative heart. '"Ice Age" to the Digital Age' will guide visitors through Blue Sky's entire process of creating computer-animated films: from initial concepts, storyboards, character design, background art, and three-dimensional modeling, to the highly technical work of animation, rigging, materials, lighting, special effects, and sound. In addition to final movie clips, the exhibition will feature rarely-seen original concept drawings, sculptural models, props, and digital stills. Interactive stations will allow visitors to sketch a scene or manipulate computer-generated images to better understand the innovative technology that brings the films to life. Katonah resident Chris Wedge, a co-founder of Blue Sky in 1987, believes that the secret to the studio's success is in its inventive process. In his view, the art challenges technology and technology inspires the art. The Museum will be turning all the galleries, including the Learning Center, over to this exhibit. There will be gallery talks with Blue Sky co-founder Chris Wedge and "Ice Age: Continental Drift" directors Steve Martino and Mike Thurmeier, as well as a calendar of programming in partnership with the Jacob Burns Film Center. Details about these programs are available at katonahmuseum.org. The exhibition will be on view from Sunday, September 16, 2012 through January 20, 2013.
The Little Mermaid Jr. - Ridgefield Playhouse
Through January 20, 2013 - Ridgefield
Music and exciting costumes make the popular Hans Christian Anderson fairy tale come alive on stage. Performed by kids for kids, The Little Mermaid Jr. features a girl with an enchanting voice and dreams of leaving her ocean home to live in the world above.
Winter Creature Cruises - Maritime Aquarium
January 20, 2013 - Norwalk
These cruises seek out the harbor seals, gray seals and even harp seals that have been coming down into the Sound in growing numbers each winter. Educators on board the research vessel Oceanic point out these federally protected marine mammals and talk about their natural histories. They'll also help identify such winter waterfowl as buffleheads, mergansers and Old Squaws. Bring binoculars and plenty of warm clothes. Recommended for ages 8 and up. Space is limited so advance reservations are strongly recommended. Walk-up tickets will be sold, space permitting. The cruises depart from the dock outside the Aquarium's IMAX movie theater. For reservations or more details, call ext. 2206.
Family Art Project: Freedom Pillows - Wave Hill
January 20, 2013 - Bronx
Draw on the spirit of Dr. Martin Luther King and traditional African American quilts to display your own personal dream of freedom. Choose from a wide array of cloth, yarn, and felt to embellish a pillowcase for your dream-time wish.
Miss New York USA & Miss New York Teen USA Pageants - Performing Arts Center at SUNY Purchase College
January 20, 2013 - Purchase
Miss New York Teen USA and Miss New York USA, presented by The Miss Universe Organization, Donald Trump, and K2 Productions. Watch an amazing group of young women take the stage live to compete for the crowns.
The Wednesday Music Club - Fairfield Museum and History Center
January 20, 2013 - Fairfield
The Wednesday Music Club, founded in 1898, is in its 114th year performing and sharing music in the Greater Bridgeport Area. The Wednesday Music Club is affiliated with the National Federation of Music Clubs. Its mission is to provide music for entertainment, for nursing homes and civic functions, and to provide music scholarships for deserving, auditioned young people who will be music majors in college. The club is currently sponsoring four musicians.
Bridgeport's Roots - Fairfield Museum and History Center
January 20, 2013 - Fairfield
Learn about the roots of Bridgeport's "Little Liberia" and its African American community with Mary Witkowski of the Bridgeport History Center and historian Charles Brilvitch.
BEAUTY and The BEAST - Downtown Cabaret Theatre
January 20, 2013 - Bridgeport
Writer and director Maria Vee's comical and modernized version of the classic musical takes place long ago in an unusual and far away land, where a bullying Prince and his entire castle have been put under a magical enchantment. Close by in the French village of Fromagerie-by-the Sea, Beauty ? who likes to be called B- is bored with village life but finds unexpected adventures when she becomes a prisoner in the Prince's outlandish castle.
2012 Festival of Lighthouses Contest - Maritime Aquarium
Through January 21, 2013 - Norwalk
The Maritime Aquarium is decorated for the holidays with 24 hand-crafted lighthouses. Visitors can follow these homemade beacons through the galleries and cast a vote for their favorite. The builder of the lighthouse with the most votes will receive $1,500 at an awards ceremony on Jan. 25.
17th Annual Dr. Martin Luther King Jr.'s Legacy of Environmental and Social Justice - Yale Peabody Museum
Through January 21, 2013 - New Haven
In his tireless efforts toward equality and harmony for all, Dr. Martin Luther King, Jr. strove to raise awareness about public health concerns and urban environmental issues that disproportionately affect minority and low-income communities. This is now referred to as environmental justice, a term coined long after Dr. King's death. The Yale Peabody Museum will open its doors once again in honor of Dr. King and his efforts to ensure environmental and social justice among all people. The weekend's activities include world-class performances and educational activities for visitors of all ages. Performers include The Yale Bhangra Dance Troupe and The New Haven Breakdancers. Visit the website for a schedule of events.
All Aboard with Bill Probert and Friends III - Stamford Museum and Nature Center
Through January 27, 2013 - Stamford
Bill Probert will be making an encore performance with his All Aboard LEGO train exhibition. He creates visual puns, pastoral scenes with unexpected surprises, and urban scenes where railroad tracks, weeds, carefully-tended gardens, and busy streets blend seamlessly into one another. A special feature in this year's exhibition will be the addition of four creations from winners of the Stamford Museum & Nature Center's All Aboard competition. LEGO enthusiasts in four age categories from five-years-old and up will be submitting entries for inclusion in the exhibition. Through January 27, 2013.
Visions of Gingerbread: The Sweetest Architects IV - Stamford Museum and Nature Center
Through January 27, 2013 - Stamford
See creative confections, consisting completely of edible materials, from the area?s bakers, chefs and caterers. Returning favorites, along with new competitors, will show off their gingerbread skills. Visitors will be able to vote for their Fan Favorite." Through January 27, 2013.
All Aboard with Thomas & Friends - New York Botanical Garden
Through January 27, 2013 - Bronx
Join Thomas and Driver Sam on a fun-filled, sing-along, mini-performance adventure by helping Thomas find his way from Knapford Station to Brendam Docks using teamwork, friendship, and discovery. Parents: bring your camera for a photo op with Thomas to capture the special day. Daily, Jan. 1-27.
A PERSISTENT PASSION: The Art of Lora Eberly Ballou, 1870-1976 Places in a One Hundred Six Year Life - Old Town Hall Museum
Through January 31, 2013 - Stamford
A first time solo exhibition introducing the art and celebrating the life of Lora Eberly Ballou featuring a collection of over 30 floral arrangements and landscape oil paintings; an assemblage of personal effects; and a historical timeline documenting her 106 year life. September 27-January 31, 2013.
Faces and Figures - Stamford Art Association
Through February 07, 2013 - Stamford
An open juried art exhibit for distinguished and creative expression depicting faces and figures at the Stamford Art Association. This year's juror is local artist and teacher, Eddie Nino. January 13 - February 7, 2013.
Westport Arts Center presents TOY DESIGN COMPETITION - Westport Arts Center
Through February 11, 2013 - Westport
Inspired by WAC's upcoming exhibition, "William Wegman: The Traveler," WAC seeks toy designs conceived by children ages 5-12 for a juried contest. Submit up to three concepts, be it a manipulative toy, action figures, game, or animated robots. A maximum level of creativity, playfulness, fantasy, humor, and imagination are strongly encouraged. Entries due February 11.
Promise of Freedom: The Emancipation Proclamation - Fairfield Museum and History Center
Through February 24, 2013 - Fairfield
Exhibit and programs commemorating the 150th anniversary of the Emancipation Proclamation and its significance over time, featuring Abraham Lincoln's signed copy, rare slavery artifacts, prints, political cartoons and more. Visitors who present a ticket stub from the film "Lincoln", will receive $2 off of an adult admission to the exhibition. Through February 24,2013.
Seasons of Change: Global Warming in Your Backyard - Yale Peabody Museum
Through February 24, 2013 - New Haven
This interactive traveling exhibit illustrates how climate change is impacting the landscape of New England over the changing of the seasons. As you explore the exhibit, you'll get a chance to find out how climate change is affecting the people of New England; share your thoughts about what aspects you might miss most about New England's current climate; compare coastal flooding today with projections for the year 2100 and control a global climate change simulation. December 15 2012-February 24, 2013.
Caribbean Garden at The New York Botanical Garden - The New York Botanical Garden
Through February 24, 2013 - Bronx
Take refuge from winter by retreating to Tropical Paradise - a showcase of the Enid A. Haupt Conservatory's permanent collection, including orange-yellow crotons, fuchsia bromeliads, and rosy-red hibiscus. You'll feel like you are on vacation without leaving New York. View The Beauty of Paradise: A Photographic Tour during regular Garden hours. See a photographic display of tropical paradises around the world. Learn about plants and flowers found in tropical climes through a display of exceptional photographs from the prestigious International Garden Photographer of the Year Contest, of which the Botanical Garden is the US partner. Access additional details about the displayed photographs via your smartphone. Inside the cozy Discovery Center in the Everett Children's Adventure Garden, kids of all ages can take a closer look at the differences between tropical and temperate plants in Tropical Discoveries and Wintertime Wonders. Pot up a specimen plant to take home and compare its characteristics with foliage in your neighborhood; make bark rubbings, count tree rings, and head back into the winter garden with a field notebook to discover the vital sparks of life that lie just below the surface of this quiet season. On view January 19-February 24. Please confirm hours on the day of your visit by calling 718-817-8700.
Let It Snow! Children's Book Art - BRUCE MUSEUM
Through February 24, 2013 - Greenwich
This family-friendly exhibition of winter scenes from children's books features more than thirty original artworks from favorite illustrators, including many living in the Connecticut region such as Lizzy Rockwell, Jennifer Thermes and Wendell Minor. The snowy season is depicted in vivid winter landscapes, frolicking animals, and popular sports and games such as sledding, ice skating, and snowball fights. Displayed works present the range of media available to illustrators, including pen and ink, colored pencil, oil, watercolor, gouache, papercut, collage, and digital media. December 1, 2012-February 24 ,2013.
Pajama Program - Office of the Superintendent - Bridgeport Public Schools
Through March 30, 2013 - Bridgeport
Help a child stay warm and cozy by donating new pajamas and/or a book. Pajama Program is a 501(3)c not-for-profit organization providing new pajamas and books to children many of whom are waiting to be adopted.
Magnificent Trees of The New York Botanical Garden - New York Botanical Garden
Through April 14, 2013 - Bronx
Larry Lederman, landscape photographer and member of NYBG's Board of Advisors, has spent years walking the garden grounds to observe and photograph trees and vistas in all seasons and at all times of day. Lush images featuring their diversity and visual impact are on view in the gallery space. The New York Botanical Garden is home to more than 30,000 trees, some in woodland, some in groves, and some standing in solitary majesty. Magnificent Trees is lavishly illustrated with photographs by Larry Lederman and accompanied by descriptions by Todd A. Forrest, Arthur Ross vice president for horticulture and living collections at the garden. An authority on the diverse species present across the 250-acre landscape, Forrest details their fascinating histories -- from their vital role in Native American life and culture to their function in neutral territory during the Revolutionary War. Lederman captures their grandeur in hundreds of stunning images and portrays their diversity with photographs that reveal the trees in myriad fascinating perspectives: in landscape views that convey the garden's genius loci; portraits illustrating the architecture and profound visual impact of select trees; remarkable details of flowers, fruit, leaves, and bark; and impressionistic images, abstract in character yet beautiful in composition.
Identity: An Exhibition of You! - Connecticut Science Center
Through April 21, 2013 - Hartford
Each visitor's own identity is front and center. The personalized experience allows you to look at your own fingerprints, see your personality as a musical spectrum, investigate where your brain stores your identity, map your social connections, and throughout the exhibition, see yourself from new perspectives: your future self, your symmetrical self, and yourself as a new gender or ethnicity. January 18, 2013-April 21, 2013.
Manolo Valdes Monumental Sculptures - The New York Botanical Garden
Through May 26, 2013 - Bronx
Drawing inspiration from the natural landscape of the Botanical Garden, seven towering sculptures by acclaimed Spanish artist Manolo Valdes showcase the relationship between art and nature.
The Last Reef: Cities Beneath the Sea - IMAX Theater, Maritime Aquarium
Through June 20, 2013 - Norwalk
Coral reefs are considered exotic, distant places with little or no connection to our everyday world. Yet every reef is a living city beneath the sea, with a parallel existence to ours. Maritime Aquarium audiences will recognize scenes from New York City as the film compares reef communities to human communities. The film?s imagery immerses audiences in reef communities, among familiar dolphins, sharks and rays but also lesser-known species, such as crocodile fish, colorful nudibranchs and delicate flatworms. January 18-June 20, 2013.
Sensory Bounce - BounceU
Through September 28, 2013 - Stratford
This is a program for children and adults with sensory integration dysfunction, autism, and other disabilities with a sensory component. Teachers work on balance and coordination, auditory and tactile sensitivity, strength building, motor coordination, cooperative play, turn-taking, and social and verbal skills.