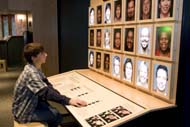 Daily activities for kids and the family are abound in Fairfield County! Whether you want to spend the day with your children at a zoo, a museum, or just outdoors, we've got it all here. Want to see what's going on next weekend or when you have those few days off? Check out the NY Metro Parents'
calendar
!
Mutt-i-grees - Stepping Stones Museum
January 28, 2013 - Norwalk
Meet a real dog from PAWS, The Pet Animal Welfare Society, and learn about the uniqueness and desirability of shelter dogs. Make a pet-themed craft. Space is limited.
Literary Littles - Wilton Library
January 28, 2013 - Wilton
Independent listeners ages 4-6 years come for stories, short films, songs and crafts. No registration necessary.
Whodunit? Book Club - Wilton Library
January 28, 2013 - Wilton
Kids in grades 2 and 3 are invited to join this mystery book club. Children will have the opportunity to meet and discuss Saxby Smart in the Curse of the Ancient Mask and Other Case Files by Simon Cheshire. Snacks will be provided, along with detective activities. Parents and guardians must be in the Library.
Play and Tea Open Days - Clover Hill School
January 28, 2013 - Norwalk
Come for a visit and have casual conversation with our teachers. Have a sip of tea while your children play in our nurturing Waldorf inspired classroom.
A PERSISTENT PASSION: The Art of Lora Eberly Ballou, 1870-1976 Places in a One Hundred Six Year Life - Old Town Hall Museum
Through January 31, 2013 - Stamford
A first time solo exhibition introducing the art and celebrating the life of Lora Eberly Ballou featuring a collection of over 30 floral arrangements and landscape oil paintings; an assemblage of personal effects; and a historical timeline documenting her 106 year life. September 27-January 31, 2013.
Faces and Figures - Stamford Art Association
Through February 07, 2013 - Stamford
An open juried art exhibit for distinguished and creative expression depicting faces and figures at the Stamford Art Association. This year's juror is local artist and teacher, Eddie Nino. January 13 - February 7, 2013.
Westport Arts Center presents TOY DESIGN COMPETITION - Westport Arts Center
Through February 11, 2013 - Westport
Inspired by WAC's upcoming exhibition, "William Wegman: The Traveler," WAC seeks toy designs conceived by children ages 5-12 for a juried contest. Submit up to three concepts, be it a manipulative toy, action figures, game, or animated robots. A maximum level of creativity, playfulness, fantasy, humor, and imagination are strongly encouraged. Entries due February 11.
Promise of Freedom: The Emancipation Proclamation - Fairfield Museum and History Center
Through February 24, 2013 - Fairfield
Exhibit and programs commemorating the 150th anniversary of the Emancipation Proclamation and its significance over time, featuring Abraham Lincoln's signed copy, rare slavery artifacts, prints, political cartoons and more. Visitors who present a ticket stub from the film "Lincoln", will receive $2 off of an adult admission to the exhibition. Through February 24,2013.
Seasons of Change: Global Warming in Your Backyard - Yale Peabody Museum
Through February 24, 2013 - New Haven
This interactive traveling exhibit illustrates how climate change is impacting the landscape of New England over the changing of the seasons. As you explore the exhibit, you'll get a chance to find out how climate change is affecting the people of New England; share your thoughts about what aspects you might miss most about New England's current climate; compare coastal flooding today with projections for the year 2100 and control a global climate change simulation. December 15 2012-February 24, 2013.
Caribbean Garden at The New York Botanical Garden - The New York Botanical Garden
Through February 24, 2013 - Bronx
Take refuge from winter by retreating to Tropical Paradise - a showcase of the Enid A. Haupt Conservatory's permanent collection, including orange-yellow crotons, fuchsia bromeliads, and rosy-red hibiscus. You'll feel like you are on vacation without leaving New York. View The Beauty of Paradise: A Photographic Tour during regular Garden hours. See a photographic display of tropical paradises around the world. Learn about plants and flowers found in tropical climes through a display of exceptional photographs from the prestigious International Garden Photographer of the Year Contest, of which the Botanical Garden is the US partner. Access additional details about the displayed photographs via your smartphone. Inside the cozy Discovery Center in the Everett Children's Adventure Garden, kids of all ages can take a closer look at the differences between tropical and temperate plants in Tropical Discoveries and Wintertime Wonders. Pot up a specimen plant to take home and compare its characteristics with foliage in your neighborhood; make bark rubbings, count tree rings, and head back into the winter garden with a field notebook to discover the vital sparks of life that lie just below the surface of this quiet season. On view January 19-February 24. Please confirm hours on the day of your visit by calling 718-817-8700.
Let It Snow! Children's Book Art - Bruce Museum
Through February 24, 2013 - Greenwich
This family-friendly exhibition of winter scenes from children's books features more than thirty original artworks from favorite illustrators, including many living in the Connecticut region such as Lizzy Rockwell, Jennifer Thermes and Wendell Minor. The snowy season is depicted in vivid winter landscapes, frolicking animals, and popular sports and games such as sledding, ice skating, and snowball fights. Displayed works present the range of media available to illustrators, including pen and ink, colored pencil, oil, watercolor, gouache, papercut, collage, and digital media. December 1, 2012-February 24 ,2013.
Colleen Browning: The Early Works - Bellarmine Museum of Art
Through March 24, 2013 - Fairfield
Artist Colleen Browning (1918-2003), a National Academician, played a significant role in America's contemporary realist movement in the years after 1950. Fairfield University rediscovers and celebrates the career of this Anglo-American Realist painter. January 24-March 24, 2013.
Colleen Browning: A Brush with Magic - Thomas J. Walsh Art Gallery
Through March 24, 2013 - Fairfield
Artist Colleen Browning (1918-2003), a National Academician, played a significant role in America's contemporary realist movement in the years after 1950. Fairfield University rediscovers and celebrates the career of this Anglo-American Realist painter. The Thomas J. Walsh Gallery offers a selection of compelling oil paintings created in the years after 1960. January 24-March 24, 2013.
Pajama Program - Office of the Superintendent - Bridgeport Public Schools
Through March 30, 2013 - Bridgeport
Help a child stay warm and cozy by donating new pajamas and/or a book. Pajama Program is a 501(3)c not-for-profit organization providing new pajamas and books to children many of whom are waiting to be adopted.
Magnificent Trees of The New York Botanical Garden - New York Botanical Garden
Through April 14, 2013 - Bronx
Larry Lederman, landscape photographer and member of NYBG's Board of Advisors, has spent years walking the garden grounds to observe and photograph trees and vistas in all seasons and at all times of day. Lush images featuring their diversity and visual impact are on view in the gallery space. The New York Botanical Garden is home to more than 30,000 trees, some in woodland, some in groves, and some standing in solitary majesty. Magnificent Trees is lavishly illustrated with photographs by Larry Lederman and accompanied by descriptions by Todd A. Forrest, Arthur Ross vice president for horticulture and living collections at the garden. An authority on the diverse species present across the 250-acre landscape, Forrest details their fascinating histories -- from their vital role in Native American life and culture to their function in neutral territory during the Revolutionary War. Lederman captures their grandeur in hundreds of stunning images and portrays their diversity with photographs that reveal the trees in myriad fascinating perspectives: in landscape views that convey the garden's genius loci; portraits illustrating the architecture and profound visual impact of select trees; remarkable details of flowers, fruit, leaves, and bark; and impressionistic images, abstract in character yet beautiful in composition.
Chinasaurs: Dinosaur Discoveries from China - Bruce Museum
Through April 21, 2013 - Greenwich
This exhibition features skeletons, skulls, nests and eggs of more than a dozen rare Asian dinosaurs, some highlighting new evidence of the close relationship between birds and dinosaurs. January 26, 2013-April 21, 2013.
Identity: An Exhibition of You! - Connecticut Science Center
Through April 21, 2013 - Hartford
Each visitor's own identity is front and center. The personalized experience allows you to look at your own fingerprints, see your personality as a musical spectrum, investigate where your brain stores your identity, map your social connections, and throughout the exhibition, see yourself from new perspectives: your future self, your symmetrical self, and yourself as a new gender or ethnicity. January 18, 2013-April 21, 2013.
Framed: Step into Art - Stepping Stones Museum
Through May 12, 2013 - Norwalk
Children can enter the framework of famous paintings and experience art by as they physically enter a scene and are encouraged to interpret, express and connect with art. They can ride a giant chicken attached to a wagon, set up a camp in the Canadian Rockies, prepare dinner for a group of hungry farmers. They can become an art gallery director, selecting and exhibiting art in their own gallery, as well as explore the exhibit through Art Hunt Cards. The exhibit was produced by the Minnesota Children's Museum for the members of the Youth Museum Exhibit Collaborative (YMEC). Through May 12, 2013.
Manolo Valdes Monumental Sculptures - The New York Botanical Garden
Through May 26, 2013 - Bronx
Drawing inspiration from the natural landscape of the Botanical Garden, seven towering sculptures by acclaimed Spanish artist Manolo Valdes showcase the relationship between art and nature.
The Last Reef: Cities Beneath the Sea - IMAX Theater, Maritime Aquarium
Through June 20, 2013 - Norwalk
Coral reefs are considered exotic, distant places with little or no connection to our everyday world. Yet every reef is a living city beneath the sea, with a parallel existence to ours. Maritime Aquarium audiences will recognize scenes from New York City as the film compares reef communities to human communities. The film?s imagery immerses audiences in reef communities, among familiar dolphins, sharks and rays but also lesser-known species, such as crocodile fish, colorful nudibranchs and delicate flatworms. January 18-June 20, 2013.
Sensory Bounce - BounceU
Through September 28, 2013 - Stratford
This is a program for children and adults with sensory integration dysfunction, autism, and other disabilities with a sensory component. Teachers work on balance and coordination, auditory and tactile sensitivity, strength building, motor coordination, cooperative play, turn-taking, and social and verbal skills.