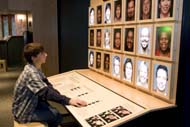 Daily activities for kids and the family are abound in Fairfield County! Whether you want to spend the day with your children at a zoo, a museum, or just outdoors, we've got it all here. Want to see what's going on next weekend or when you have those few days off? Check out the NY Metro Parents'
calendar
!
3 to 5 Beehive (3-5 year olds) - Pequot Library
November 01, 2012 - Southport
Drop-in and share some weekly theme-based stories on the rug and take home a related craft. No registration required.
32nd Annual Faber Birren National Color Award Show - Stamford Art Association
Through November 01, 2012 - Stamford
An open juried art exhibit for distinguished and creative expression of color. The Faber Birren Color Award Show has grown from a regional exhibit to one of national scope, encouraging artists in all media.
CASH FOR CANDY - Commerce Park Children's Dentistry and Orthodontics
November 01, 2012 - Bridgeport
Trick-or-treaters are invited to bring their excess candy to Commerce Park Children's Dentistry and Orthodontics for their annual Halloween Candy Buy Back. Trade your excess candy for cash and prizes. All the candy collected will be sent in care packages to overseas troops to enjoy, courtesy of Operation Gratitude. Each child will receive $1 per pound of candy (max $5 per child) and 1 ticket to participate in a prize raffle. Each child will also for cleaning off those sugar bugs as well.
TEEN ZOMBIE CLUB - Westport Library
November 01, 2012 - Westport
The club meets monthly to explore all things Zombie. Register online at westportlibrary.org.
Get Into It! FREE - Stepping Stones Museum
November 01, 2012 - Norwalk
The museum stays open late with free admission and activities. An Open Arms program.
Evolutionary Anthropology Research among the Ache People of Paraguay - Yale Peabody Museum of Natural History
November 01, 2012 - New Haven
The Ache are an indigenous people native to present-day Paraguay in South America. Until very recently, the Ache were full-time nomadic foragers, subsisting on plants and animals from the surrounding forest. Today the Ache are mostly settled on communal farms and government reservations, and face many of the same diet and health issues associated with the global obesity epidemic. In this talk, Dr. Richard Bribiescas will discuss his field research among the Ache people, including unique findings about hormones related to appetite that can potentially help us address questions about the evolution of the human diet.
Scarecrows on Parade - Beardsley Zoo
Through November 02, 2012 - Bridgeport
Check out the scarecrow competition and vote for your favorites.
A Raisin in the Sun - Westport Country Playhouse
Through November 03, 2012 - Westport
Cosby show actress Phylicia Rashad directs this story about a black family in 1950s Southside Chicago and their quest for a piece of the American dream.
Tours - Kykuit, the Rockefeller Estate
Through November 04, 2012 - Sleepy Hollow
Kykuit, the six-story stone house and rolling hilltop estate that served as home to four generations of Rockefellers, is open to visitors beginning Saturday, May 5, through Sunday, Nov. 4. Tours are available daily throughout the season except Tuesdays. Kykuit's modern and classical art collection, architecture, and expansive gardens are consistently rated the top attraction in the lower Hudson Valley, and draw tens of thousands of visitors annually. Kykuit, which means "lookout" in Dutch, includes a six-story stone house, multiple terraced gardens, art galleries, outdoor classical and modern sculpture, and commanding Hudson River views. Its hilltop location overlooking the Hudson River and the Palisades is 500 feet above sea level. Visitors to Kykuit learn the story of the Rockefellers, beginning with John D. Rockefeller, founder of Standard Oil, whose business acumen made him the richest man in America in his day. He later became the country's first great philanthropist. By his death in 1937, he had given away more than half his fortune through various philanthropic programs. Visitors can choose from four tours: Classic, Grand, Timesaver, and Selected Highlights. The Classic, ideal for first-time visitors, is a shorter experience than the comprehensive, three-hour Grand. Besides the mansion, both of these tours include time in Kykuit's art galleries, gardens, and Coach Barn, with its collection of horse-drawn carriages, vintage automobiles, and equestrian equipment. The 90-minute Timesaver is ideal for those on tighter schedules, while Selected Highlights maximizes time in the gardens. Visitors can buy tickets online in advance, choosing the exact tour, time, and date they want to visit. Tickets are on sale at hudsonvalley.org. Historic Hudson Valley recommends advanced ticket buying, particularly for weekend tours, which fill up quickly. Besides online, tickets may be purchased by calling 914-631-8200 (service charge additional) or at the Kykuit Visitor Center at Philipsburg Manor in Sleepy Hollow. All tours start at the Kykuit Visitor Center; doors open at 9am.
Flash Gordon and the Heroes of the Universe - Stamford Museum and Nature Center
Through November 04, 2012 - Stamford
The exhibit showcases artwork by two Flash Gordon illustrators, Alex Raymond and Al Williamson, as well as numerous other science fiction cartoonists. The artwork and memorabilia on display, representing space adventure creations from Buck Rogers to Star Wars, provides evidence of the significant impact that these heroes of the universe have had on American culture.
Foodies - Westport Arts Center
Through November 04, 2012 - Westport
A group show of work by its artist members featuring work in all media-- from painting and sculpture to video, and photography-- selected by food industry celebrities with ties to the local community. September 14-November 4, 2012.
Sunday Explorers Drop-In Programming - Stamford Museum & Nature Center
Through November 25, 2012 - Stamford
Every Sunday, the education staff offers a hands-on, interactive exploration of the Museum's many favorite features. Each week focuses on a different topic and includes self-guided and staff-led activities which run throughout the time period. Children must be accompanied by an adult. Free with gate admission. September 9-November 25, 2012. No class October 21.
Big Food: Health, Culture and the Evolution of Eating - Yale Peabody Museum
Through November 28, 2012 - New Haven
In this multi-media exhibit, visitors explore the challenge of fulfilling our nutritional and physical needs.
Elements of Peace - Thomas J. Walsh Art Gallery - Fairfield University
Through December 09, 2012 - Fairfield 06824
Mankind's universal and elusive quest for peace is the inspiration for artist Marlene Siff in this exhibition displaying 47 recent paintings, works on paper, sculpture, mobiles and maquettes of large multi-dimensional constructions, and features works that range from vivid explosions of color to subtle white meditative paintings.
Nature Explore Classroom - Bartlett Arboretum
Through December 31, 2012 - Stamford
Children are invited to spend unhurried hours exploring the natural world in a fun and safe environment. The outdoor classroom includes areas for art, music and movement, climbing and crawling, building, and playing. Additionally, the Bartlett features the best of what Connecticut's native landscape has to offer including wetlands and boardwalks, woodland walking trails, varied wildlife, and native habitats. February 6-December 31, 2012.
Recovery in Action - Barnum Museum
Through December 31, 2012 - Bridgeport
The museum is now partially reopened two days a week while reparations are made on the museum which was hit by a tornado in 2010. A unique exhibition, Recovery in Action, will be presented on Thursdays and Fridays in the People's United Bank Gallery. Visitors gain insight into the complexities of a disaster recovery in a museum setting. The museum's collection of unique artifacts, including Tom Thumb's miniature carriages and P.T. Barnum's ornate furniture, will be among the many items on view.
Africa: From the Desert to the Sea - Maritime Aquarium
Through January 01, 2013 - Norwalk
Learn about the importance of habitat preservation and conservation while observing such exotic African species as the air-breathing lungfish and electric catfish that use bioelectric radar to sense surroundings and zap their food.
Traveling Exhibition: Strange Matter - Connecticut Science Center
Through January 01, 2013 - Hartford
Examine the always amazing and sometimes bizarre world of modern materials, providing a glimpse of where the future of materials research might take us in this 6,000 square-foot interactive exhibit.
Native Voices: New England Tribal Families - Stepping Stones Museum
Through January 06, 2013 - Norwalk
This exhibit is an introduction to Native Americans living in New England today. By visiting five different communities from northern to southern New England, visitors learn about Native American traditions and how modern families balance contemporary life with preservation of important cultural identities through stories and songs.
Witness: The Art of Jerry Pinkney - Hudson River Museum
Through January 13, 2013 - Yonkers
In 100 books, Jerry Pinkney has turned his artist's eye and hand to the story - a classic, a folktale, a fable - and readers all over the world saw something new, something they wanted to read and to remember. Pinkney is the master of the American picture book. More than 120 watercolor illustrations by the artist, who lives in Westchester, will be on view in the first major overview of his career as a designer and illustrator in "Witness: The Art of Jerry Pinkney." The exhibition follows his 2010 award of the Randolph Caldecott Medal for "The Lion and the Mouse." The Hudson River Museum is the only New York showing for this exhibition on national tour, organized by the Norman Rockwell Museum in Stockbridge, Massachusetts. Pinkney has found it interesting to trace how the chapters of his life have knitted themselves into his art, touching on the cultural themes of the African-American experience. He uncovers, again and again, the energy in a small moment that surprisingly can change a life or turn an event in history. Most recently in his almost wordless adaptation of the Aesop fable, "The Lion and The Mouse," two creatures on a faraway African plain choose not the hard chase and bloody battle but, instead, exchange kindnesses. Fascinated with wildlife, Pinkney, in many books including "The Brer Rabbit" in "The Last Tales of Uncle Remus" shows us the human qualities of an animal as he shows us the animal in its natural setting. Pinkney, Philadelphia born and bred, and now a long-time New Yorker, has illustrated children's books since 1964, but it was not an easy path. Blacks were not expected to be able to forge careers in the art field. Trained as a commercial artist at a vocational school, he persisted and won a scholarship to the Philadelphia College of Art where his work took on the shading and detail for which he is now renowned, and he where he began to use color to convey mood and emotion. He has most often worked on children's books that celebrate multiculturalism and African-American heritage, as he took on the task of reshaping the perceptions of the stereotypes of blacks. He designed the first nine stamps of the US Postal Service's Black Heritage series. Art critics will look at the color of Pinkney's illustrations, the scarlet curve of Little Red Riding Hood's cloak, the golden blade of grass on the Serengeti plane. Sociologists will look at Pinkney the little boy, who without a visit to a museum or an art class, drew at home on the back of wallpaper samples. What the viewer will see though, in "The Art of Jerry Pinkney" is his wish: "It has always been my intent for my work to continue to breathe after publication. My hope is that (museum visitors) will believe that Jerry Pinkney cares deeply for people, making art, and visual storytelling." The exhibition includes a 96-page illustrated catalog that provides new scholarship into Pinkney's work in essays by the exhibition's co-curator Stephanie Haboush Plunkett, Dr. Gerald L. Early, and others. On view through January 13, 2013.
Sea Rex: Journey to a Prehistoric World - IMAX Theater, Maritime Aquarium
Through January 17, 2013 - Norwalk
Explore an underwater universe inhabited by such creatures as Liopleurodon and long-necked Elasmosaurss, enormous animals that were ruling the seas before dinosaurs conquered the earth. Encounter the gigantic Shonisaurus, the T-Rex of the sea. Through January 17, 2013.
To the Arctic - IMAX Theater, Maritime Aquarium
Through January 17, 2013 - Norwalk
The changing climate of the earth has effected people and animals that call the Artic home. See the impact on polar bears, a migrating herd of caribou and walruses. Meryl Streep narrates. Through January 17, 2013.
Born to Be Wild - Maritime Aquarium
Through January 17, 2013 - Norwalk
Academy-Award winner Morgan Freeman lends his voice to this film which follows orphaned baby orangutans and elephants, and the people who rescue and raise them for eventual release back into the wild. Through January 17, 2013.
'Ice Age' to the Digital Age: The 3D Animation Art of Blue Sky Studios - Katonah Museum of Art
Through January 20, 2013 - Katonah
This unique interactive exhibition looks at the imaginative work of Greenwich, Connecticut-based Blue Sky Studios, a leader in the animation industry for over 20 years. Creator of such blockbuster films as the "Ice Age" series, "Robots," and "Rio," the studio prides itself on technical innovation, while retaining a strong narrative heart. '"Ice Age" to the Digital Age' will guide visitors through Blue Sky's entire process of creating computer-animated films: from initial concepts, storyboards, character design, background art, and three-dimensional modeling, to the highly technical work of animation, rigging, materials, lighting, special effects, and sound. In addition to final movie clips, the exhibition will feature rarely-seen original concept drawings, sculptural models, props, and digital stills. Interactive stations will allow visitors to sketch a scene or manipulate computer-generated images to better understand the innovative technology that brings the films to life. Katonah resident Chris Wedge, a co-founder of Blue Sky in 1987, believes that the secret to the studio's success is in its inventive process. In his view, the art challenges technology and technology inspires the art. The Museum will be turning all the galleries, including the Learning Center, over to this exhibit. There will be gallery talks with Blue Sky co-founder Chris Wedge and "Ice Age: Continental Drift" directors Steve Martino and Mike Thurmeier, as well as a calendar of programming in partnership with the Jacob Burns Film Center. Details about these programs are available at katonahmuseum.org. The exhibition will be on view from Sunday, September 16, 2012 through January 20, 2013.
A PERSISTENT PASSION: The Art of Lora Eberly Ballou, 1870-1976 Places in a One Hundred Six Year Life - Old Town Hall Museum
Through January 31, 2013 - Stamford
A first time solo exhibition introducing the art and celebrating the life of Lora Eberly Ballou featuring a collection of over 30 floral arrangements and landscape oil paintings; an assemblage of personal effects; and a historical timeline documenting her 106 year life. September 27-January 31, 2013.
Promise of Freedom: The Emancipation Proclamation - Fairfield Museum and History Center
Through February 24, 2013 - Fairfield
Exhibit and programs commemorating the 150th anniversary of the Emancipation Proclamation and its significance over time, featuring Abraham Lincoln's signed copy, rare slavery artifacts, prints, political cartoons and more.
Manolo Valdes Monumental Sculptures - The New York Botanical Garden
Through May 26, 2013 - Bronx
Drawing inspiration from the natural landscape of the Botanical Garden, seven towering sculptures by acclaimed Spanish artist Manolo Valdes showcase the relationship between art and nature.
Sensory Bounce - BounceU
Through September 28, 2013 - Stratford
This is a program for children and adults with sensory integration dysfunction, autism, and other disabilities with a sensory component. Teachers work on balance and coordination, auditory and tactile sensitivity, strength building, motor coordination, cooperative play, turn-taking, and social and verbal skills.