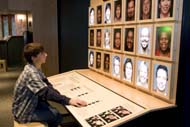 Daily activities for kids and the family are abound in Fairfield County! Whether you want to spend the day with your children at a zoo, a museum, or just outdoors, we've got it all here. Want to see what's going on next weekend or when you have those few days off? Check out the NY Metro Parents'
calendar
!
"In the Beginning" Gallery Talk - Katonah Museum of Art
November 18, 2012 - Katonah
In conjunction with the exhibit "'Ice Age' to the Digital Age: The 3D Animation Art of Blue Sky Studios," hear "Ice Age" director, Chris Wedge, discuss Directing Animation.
Westchester Feline Club - Westchester County Center
November 18, 2012 - White Plains
Over 230 cats and kittens compete, representing many of the 50 recognized TICA breeds. Also features Household Pet Competition, Shelter Cat Birthday Parties, Face Painting, Holiday Shopping at the Meow Market Place, Ask the Vet, and Guest Lectures. Show proceeds benefit local animal shelters and rescue groups.
Harvest Hay Rides - Beardsley Zoo
November 18, 2012 - Bridgeport
Enjoy a hayride on weekends in October and November.
Blue Sky Birds - Katonah Museum of Art
November 18, 2012 - Katonah
See-and hear-beautiful macaws at the KMA (sorry, no rare blue Macaws!). Drs. Laurie Hess and Michelle Ravich from the Veterinary Center for Birds & Exotics, will discuss the birds' life in the wild and ways that macaws' natural habitat is threatened.
Family Art Project: Cornhusk Dolls - Wave Hill
November 18, 2012 - Bronx
Celebrate corn and harvest time by listening to Native American tales and the story of the first cornhusk doll as you tie, weave, and shape your dried husks into a single action figure or corny doll family.
Heather Hardy and Her band Lil'l Mama - Westport Library
November 18, 2012 - Westport
Enjoy blues with a twist from electric blues violinist and vocalist Heather Hardy and her band Lil'l Mama.
Storytime - Fairfield Museum and History Center
November 18, 2012 - Fairfield
Children ages 3-5 with a parent or guardian hear engaging stories that celebrate the seasons, holidays and more.
SteveSongs -Straight from PBS KIDS! - CREC Theater of the Performing Arts
November 18, 2012 - Hartford
IT'S PBS KIDS' "MR. STEVE" ! IT'S STEVE ROSLONEK ! IT'S STEVESONGS! IT'S ONE SUPER-MUSICIAN WITH HIS BAND, IN TWO SUPER SHOWS! BENEFITING CPTV & CELEBRATING STEVE'S NEW CD, ORANGUTAN VAN CREC THEATER OF THE PERFORMING ARTS - HARTFORD, CT - NOV. 18 "Warm, gentle humor and well-crafted, quirky wordplay run through Steve Roslonek's creative songs and stories." -- Los Angeles Times HARTFORD, CT -- Wethersfield, CT resident Steve Roslonek is kids' musician SteveSongs, known and loved by millions of PBS KIDS viewers throughout the country as "Mr. Steve," co-host of the PBS KIDS preschool destination. SteveSongs will bring his signature brand of seriously good (and seriously fun) music to two rocking family shows benefiting CPTV at 1:00 p.m. and 4:00 p.m. on Sunday, November 18 at the CREC Theater of the Performing Arts, 359 Washington St., Hartford, CT. All proceeds from these shows -- part of CPTV's 50th Anniversary Celebration -- will directly benefit local programming at CPTV. These performances are presented by The Connecticut Science Center and are sponsored in part by Little Honey's Donuts. "Mr. Steve" and his band will take kids and families on a magical and musical adventure celebrating the upcoming release of "Orangutan Van," the first new, full-length SteveSongs album in six years. SteveSongs shows are fantastic, fun-filled, kid-pleasing extravaganzas, packed with great melodies, clever stories, and plenty of audience participation. Many of Steve's songs are wildly interactive. Fans can expect to take part in the hilarious call-and-response for "Grumpy Boy," join a super-silly game played to the accompaniment of the song "Brush Brush Brush," and work out with some aerobically challenging dance moves to one of Steve's most requested songs, "Recess Rocks." Since May 2008, Steve Roslonek, as "Mr. Steve," has co-hosted the PBS KIDS preschool destination that features the popular shows Curious George, Daniel Tiger's Neighborhood, Dinosaur Train, Super Why! and Martha Speaks. Steve regularly makes appearances nationwide at PBS station events, and, along with other notable PBS KIDS characters, such as Hooper, he is a featured visitor at libraries across the country, encouraging kids to read through the JetBlue and PBS KIDS collaborative "Soar with Reading" program. # # # WHAT: SteveSongs' CD Release Celebration: A CPTV 50th Anniversary Event, Benefiting CPTV WHERE: CREC Theater of the Performing Arts, 359 Washington St., Hartford, CT 06106 WHEN: Sunday, November 18. Two shows: 1:00 p.m. and 4:00 p.m. ADMISSION: Adults: $15 Children under twelve: $10 INFO: 860-275-7540 http://cptv.org
Rudolph and the Reindeer Games - Downtown Cabaret Theatre
November 18, 2012 - Bridgeport
The 73rd annual Reindeer Games features familiar names, characters along with music and dance. Santa's North Pole Team is hoping the odds are in their favor for the Games. Rudy, the young, new contestant who's a "chip off the old buck," looks like he may "sleigh" the competition, but five-time Champion Donner isn't giving up his title without a fight.
Sunday Explorers Drop-In Programming - Stamford Museum & Nature Center
Through November 25, 2012 - Stamford
Every Sunday, the education staff offers a hands-on, interactive exploration of the Museum's many favorite features. Each week focuses on a different topic and includes self-guided and staff-led activities which run throughout the time period. Children must be accompanied by an adult. Free with gate admission. September 9-November 25, 2012. No class October 21.
Big Food: Health, Culture and the Evolution of Eating - Yale Peabody Museum
Through November 28, 2012 - New Haven
In this multi-media exhibit, visitors explore the challenge of fulfilling our nutritional and physical needs.
Elements of Peace - Thomas J. Walsh Art Gallery - Fairfield University
Through December 09, 2012 - Fairfield 06824
Mankind's universal and elusive quest for peace is the inspiration for artist Marlene Siff in this exhibition displaying 47 recent paintings, works on paper, sculpture, mobiles and maquettes of large multi-dimensional constructions, and features works that range from vivid explosions of color to subtle white meditative paintings.
23rd Annual Trees of Hope Holiday Spectacular - Maritime Center
Through December 09, 2012 - New Haven
What began with a dozen trees at the Governor's Mansion has flourished into a nine-day display of over 100 decorated trees, wreaths and holiday baskets lining the halls of the Maritime Center in New Haven. Trees ranging from 4 to 8 feet in height are donated and decorated in themes and often in memory of loved ones. The event is free to the public and there will be a raffle with tickets priced at $1.December 9th the silent auction will end at 1pm and the raffle will be drawn at 2pm. Revenue generated from Trees of Hope directly benefits The Ronald McDonald House which shelters families with children seeking treatment for life-threatening illnesses.
Julliette Tehrani presents 'Impressions Near and Afar' - Stamford Art Association
Through December 16, 2012 - Stamford
London-born of Persian heritage and with extensive travels throughout her life, Juliette brings an international perspective to her paintings. November 11-December 16, 2012.
Toddler Adventure Open Gym - Westport Weston Family Y
Through December 21, 2012 - Westport
Children ages 6 months-4 years can crawl, roll, jump and explore. Children must participate with parent or caregiver. No membership required. Monday-Friday through December 21.
18th annual Holiday Gift Show - Rowayton Arts Center
Through December 24, 2012 - Rowayton
Unique holiday gifts, decorations and collectibles by some of Fairfield County's finest artists and craftspeople will be featured in this fundraiser that supports year-round education and other community programs at the Rowayton Arts Center.
Nature Explore Classroom - Bartlett Arboretum
Through December 31, 2012 - Stamford
Children are invited to spend unhurried hours exploring the natural world in a fun and safe environment. The outdoor classroom includes areas for art, music and movement, climbing and crawling, building, and playing. Additionally, the Bartlett features the best of what Connecticut's native landscape has to offer including wetlands and boardwalks, woodland walking trails, varied wildlife, and native habitats. February 6-December 31, 2012.
Recovery in Action - Barnum Museum
Through December 31, 2012 - Bridgeport
The museum is now partially reopened two days a week while reparations are made on the museum which was hit by a tornado in 2010. A unique exhibition, Recovery in Action, will be presented on Thursdays and Fridays in the People's United Bank Gallery. Visitors gain insight into the complexities of a disaster recovery in a museum setting. The museum's collection of unique artifacts, including Tom Thumb's miniature carriages and P.T. Barnum's ornate furniture, will be among the many items on view.
Africa: From the Desert to the Sea - Maritime Aquarium
Through January 01, 2013 - Norwalk
Learn about the importance of habitat preservation and conservation while observing such exotic African species as the air-breathing lungfish and electric catfish that use bioelectric radar to sense surroundings and zap their food.
'The Polar Express' - IMAX Theater, Maritime Aquarium
Through January 01, 2013 - Norwalk
See this popular holiday film about a young boy who doubts the existence of Santa Claus and gets taken on a magical Christmas Eve trip to the North Pole. Through January 1, 2013.
Traveling Exhibition: Strange Matter - Connecticut Science Center
Through January 01, 2013 - Hartford
Examine the always amazing and sometimes bizarre world of modern materials, providing a glimpse of where the future of materials research might take us in this 6,000 square-foot interactive exhibit.
Native Voices: New England Tribal Families - Stepping Stones Museum
Through January 06, 2013 - Norwalk
This exhibit is an introduction to Native Americans living in New England today. By visiting five different communities from northern to southern New England, visitors learn about Native American traditions and how modern families balance contemporary life with preservation of important cultural identities through stories and songs.
Holiday Happenings at Stepping Stones - Stepping Stones Museum
Through January 06, 2013 - Norwalk
Enjoy sock skating, a life-sized igloo, festive train rides (weather permitting), caroling, decorative snowmen, a Celebrations Maze and visits with Santa, Frosty and other friends from the North Pole.
Witness: The Art of Jerry Pinkney - Hudson River Museum
Through January 13, 2013 - Yonkers
In 100 books, Jerry Pinkney has turned his artist's eye and hand to the story - a classic, a folktale, a fable - and readers all over the world saw something new, something they wanted to read and to remember. Pinkney is the master of the American picture book. More than 120 watercolor illustrations by the artist, who lives in Westchester, will be on view in the first major overview of his career as a designer and illustrator in "Witness: The Art of Jerry Pinkney." The exhibition follows his 2010 award of the Randolph Caldecott Medal for "The Lion and the Mouse." The Hudson River Museum is the only New York showing for this exhibition on national tour, organized by the Norman Rockwell Museum in Stockbridge, Massachusetts. Pinkney has found it interesting to trace how the chapters of his life have knitted themselves into his art, touching on the cultural themes of the African-American experience. He uncovers, again and again, the energy in a small moment that surprisingly can change a life or turn an event in history. Most recently in his almost wordless adaptation of the Aesop fable, "The Lion and The Mouse," two creatures on a faraway African plain choose not the hard chase and bloody battle but, instead, exchange kindnesses. Fascinated with wildlife, Pinkney, in many books including "The Brer Rabbit" in "The Last Tales of Uncle Remus" shows us the human qualities of an animal as he shows us the animal in its natural setting. Pinkney, Philadelphia born and bred, and now a long-time New Yorker, has illustrated children's books since 1964, but it was not an easy path. Blacks were not expected to be able to forge careers in the art field. Trained as a commercial artist at a vocational school, he persisted and won a scholarship to the Philadelphia College of Art where his work took on the shading and detail for which he is now renowned, and he where he began to use color to convey mood and emotion. He has most often worked on children's books that celebrate multiculturalism and African-American heritage, as he took on the task of reshaping the perceptions of the stereotypes of blacks. He designed the first nine stamps of the US Postal Service's Black Heritage series. Art critics will look at the color of Pinkney's illustrations, the scarlet curve of Little Red Riding Hood's cloak, the golden blade of grass on the Serengeti plane. Sociologists will look at Pinkney the little boy, who without a visit to a museum or an art class, drew at home on the back of wallpaper samples. What the viewer will see though, in "The Art of Jerry Pinkney" is his wish: "It has always been my intent for my work to continue to breathe after publication. My hope is that (museum visitors) will believe that Jerry Pinkney cares deeply for people, making art, and visual storytelling." The exhibition includes a 96-page illustrated catalog that provides new scholarship into Pinkney's work in essays by the exhibition's co-curator Stephanie Haboush Plunkett, Dr. Gerald L. Early, and others. On view through January 13, 2013.
Holiday Train Show - New York Botanical Garden
Through January 13, 2013 - Bronx
Marvel at the charming model trains and New York City landmark replicas, stroll the spectacular grounds, and decorate (and eat!) gingersnaps. Within the enchanting setting of the Enid A. Haupt Conservatory, model trains zip over bridges and past replicas of New York landmarks made of plant parts such as nuts, bark, and leaves. Show favorites include the original Yankee Stadium, Statue of Liberty, and Brooklyn Bridge. The Artist's Studio provides an insider's look at how the replicas are constructed as you get up close to G-gauge trains.
Sea Rex: Journey to a Prehistoric World - IMAX Theater, Maritime Aquarium
Through January 17, 2013 - Norwalk
Explore an underwater universe inhabited by such creatures as Liopleurodon and long-necked Elasmosaurss, enormous animals that were ruling the seas before dinosaurs conquered the earth. Encounter the gigantic Shonisaurus, the T-Rex of the sea. Through January 17, 2013.
To the Arctic - IMAX Theater, Maritime Aquarium
Through January 17, 2013 - Norwalk
The changing climate of the earth has effected people and animals that call the Artic home. See the impact on polar bears, a migrating herd of caribou and walruses. Meryl Streep narrates. Through January 17, 2013.
Born to Be Wild - Maritime Aquarium
Through January 17, 2013 - Norwalk
Academy-Award winner Morgan Freeman lends his voice to this film which follows orphaned baby orangutans and elephants, and the people who rescue and raise them for eventual release back into the wild. Through January 17, 2013.
'Ice Age' to the Digital Age: The 3D Animation Art of Blue Sky Studios - Katonah Museum of Art
Through January 20, 2013 - Katonah
This unique interactive exhibition looks at the imaginative work of Greenwich, Connecticut-based Blue Sky Studios, a leader in the animation industry for over 20 years. Creator of such blockbuster films as the "Ice Age" series, "Robots," and "Rio," the studio prides itself on technical innovation, while retaining a strong narrative heart. '"Ice Age" to the Digital Age' will guide visitors through Blue Sky's entire process of creating computer-animated films: from initial concepts, storyboards, character design, background art, and three-dimensional modeling, to the highly technical work of animation, rigging, materials, lighting, special effects, and sound. In addition to final movie clips, the exhibition will feature rarely-seen original concept drawings, sculptural models, props, and digital stills. Interactive stations will allow visitors to sketch a scene or manipulate computer-generated images to better understand the innovative technology that brings the films to life. Katonah resident Chris Wedge, a co-founder of Blue Sky in 1987, believes that the secret to the studio's success is in its inventive process. In his view, the art challenges technology and technology inspires the art. The Museum will be turning all the galleries, including the Learning Center, over to this exhibit. There will be gallery talks with Blue Sky co-founder Chris Wedge and "Ice Age: Continental Drift" directors Steve Martino and Mike Thurmeier, as well as a calendar of programming in partnership with the Jacob Burns Film Center. Details about these programs are available at katonahmuseum.org. The exhibition will be on view from Sunday, September 16, 2012 through January 20, 2013.
2012 Festival of Lighthouses Contest - Maritime Aquarium
Through January 21, 2013 - Norwalk
The Maritime Aquarium is decorated for the holidays with 24 hand-crafted lighthouses. Visitors can follow these homemade beacons through the galleries and cast a vote for their favorite. The builder of the lighthouse with the most votes will receive $1,500 at an awards ceremony on Jan. 25.
All Aboard with Bill Probert and Friends III - Stamford Museum and Nature Center
Through January 27, 2013 - Stamford
Bill Probert will be making an encore performance with his All Aboard LEGO train exhibition. He creates visual puns, pastoral scenes with unexpected surprises, and urban scenes where railroad tracks, weeds, carefully-tended gardens, and busy streets blend seamlessly into one another. A special feature in this year's exhibition will be the addition of four creations from winners of the Stamford Museum & Nature Center's All Aboard competition. LEGO enthusiasts in four age categories from five-years-old and up will be submitting entries for inclusion in the exhibition. Through January 27, 2013.
Visions of Gingerbread: The Sweetest Architects IV - Stamford Museum and Nature Center
Through January 27, 2013 - Stamford
See creative confections, consisting completely of edible materials, from the area?s bakers, chefs and caterers. Returning favorites, along with new competitors, will show off their gingerbread skills. Visitors will be able to vote for their Fan Favorite." Through January 27, 2013.
A PERSISTENT PASSION: The Art of Lora Eberly Ballou, 1870-1976 Places in a One Hundred Six Year Life - Old Town Hall Museum
Through January 31, 2013 - Stamford
A first time solo exhibition introducing the art and celebrating the life of Lora Eberly Ballou featuring a collection of over 30 floral arrangements and landscape oil paintings; an assemblage of personal effects; and a historical timeline documenting her 106 year life. September 27-January 31, 2013.
Promise of Freedom: The Emancipation Proclamation - Fairfield Museum and History Center
Through February 24, 2013 - Fairfield
Exhibit and programs commemorating the 150th anniversary of the Emancipation Proclamation and its significance over time, featuring Abraham Lincoln's signed copy, rare slavery artifacts, prints, political cartoons and more.
Pajama Program - Office of the Superintendent - Bridgeport Public Schools
Through March 30, 2013 - Bridgeport
Help a child stay warm and cozy by donating new pajamas and/or a book. Pajama Program is a 501(3)c not-for-profit organization providing new pajamas and books to children many of whom are waiting to be adopted.
Magnificent Trees of The New York Botanical Garden - New York Botanical Garden
Through April 14, 2013 - Bronx
Larry Lederman, landscape photographer and member of NYBG's Board of Advisors, has spent years walking the garden grounds to observe and photograph trees and vistas in all seasons and at all times of day. Lush images featuring their diversity and visual impact are on view in the gallery space. The New York Botanical Garden is home to more than 30,000 trees, some in woodland, some in groves, and some standing in solitary majesty. Magnificent Trees is lavishly illustrated with photographs by Larry Lederman and accompanied by descriptions by Todd A. Forrest, Arthur Ross vice president for horticulture and living collections at the garden. An authority on the diverse species present across the 250-acre landscape, Forrest details their fascinating histories -- from their vital role in Native American life and culture to their function in neutral territory during the Revolutionary War. Lederman captures their grandeur in hundreds of stunning images and portrays their diversity with photographs that reveal the trees in myriad fascinating perspectives: in landscape views that convey the garden's genius loci; portraits illustrating the architecture and profound visual impact of select trees; remarkable details of flowers, fruit, leaves, and bark; and impressionistic images, abstract in character yet beautiful in composition.
Manolo Valdes Monumental Sculptures - The New York Botanical Garden
Through May 26, 2013 - Bronx
Drawing inspiration from the natural landscape of the Botanical Garden, seven towering sculptures by acclaimed Spanish artist Manolo Valdes showcase the relationship between art and nature.
Sensory Bounce - BounceU
Through September 28, 2013 - Stratford
This is a program for children and adults with sensory integration dysfunction, autism, and other disabilities with a sensory component. Teachers work on balance and coordination, auditory and tactile sensitivity, strength building, motor coordination, cooperative play, turn-taking, and social and verbal skills.