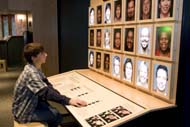 Daily activities for kids and the family are abound in Long Island! Whether you want to spend the day with your children at a zoo, a museum, or just outdoors, we've got it all here. Want to see what's going on next weekend or when you have those few days off? Check out the NY Metro Parents'
calendar
!
21st Annual Student Art Festival, Part II: Grades 9-12 - Guild Hall
Through April 14, 2013 - East Hampton
The exhibition features over 3,500 pieces of student art from high schools from 11 participating public, private and home schools in the Amagansett, East Hampton, Greenport, Montauk, Wainscott, Southampton, Bridgehampton, Shelter Island, and Sagaponack districts. March 19-April 14, 2013.
ALICE IN WONDERLAND - John W. Engeman Theater
April 14, 2013 - Northport
Mixing in a dash of popular culture to the original Lewis Carroll story brings this frolicking journey of a young girl who falls down a rabbit hole to a whole new level. Join Alice and all her friends as you become part of the story.
Children's Carnival - Queens County Farm Museum
April 14, 2013 - Floral Park
Enjoy an good ole-fashioned carnival in the apple orchard. Carnival rides, midway games, and prizes, hayrides, and children's entertainment, and more. Admission per person includes entry to the farm grounds and carnival rides at no additonal charge. Note: height rules apply at all rides.
Spring Fling Workshop - Theresa Academy of Performing Arts
April 14, 2013 - Lido Beach
Spring Fling Workshop. Students participate in dance, arts and crafts, snack, and games classes during our Spring Workshop. Students work with 1-on-1 volunteers during the day. RSVP is required.
Arena Players Repertory Theatre Presents: Treasure Island - Vanderbilt Carriage House
April 14, 2013 - Centerport
Follow the adventures of young Jamie who falls heir to a treasure map and soon sails with his masters to Treasure Island with a crew of pirates chosen from the audience. Call to reserve seats. This program has been postponed until July. This program has been postponed until July. Please check the website for details.
10th Annual Student Film Project – Screening and Awards Ceremony - Guild Hall
April 14, 2013 - East Hampton
This year's student film submissions came from students in grades 2-12 from East Hampton High School, the Ross School, The Hayground School, BOCES, and Springs School. Films are screened by a committee of influential leaders in the film and television community on the East End. Prizes will be announced. A winning high school entry is awarded a screening at the 2013 Hamptons International Film Festival.
Long Island's 1st Annual Special Needs Family Resource Expo - Huntington Hilton
April 14, 2013 - Melville
This event is designed to bring Long Island?s special needs community together for an informative and fun-filled day. Everyone will have an opportunity to explore services, products and activities expressly for the special needs community. In addition to the exhibitor space, a variety of seminars, panel discussions, workshops and demonstrations will be held on various pertinent topics such as: Insurance Reform and What it Means to You, Special Needs Trusts and Financial Planning for Children with Special Needs, Meditation for Special Needs Children and their Caregivers, NAET: A Holistic Approach to Treating Autism and Other Health Conditions, Special Education Advocacy and Strategic Planning and IEP?s and Your Child.
Free Crafts for Kids - The Cupcake Corner
April 14, 2013 - Garden City
Bring your kids to this bakery/cafe for a free craft every Saturday and Sunday any time between 12-4pm. Reservations not required. Craft changes every week.
Music of Vaudeville - Henry Waldinger Memorial Library
April 14, 2013 - Valley Stream
Performance by Cracked Walnuts. Music of Vaudeville features music, stories, and humor of the stars from 1890's Vaudeville through Prohibition, such as Al Jolson, Fanny Brice and Eddie Cantor. Even though many of these songs were popular at the time of the Titanic's famous voyage, familiar songs like Carolina in the Morning or Shine on Harvest Moo are still hard to resist singing along with. Registration required.
Dog Days! - Old Westbury Gardens
April 14, 2013 - Old Westbury
Bring your leashed dog for an invigorating walk and healthy exercise in designated garden areas. Meet fellow dog lovers in a beautiful environment. Dog must be leashed. Meet dog exhibitors and vendors from 11am-4pm.
Oliver! - CM Performing Arts Center
April 14, 2013 - Oakdale
The musical Oliver! vividly brings to life Dickens? story of the boy who asked for more. From the orphanage to the mean streets of London, the ever-optimistic Oliver strives to survive while encoutering such memorable characters as Nancy, Fagin, Bill Sikes and the Artful Dodger.
Wantagh Park Family Festival - Wantagh Park
April 14, 2013 - Wantagh
Stunning park setting, POP rides, international and festival foods. Visit local Wantagh merchants to pick up NEWTON SHOWS coupons.
Family Scavenger Hunt - East End Arts Gallery
Through April 19, 2013 - Riverhead
Families are invited to explore the gallery with an interactive scavenger hunt, where adults and children alike can search for items like suns and paintbrushes within the works of abstract and figurative art in the current gallery show. This show features artwork that brings the subject back to some sort of beginning – its origin. March 15-April 19.
Cirque Du Solieil Presents 'Totem' - Citi Field Lot C.
Through April 21, 2013 - Flushing
Tony Hawk / Rad Science - New York Hall of Science
Through April 22, 2013 - Corona
Find out how the physics of gravity, force, velocity and balance make radical tricks possible in action sports in this program that runs through April 22. Children under age 18 must be accompanied by an adult.
Rainbows - Long Island Children's Museum
Through April 30, 2013 - Garden City
Come learn the colors of the rainbow and how they are made. Have fun painting your own beautiful rainbow to brighten up April's spring showers. The program runs through April 30.
Poetry Month - Walt Whitman Birthplace
Through April 30, 2013 - Huntington
In honor of poetry month, Walt Whitman Birthplace is offering activities for kids who can "make and take" a poem in the Poetry Corner. Using spring themes of bunnies, tulips, chicks, butterflies and Easter eggs, kids can create their very own poems. Craft supplies will be available. In addition, step back to the 19th century and, with a knowledgeable interpreter, tour the farmhouse in which Whitman was born. Also, hear a recording of Walt's voice reading his poem, "America." April 1-April 30,2013.
Math & Science Homework Help - Long Island Science Center
Through June 01, 2013 - Riverhead
Students in grades 1-8 may be dropped off on Saturdays to receive help with homework. No pre-registration required.
Huntington Arts Council Exhibit: Living Color Art - Art-Trium,
Through June 17, 2013 - Melville
This exhibit features the work of four artists. Each artist selected focuses on the unique and varied ways that color lives in our lives.
After School Arts - Theresa Academy of Performing Arts
Through June 19, 2013 - Lido Beach
Theresa Academy of Performing Arts for Students with Special Needs offers dance, drama, music, drumming, fine art, yoga, and drama classes for students with special needs and their siblings. Classes meet weekly after school and on weekends.
Israel at 65 - Jewish Discovery Museum @ SYJCC
Through August 31, 2013 - Commack
This hands-on exhibit allows families to learn about Jewish life, history, values, traditions and heroes, as well as Israel and the Hebrew language. The interactive displays are designed to transform visitors into participants, offering adults and children a unique opportunity to discover the wonders of Jewish heritage. Through August 31, 2013.
Autism Spectrum Parent Support Group - Family and Children's Association
Through September 01, 2013 - Mineola
Family Center's Spectrum Support Group offers caregivers mutual support by providing opportunities to meet with others also raising children who are dually diagnosed. To be eligible the child must have a primary Mental Health diagnosis and a secondary Spectrum diagnosis. Groups are facilitated by Parent Advocates, each having their own unique experience raising a child under the Spectrum. While caregivers attend group, respite can be provided to children ages 5-17. To receive respite, an intake is required. This ensures staff is familiar with the child, making caregiver's participation more relaxing. Meetings are held the first and third Monday of each month, except holidays. RSVP Miriam at 516-485-5914 xtn 2223 no later than seven days prior to the meeting date.
Friendship Bracelet and Lanyard Making Class - The Lanyard Ladies
Through October 03, 2013 - East Rockaway
Looking for a fun after-school or weekend activity? Does your child want to learn how to make friendship and lanyard bracelets? Kids can make as many bracelets as they want. Each child will also receive a special gift. 15% sibling discount. Please call to reserve your space. You can also book a private play-date(10 or more children needed). Call for more information.
Feeding Nemo! Behind-the-Scenes Tour - Long Island Aquarium & Exhibition Center
Through December 31, 2013 - Riverhead
Go behind-the-scenes and see firsthand all that's involved in creating a hospitable environment for the aquarium's residents. And you may get a chance to help feed the clownfish. While the Seal Exhibit is under construction, you can visit them up close and personal on the tour.
Behind-the-Scenes Tours - Long Island Aquarium & Exhibition Center
Through December 31, 2013 - Riverhead
Go behind the scenes at the aquarium and see firsthand all that's involved in creating a home for the aquatic residents, including helping to feed the clownfish.
Sculpture Mystery: The Great Art Caper - Hofstra University Museum
Through January 01, 2014 - Hempstead
Uncover clues to help solve a mystery in the outdoor sculpture collection. Pick up your caper kit at Emily Lowe Gallery, have fun while discovering more about these works, and at the end of the caper return to Emily Lowe Gallery for a prize. For everyone ages 4-9 and their grown-up companions all year-round. The program runs through January 1, 2014.
Sculpture Exploration Backpack - Hofstra University Museum
Through January 01, 2014 - Hempstead
Kids and their grown up companions can stop in at the Hofstra University Museum's Emily Lowe Gallery, and pick up a backpack. At the end of your tour, return the backpack and each child will receive a small gift from the Museum. The program runs through January 1, 2014.
Outdoor Sculpture Biennial - Adelphi University
Through May 31, 2014 - Garden City
See the work of 10 skilled sculptors located throughout the scenic 75-acre arboretum on the Garden City campus. This outdoor installation showcases the talents of Miggy Buck (NY), John Clement (NY), Maria Hall (NY), Ed Haugevik (NY), William King (NY), Anti Liu (NY), Johnny Poux (NY), Kim Radochia (MA), Christopher Saucedo (NY), and Hans Van de Bovenkamp (NY). Works of art encompass use of various materials-steel, bronze, aluminum, concrete and reflective mirrors. These man-made creations are transposed into poetic visual narrations. The exhibition runs through May 31, 2014.