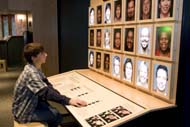 Daily activities for kids and the family are abound in Long Island! Whether you want to spend the day with your children at a zoo, a museum, or just outdoors, we've got it all here. Want to see what's going on next weekend or when you have those few days off? Check out the NY Metro Parents'
calendar
!
The FEMCHO Anti-bullying Program - Bet U Can Dance
April 24, 2013 - East Northport
Girls enjoy 40 minutes of dance fitness, 20 minutes of girl-talk and a lifetime of confidence in this program that follows a specific format to allow girls to openly express their feelings in a safe environment while still having fun and bonding together. The program adheres to FEMCHO which is an acronym for friendship, equality, mindfulness, compassion, honor,and open-mindedness.
Sensory Playtime - Pump It Up
April 24, 2013 - Plainview
Pump It Up is now offering special Pop-In Playtime sessions specifically for those kids with special needs only. Bring your child to bounce, jump and slide in private arenas filled with gigantically fun inflatables. Come to bounce, laugh and have fun in a clean and safe environment where you can meet others or just play with your children. Pump It Up is an ideal location for support groups, play therapy and social events for individuals on the autism spectrum or other special needs, their family and friends, and the professionals who work with them.
Sensory Jump Time - Pump It Up of Great Neck
April 24, 2013 - Great Neck
Pump It Up has partnered with Autism Speaks and is proud to offer Sensory Jump Time, a program for all children on the autism spectrum. Children who attend will have the opportunity to make new friends, jump, slide and play sensory-friendly games within a controlled, safe environment. This program is open to children on the autism spectrum and their siblings only. Advanced registration is encouraged as this program is not open to the general public in order to provide a safe environment for the children. Pump It Up is a proud supporter of Autism Speaks. For more information about autism, visit www.AutismSpeaks.org
Tots Night Out-A Time for Kids - Garden City Public Library
April 24, 2013 - Garden City
This program is for children ages 2 1/2 - 5 years old and an adult caregiver. Tots Night Out will include music, movement, and a lion craft for children to make. Registration required.
Spring Craft Day - Franklin Square Public Library
April 24, 2013 - Franklin Square
Come in within the designated time and make a craft. This is a free program with no registration.
Temple Beth David Early Childhood Informal Coffee Talk - Temple Beth David
April 24, 2013 - Commack
Calling all parents of preschoolers! We're holding an informal discussion at Temple Beth David on kid-friendly topics with parents of preschool-age children. All are welcome! Stop by and mingle with other parents. Share your stories and see what others have to say. We look forward to seeing you there! Call to reserve your spot now 631-499-0915 x316.
Rainbows - Long Island Children's Museum
Through April 30, 2013 - Garden City
Come learn the colors of the rainbow and how they are made. Have fun painting your own beautiful rainbow to brighten up April's spring showers. The program runs through April 30.
Poetry Month - Walt Whitman Birthplace
Through April 30, 2013 - Huntington
In honor of poetry month, Walt Whitman Birthplace is offering activities for kids who can "make and take" a poem in the Poetry Corner. Using spring themes of bunnies, tulips, chicks, butterflies and Easter eggs, kids can create their very own poems. Craft supplies will be available. In addition, step back to the 19th century and, with a knowledgeable interpreter, tour the farmhouse in which Whitman was born. Also, hear a recording of Walt's voice reading his poem, "America." April 1-April 30,2013.
Jr. Marine Biologist - Sport Fishing Education Center
Through May 18, 2013 - Babylon
Come for an adventure as you and your child learn about the marine environment. Program includes hands-on time with marine animals, beach activities and crafts. Call to register or e-mail [email protected]
Math & Science Homework Help - Long Island Science Center
Through June 01, 2013 - Riverhead
Students in grades 1-8 may be dropped off on Saturdays to receive help with homework. No pre-registration required.
Huntington Arts Council Exhibit: Living Color Art - Art-Trium,
Through June 17, 2013 - Melville
This exhibit features the work of four artists. Each artist selected focuses on the unique and varied ways that color lives in our lives.
After School Arts - Theresa Academy of Performing Arts
Through June 19, 2013 - Lido Beach
Theresa Academy of Performing Arts for Students with Special Needs offers dance, drama, music, drumming, fine art, yoga, and drama classes for students with special needs and their siblings. Classes meet weekly after school and on weekends.
We Hold These Truths-The Great Art Caper - Hofstra University Museum - Emily Lowe Gallery
Through July 26, 2013 - Hempstead
Pick up Great Art Caper materials while in the Emily Lowe Gallery to enjoy self-guided super-sleuthing. Search for hidden clues in the works in the exhibit We Hold These Truths and use the clues to complete a message. Please check the museum's website for summer hours. This program runs through July 26.
Israel at 65 - Jewish Discovery Museum @ SYJCC
Through August 31, 2013 - Commack
This hands-on exhibit allows families to learn about Jewish life, history, values, traditions and heroes, as well as Israel and the Hebrew language. The interactive displays are designed to transform visitors into participants, offering adults and children a unique opportunity to discover the wonders of Jewish heritage. Through August 31, 2013.
Autism Spectrum Parent Support Group - Family and Children's Association
Through September 01, 2013 - Mineola
Family Center's Spectrum Support Group offers caregivers mutual support by providing opportunities to meet with others also raising children who are dually diagnosed. To be eligible the child must have a primary Mental Health diagnosis and a secondary Spectrum diagnosis. Groups are facilitated by Parent Advocates, each having their own unique experience raising a child under the Spectrum. While caregivers attend group, respite can be provided to children ages 5-17. To receive respite, an intake is required. This ensures staff is familiar with the child, making caregiver's participation more relaxing. Meetings are held the first and third Monday of each month, except holidays. RSVP Miriam at 516-485-5914 xtn 2223 no later than seven days prior to the meeting date.
Friendship Bracelet and Lanyard Making Class - The Lanyard Ladies
Through October 03, 2013 - East Rockaway
Looking for a fun after-school or weekend activity? Does your child want to learn how to make friendship and lanyard bracelets? Kids can make as many bracelets as they want. Each child will also receive a special gift. 15% sibling discount. Please call to reserve your space. You can also book a private play-date(10 or more children needed). Call for more information.
Behind-the-Scenes Tours - Long Island Aquarium & Exhibition Center
Through December 31, 2013 - Riverhead
Go behind the scenes at the aquarium and see firsthand all that's involved in creating a home for the aquatic residents, including helping to feed the clownfish.
Sculpture Mystery: The Great Art Caper - Hofstra University Museum
Through January 01, 2014 - Hempstead
Uncover clues to help solve a mystery in the outdoor sculpture collection. Pick up your caper kit at Emily Lowe Gallery, have fun while discovering more about these works, and at the end of the caper return to Emily Lowe Gallery for a prize. For everyone ages 4-9 and their grown-up companions all year-round. The program runs through January 1, 2014.
Sculpture Exploration Backpack - Hofstra University Museum
Through January 01, 2014 - Hempstead
Kids and their grown up companions can stop in at the Hofstra University Museum's Emily Lowe Gallery, and pick up a backpack. At the end of your tour, return the backpack and each child will receive a small gift from the Museum. The program runs through January 1, 2014.
Outdoor Sculpture Biennial - Adelphi University
Through May 31, 2014 - Garden City
See the work of 10 skilled sculptors located throughout the scenic 75-acre arboretum on the Garden City campus. This outdoor installation showcases the talents of Miggy Buck (NY), John Clement (NY), Maria Hall (NY), Ed Haugevik (NY), William King (NY), Anti Liu (NY), Johnny Poux (NY), Kim Radochia (MA), Christopher Saucedo (NY), and Hans Van de Bovenkamp (NY). Works of art encompass use of various materials-steel, bronze, aluminum, concrete and reflective mirrors. These man-made creations are transposed into poetic visual narrations. The exhibition runs through May 31, 2014.
Penguin Encounter - Long Island Aquarium & Exhibition Center
Through December 31, 2015 - Riverhead
Imagine a close-up meeting with an African penguin – a 45-minute interactive experience where children ages 5 and up and adults go behind the scenes and learn how animal experts care for these playful birds. You'll see the inner workings of the Penguin Pavilion exhibit,learn how staff cares for the exhibit's residents and enter the Penguin Preschool to meet the penguins. Reserve your spot at [email protected]