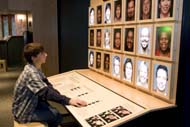 Daily activities for kids and the family are abound in Long Island! Whether you want to spend the day with your children at a zoo, a museum, or just outdoors, we've got it all here. Want to see what's going on next weekend or when you have those few days off? Check out the NY Metro Parents'
calendar
!
'Abandoned Trunks' Exhibit -Clothing and Costumes of the Gold Coast Era - North Shore Historical Museum
August 21, 2013 - Glen Cove
"Abandoned Trunks" is an exhibit of costumes and accessories of the Gold Coast. Clothing items on display were worn by notable North Shore women of the 1920s such as the ladies of Woolworth, Tiffany, Hutton, and Woodward families, as well as the Countess of Bismarck. Most of these families lived in mansions during that era.
Long Beach Summer Concert on the Beach-New Yorkers Band - New York Ave. Beach
August 21, 2013 - Long Beach
The free summer beach concerts are back and they are awesome. Come out for entertainment from a line-up of favorite artists. Bring a beach chair, a blanket, dinner from your favorite Long Beach restaurant, pizza place, deli, and you are set for a great night of entertainment under the stars.
An Evening with Dr. Ira Wolf, the Leading Expert in SAT Test Prep - Knox School
August 21, 2013 - St. James
Do you want your child to get into his or her first choice college? Then you and your child need to spend an evening with world-famous author and SAT test prep expert Dr. Ira Wolf. Do not miss this free event as Dr. Wolf rarely speaks in Suffolk County. The topic of Dr. Wolf's discussion will be "What You Need to Know about the SAT, PSAT, and ACT Tests," followed up by a question and answer period, with separate discussion groups for middle school and high school students and their parents. Dr. Wolf is the founder and president of PowerPrep, Inc. and the author of several leading books on test preparation, including two Barron's bestsellers: How to Prepare for the SAT and How to Prepare for the PSAT. Dr. Wolf's SAT book is the preeminent textbook in SAT prep courses throughout the world, used by hundreds of thousands of students each year. Dr. Wolf is also a former college professor, high school teacher, and director of a university teacher preparation program. During the August 21st evening presentation Dr. Wolf will provide valuable information to parents and students on all aspects of college entrance exams, including when to take and how to prepare for the PSAT, SAT, and ACT tests. In addition, he will discuss important test-taking strategies that can help students earn significantly higher test scores. Dr. Wolf's books will be available to purchase. PowerPrep, the most successful test prep company on Long Island, has helped thousands of students reach their maximum potential on the PSAT, SAT, ACT, and SAT Subject Tests. As space is limited, pre-registration for the August 21st SAT Prep event is encouraged, but not required. To pre-register or for more information and/or directions, call Susan Day-Holsinger at 631-686-1600 ext. 414 or visit www.knoxschool.org.
Wacky Water Wednesdays - Cold Spring Harbor Fish Hatchery & Aquarium
August 21, 2013 - Cold Spring Harbor
Children enjoy sprinklers and bubbles.
Bullying and The Dignity Act: What Parents Need to Know - Helping Hands Children Services
August 21, 2013 - Huntington
This workshop will provide parents and providers with information regarding the newly enacted Dignity for All Students Act (July 2012). Participants will additionally learn about ways to decrease and/or prevent bullying incidents, particularly among individuals with special needs.
Story Pirates - Guild Hall
August 21, 2013 - East Hampton
Story Pirates is a musical sketch comedy show adapted from stories written by elementary school kids and performed by professional actors. The show is hosted by puppets who introduce different sketches or songs with the funniest material written by kids from all around the country. In each show, there is an improvised portion where Story Pirates actors solicit suggestions from the kids in the audience to create a new sketch on stage. Call or go online for tickets.
TOTS COOKING CLASSES:Simple Simon Met a Pieman - Garden of Eve Farm
August 21, 2013 - Riverhead
Each class, designed for ages 2-6, begins with a harvest tour of the farm to gather the things needed and learn about how they were produced. Then children bring them back to the farm market to cook with. At today's class children make some fruit pies and eat them.
KidFEST Hands-On Arts & Crafts Workshop – Make Your Own Treasure Map! - Guild Hall
August 21, 2013 - East Hampton
Students will create their own treasure maps. Call or go online for tickets.
Gospel Night - Harry Chapin Lakeside Theatre - Eisenhower Park
August 21, 2013 - East Meadow
Embrace the rousing sounds of Gospel music. Revel in the passion and the delight of this celebration of hand-clapping, foot-stomping mix of songs that will entertain and enlighten you throughout the concert.
Pop-In Play - Pump It Up of Great Neck
August 21, 2013 - Great Neck
You and your child are invited to come and play on giant, soft, fun-filled interactive inflatables during Pump It Up of Great Neck's Pop-In Play. Promote social development and physical fitness while bouncing, sliding, climbing and jumping. Enjoy meeting other parents and making new friends in a safe, clean, climate controlled environment. Enjoy a Food Option for an additional $3.95 per person which includes a slice of pizza and unlimited drinks. Reservations are required.
My Way- Luncheon Theatre - Westbury Manor
August 21, 2013 - Westbury
Enjoy a sumptious lunch then experience the magic of live theater. This exciting musical tribute celebrates the mystique and music that Frank Sinatra made famous. Audiences will soar with such songs as Fly Me to the Moon, The Lady is a Tramp, I only Have Eyes for You, I?ve Got You Under My Skin and New York, New York.
Barefoot Puppets presents ?Galapagos George? - Long Island Children's Museum
August 21, 2013 - Garden City
Based on the true story of "Lonesome George," this show tells the tale of a truly one-on-a-kind tortoise from the Galapagos Islands. Described by The Smithsonian as "an uplifting eco-fable," this engaging theatrical piece shares an important lesson about man's impact upon the environment. This show was funded in part by a grant from the Puppeteers of America Endowment Fund and was awarded an UNIMA Citation of Excellence in 2005.
Behind the Playboard Workshop - Long Island Children's Museum
August 21, 2013 - Garden City
Enjoy a backstage tour of the Galapagos George show with creator and puppeteer Heidi Rugg. In this close up look, participants will learn how one person handles multiple puppets and effects at the same time with just two hands. The world behind the playboard and puppet stage is tight and everything has to work just so. See and learn how that is done.
Farmers Market - Christopher Morley Park
August 21, 2013 - Roslyn
Provides an opportunity for local farmers to sell their produce directly to consumers. The produce is seasonal, locally grown, fresh-picked and reasonably priced. Other local products sold include juices, honey, jams, jellies, pickles, pies and breads.
Tai Chi in the Gardens - Old Westbury Gardens
August 21, 2013 - Old Westbury
Tai Chi, a unique form of "moving meditation" calms the mind, relaxes the body and strengthens the spirit. Sessions taught by professional Tai Chi instructor, Linda Cafiero, are designed for all experience levels.
Vacation Bible School - Sayville UCC
Through August 23, 2013 - Sayville
A vacation bible school for children entering K-5 that is fun, scientific, and progressive. Register at the Church Office, email: [email protected], or call 631-589-1519.
World Explorers - Cold Spring Harbor Whaling Museum
Through August 23, 2013 - Cold Spring Harbor
Sail around the world and learn about faraway places, from the Arctic to the Tropics. Discover unusual animals and different cultures from around the world through games, scavenger hunts, and arts and crafts. Go online for reservations. Ages 5-8, 9-11 as Crew Leaders.
Green Teens: Great Garden Adventures - Long Island Children's Museum
Through August 23, 2013 - Garden City
Come to Our Backyard for fun-filled adventures that explore our natural world. Each week LICM Green Teens will lead visitors through an activity, craft, game or "cooking" experience with different nature-related themes. Learn fun ways to help the environment and enjoy outdoor experiences.
Engineering Week - Long Island Science Center
Through August 24, 2013 - Riverhead
Discover what makes different kinds of structures move and work. Experiment with potential and kinetic energy and make crafts to take home.
Mounted Cowboy Shooting Match - Old Bethpage Village Restoration- Fairgrounds
Through August 24, 2013 - Old Bethpage
Step back into the late 1800s and watch history come alive as cowboys saddle up and engage in a shooting match. Experience the excitement of the Old West and witness a fast action event in which cowboys with single action revolvers are scored on accuracy and time.
Hot Dog Pig Races - Long Island Game Farm
Through August 25, 2013 - Manorville
There are five races each show. These awkward, but cute and cuddly, racing animals fascinate spectators. These natural comedians bolt from the starting gate and race around the track snorting and squealing, stubby legs churning and curly tails sailing along behind.
Life After Divorce For Women - Life Coaching for Women
Through August 30, 2013 - Bellmore
Sign up for a free one-hour life coaching session on life after divorce. Who are you now? What positive things have you learned about yourself? What does your future look like? What goals have you set? Learn techniques on how to move forward and enjoy life with the New You! Visit the website, call, or email [email protected]
Summer Camp - FastracKids / JEI
Through August 30, 2013 - Bellmore
Summer Camp for children ages 5-13 providing academic as well as fun physical activities. Full or half day programs are available and bus service. Working together with All American Gymnastics, LI Champion Tae Kwon Do, and World of Sports.
The Puppet Project - Long Island Children's Museum
Through August 30, 2013 - Garden City
Puppets have been crafted for thousands of years and used for storytelling around the world. Join in the fun as you design and engineer your own stick and rod puppet. Use exciting materials to build your own character as you learn how to create and operate your new creation. Develop your puppets character and learn how to perform for family and friends. This program runs through August 30.
Shell Swap - Cold Spring Habor Whaling Museum
Through August 31, 2013 - Cold Spring Harbor
Bring a shell, rock, or interesting beach item to swap at an outdoor swap table any time. Have fun making a trade with other shells and beach objects. Daily, July 1-August 31, 2013.
Holy Angles Regional School Registration - Holy Angles Regional School
Through August 31, 2013 - Patchogue,
Enroll at Holy Angels for Fall 2013-2014. Small nurturing classes taught by certified teachers. Registration runs August 1-August 31, 2013.
Israel at 65 - Jewish Discovery Museum @ SYJCC
Through August 31, 2013 - Commack
This hands-on exhibit allows families to learn about Jewish life, history, values, traditions and heroes, as well as Israel and the Hebrew language. The interactive displays are designed to transform visitors into participants, offering adults and children a unique opportunity to discover the wonders of Jewish heritage. Through August 31, 2013.
A FUNNY THING HAPPENED ON THE WAY TO THE FORUM - Bay Street Theatre
Through September 01, 2013 - Sag Harbor
A Funny Thing Happened on the Way to the Forum is a musical inspired by the farces of the ancient Roman playwright Plautus (251–183 BC), specifically Pseudolus, Miles Gloriosus and Mostellaria. The musical tells the bawdy story of a slave named Pseudolus and his attempts to win his freedom by helping his young master woo the girl next door. The show stars Peter Scolari with Conrad John Schuck and Jackie Hoffman. The book is by Burt Shevelove and Larry Gelbart with lyrics and music by Stephen Sondheim; music direction by Ethyl Will; and directed and choreographed by Marcia Milgrom Dodge. August 6-September 1, 2013.
Autism Spectrum Parent Support Group - Family and Children's Association
Through September 01, 2013 - Mineola
Family Center's Spectrum Support Group offers caregivers mutual support by providing opportunities to meet with others also raising children who are dually diagnosed. To be eligible the child must have a primary Mental Health diagnosis and a secondary Spectrum diagnosis. Groups are facilitated by Parent Advocates, each having their own unique experience raising a child under the Spectrum. While caregivers attend group, respite can be provided to children ages 5-17. To receive respite, an intake is required. This ensures staff is familiar with the child, making caregiver's participation more relaxing. Meetings are held the first and third Monday of each month, except holidays. RSVP Miriam at 516-485-5914 xtn 2223 no later than seven days prior to the meeting date.
Long Island's Auto Racing Heritage - Ward Melville Heritage Organization
Through September 02, 2013 - Stony Brook
Come celebrate the five racetracks of Long Island: Bridgehampton, Freeport, Riverhead, Islip and Vanderbilt and see many of the cars that raced there.
Living History Tours: It's 1932 - Vanderbilt Museum
Through September 02, 2013 - Centerport
It's the summer of 1932 and William K. Vanderbilt II has just circumnavigated the globe in his new 264-foot yacht, Alva. He's purchased a mummy in Cairo and brought it back to display in his museum -- coinciding with the opening of Boris Karloff's latest horror movie, The Mummy. The famous fashion designer Coco Chanel is coming to New York to open a show of her first jewelry designs, and is a guest of the Vanderbilts at their Eagle's Nest estate on the Long Island Gold Coast. Also on the guest list is Elsa Maxwell, the notorious gossip columnist, an intimate friend of the Vanderbilt women. For more than a decade, Living History tours of the Vanderbilt Mansion have given summer visitors a kind of time-machine trip to the 1930s. Museum staff member-actors, in costume and in character as household servants and famous guests, take visitors through the sprawling 24-room, Spanish-Revival waterfront mansion and regale them with stories about the family, its guests and its adventures. Saturdays and Sundays through September 2, 2013.
Pirate Snorkel Adventure - Long Island Aquarium & Exhibition Center
Through September 02, 2013 - Riverhead
Locate missing treasure while experiencing the beauty and magic of tropical snorkeling. While searching, be sure to see how many different types of fish you can identify. The aquarium is stocked with plenty, including fish from all around the world. And when you're done, walk away with some booty of your own – a $2.00 arcade card good at the Family Fun Center. Contact [email protected] June 30-September 2, 2013.
Long Island's Auto Racing Heritage - Ward Melville Heritage Organization
Through September 02, 2013 - Stony Brook
WMHO Educational and Cultural Center celebrates the five Long Island racetracks, Freeport, Bridgehampton, Riverhead, Islip and Vanderbilt. July 13-September 2, 2013.
Friendship Bracelet and Lanyard Making Class - The Lanyard Ladies
Through October 03, 2013 - East Rockaway
Looking for a fun after-school or weekend activity? Does your child want to learn how to make friendship and lanyard bracelets? Kids can make as many bracelets as they want. Each child will also receive a special gift. 15% sibling discount. Please call to reserve your space. You can also book a private play-date(10 or more children needed). Call for more information.
Alex Katz: Selections from the Whitney Museum of American Art - Nassau County Museum of Art
Through October 13, 2013 - Roslyn Harbor
Alex Katz (b.1927) is one of the most important American artists alive today. The exhibition includes landscapes and collages from early in Katz?s career and continues through the 1960s and beyond with his hallmark paintings ? enormous, brilliantly-colored portraits of his family and friends. The exhibition draws on the Whitney?s large holdings and is augmented with works from NCMA?s own permanent collection and some on loan from other art institutions. The exhibition runs through October 13.
Guided Tours - Stony Brook Grist Mill
Through October 27, 2013 - Stony Brook
Listed on the NYS and National Register of Historic Places, the Stony Brook Grist Mill, c. 1751, offers the experience of a working grist mill today with the only female "miller" in the U.S. as your guide. Saturdays and Sundays through October 27.
'Discovery' Wetlands Cruise - Boatworks Marina
Through October 30, 2013 - Stony Brook
Learn the importance and fragility of a wetlands ecosystem, enjoy the sweeping panorama of a salt marsh moraine and be amazed at the untouched beauty of Long Island's North Shore this summer aboard the "Discovery" Wetlands Cruise 90-minute sightseeing tours aboard a 27-passenger pontoon boat. A naturalist is on board to guide passengers through this experience embracing ecology, geology and history. The cruise also includes information on how Native Americans first settled here, views of a long sand pit with the historic Gamecock Cottage at its tip, the serpentine creek, tidal flow, grasses and various species of water fowl and other wildlife in the wetlands. Seating is first come, first served. For additional information or to make a reservation, call the museum or go online. Cruises run through October 30, 2013.
Atlantis Explorer Tour Boat - Long Island Aquarium & Exhibition Center
Through October 31, 2013 - Riverhead
Add extra aquatic adventure to your visit with an interactive cruise aboard the Atlantis Explorer Tour Boat. Over the course of your trip, you and your family participate in hands-on exploration, including trap pulls, horseshoe crab encounters, and a stroll along a remote beach.
Alex Katz: What About Style? - Nassau County Museum of Art
Through October 31, 2013 - Roslyn Harbor
For more than 50 years, painter Alex Katz has resisted trends in modern art to pioneer and refine his own style of flat, elegant, and realistic figure painting. What About Style? offers an uncluttered view of this American maverick. Filmmaker and art critic Heinz Peter Schwerfel captures the elusive Katz working in his Maine studio and his Soho flat, laboring over a 32-foot painting called The Black Brook. Interviews, archival footage, images of his subjects, and a virtual tour of 20 Katz paintings are combined to convey his unique style of art. No reservations. First come, first seated. The exhibition runs through October 31.
Behind-the-Scenes Tours - Long Island Aquarium & Exhibition Center
Through December 31, 2013 - Riverhead
Go behind the scenes at the aquarium and see firsthand all that's involved in creating a home for the aquatic residents, including helping to feed the clownfish.
Sculpture Mystery: The Great Art Caper - Hofstra University Museum
Through January 01, 2014 - Hempstead
Uncover clues to help solve a mystery in the outdoor sculpture collection. Pick up your caper kit at Emily Lowe Gallery, have fun while discovering more about these works, and at the end of the caper return to Emily Lowe Gallery for a prize. For everyone ages 4-9 and their grown-up companions all year-round. The program runs through January 1, 2014.
Sculpture Exploration Backpack - Hofstra University Museum
Through January 01, 2014 - Hempstead
Kids and their grown up companions can stop in at the Hofstra University Museum's Emily Lowe Gallery, and pick up a backpack. At the end of your tour, return the backpack and each child will receive a small gift from the Museum. The program runs through January 1, 2014.
Outdoor Sculpture Biennial - Adelphi University
Through May 31, 2014 - Garden City
See the work of 10 skilled sculptors located throughout the scenic 75-acre arboretum on the Garden City campus. This outdoor installation showcases the talents of Miggy Buck (NY), John Clement (NY), Maria Hall (NY), Ed Haugevik (NY), William King (NY), Anti Liu (NY), Johnny Poux (NY), Kim Radochia (MA), Christopher Saucedo (NY), and Hans Van de Bovenkamp (NY). Works of art encompass use of various materials-steel, bronze, aluminum, concrete and reflective mirrors. These man-made creations are transposed into poetic visual narrations. The exhibition runs through May 31, 2014.
Penguin Encounter - Long Island Aquarium & Exhibition Center
Through December 31, 2015 - Riverhead
Imagine a close-up meeting with an African penguin – a 45-minute interactive experience where children ages 5 and up and adults go behind the scenes and learn how animal experts care for these playful birds. You'll see the inner workings of the Penguin Pavilion exhibit,learn how staff cares for the exhibit's residents and enter the Penguin Preschool to meet the penguins. Reserve your spot at [email protected]