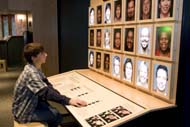 Daily activities for kids and the family are abound in Long Island! Whether you want to spend the day with your children at a zoo, a museum, or just outdoors, we've got it all here. Want to see what's going on next weekend or when you have those few days off? Check out the NY Metro Parents'
calendar
!
Mets vs. Phillies - Citi Field
August 29, 2013 - Flushing
Cheer on David Wright, Marlon Byrd and the Amazin's when they take on Ryan Howard and their NL East rivals from the City of Brotherly Love. The first 10,000 fans attending the receive a free pair of Mets Sunglasses.
CHADD Family Fun Night out with LI Ducks - Bethpage Ballpark
August 29, 2013 - Central Islip
Family Fun Night out with CHADD of Suffolk. (children and adults with ADHD) Come join Chadd families and board members cheer on the Long Island Ducks! Tickets will be picked up at Will Call with Photo ID. Please send first and last name of person picking up tickets, address, phone number, number of tickets requesting and a check made out to: Suffolk CHADD. All requests must be received by August 12, 2013. Suffolk County CHADD, P.O. Box 414, Centereach, NY 11720.
TWEEN & TEEN SUMMER WORKSHOP: SUMMER BULLETIN BOARD DAY - Darlings & Divas
August 29, 2013 - Amityville
Make your very own bulletin board to store your memories from the summer. Beautiful fabrics and ribbons will be provided so you can create a showpiece for your bedroom. Class includes instruction, crafting materials and lunch. Reservations required.
The Mr. Mouse Show by Katie's Puppets - Long Island Game Farm
August 29, 2013 - Manorville
Puppeteer Katie Polk injects humor into her puppets shows. Katie and her gang of puppets have received rave reviews from Long Island's Arts-In-Education Services, SCOPE, and many others.
Lancaster Barnstormers - Long Island Ducks
August 29, 2013 - Central Islip
Lancaster Barnstormers take on The Long Island Ducks.
Long Beach Summer Concert on the Beach-Steel Horse Band - Neptune Blvd. Beach
August 29, 2013 - Long Beach
The free summer beach concerts are back and they are awesome. Come out for entertainment from a line-up of favorite artists. Bring a beach chair, a blanket, dinner from your favorite Long Beach restaurant, pizza place, deli, and you are set for a great night of entertainment under the stars.
Yoga in the Gardens - Old Westbury Gardens
August 29, 2013 - Old Westbury
Professional Kripalu Yoga instructor, Lorili Henry, will lead students through a dynamic, yet gentle, continuous flow of postures and conscious breathing. Participants must bring a yoga mat, yoga strap and towel.
Open Mic - Page One Restaurant
August 29, 2013 - Glen Cove
The weekly open mic, one of the most popular on Long Island, typically attracts 10-12 performers, most playing guitar and singing original material. Host Tedeschi emphasizes, "You don't have to be a seasoned performer to showcase your work at the open mic. We definitely work at also making this venue a welcome place for those who are new at getting up in front of an audience. Having personally played at many open mics, I know how important it is to feel part of a welcoming atmosphere, especially for performers who show up for the first time and need to experience the feel of that kind of atmosphere. We also have any number of people who come in each week just to listen and be part of the scene." Co-owner and executive chef, Jeanine DiMenna, has created a special open mic bar menu, with all entrees priced at $5 and ranging from special salads to a burger with fries, fish and chips, sesame chicken and more.
Unlimited Attractions/BBQ Special - Country Fair Entertainment Park
August 29, 2013 - Medford
All ages can enjoy unlimited use of miniature golf, go-carts, laser tag, batting cages and the driving range at the Country Fair Entertainment Park.
Family Fun Night - McDonald's
August 29, 2013 - Hicksville
Hicksville McDonald's opens the doors to the community with entertaining activities for children such as games, face painting, prizes, balloons and more fun. The Happy meals are just $1.99!!! During this time they build a bond with each other along with those in their community. Come one, come all and join in the fun. Summer is back.
2013 Sandcastle Contest - Hither Hills State park
August 29, 2013 - Montauk
Sand sculptors may use sand, water, and any other natural materials native to the beach. Prizes are provided by the Natural Heritage Trust and JR Water Corporation, the program's co-sponsors. Prizes will be awarded for the best sculptors and castles in several categories. Registration is held each Thursday from 9:30-10:30am. For more information call 631-668-2554.
Hoot Roots - Owl Pellet Dissection - Long Island Children's Museum
August 29, 2013 - Garden City
Get to the root of how owls eat, hunt and ingest food. Inspired by the Feasts for Beasts gallery, explore the fascinating digestive process of owls and discover the answers to these questions. Watch a live dissection of owl pellets by an animal expert and examine your own.
National Circus Project - Circus Fun Workshop - Long Island Children's Museum
August 29, 2013 - Garden City
Have you ever thought of running off with a circus? You'll need to brush up on some circus skills and LICM has got just the folks to teach you. Learn juggling, plate spinning, rope tricks, basic clowning and more from performers from National Circus Project.
National Circus Project - Solo Circus - Long Island Children's Museum
August 29, 2013 - Garden City
National Circus Project, Long Island's own center for professional circus performers is back again this summer to share the fun and artistry of the circus with LICM Theater audiences. Enjoy new circus antics every week this summer.
Horse Drawn Carriage Rides - Ward Melville Heritage Organization
August 29, 2013 - Stony Brook
Pick up at Inner Court adjacent to Robinsons Tea Roomp. Excessive heats cancels activity.
Sailor Boot Camp - Cold Spring Harbor Whaling Museum
Through August 30, 2013 - Cold Spring Harbor
Join the crew and have fun learning about life at sea. Create Hard Tack biscuits, investigate ship artifacts, carve scrimshaw, design boat shapes, check out signal flags, and create a ship-in-a-bottle. Register online. Ages 5-8, 9-11 as Crew Leaders.
Life After Divorce For Women - Life Coaching for Women
Through August 30, 2013 - Bellmore
Sign up for a free one-hour life coaching session on life after divorce. Who are you now? What positive things have you learned about yourself? What does your future look like? What goals have you set? Learn techniques on how to move forward and enjoy life with the New You! Visit the website, call, or email [email protected]
Summer Camp - FastracKids / JEI
Through August 30, 2013 - Bellmore
Summer Camp for children ages 5-13 providing academic as well as fun physical activities. Full or half day programs are available and bus service. Working together with All American Gymnastics, LI Champion Tae Kwon Do, and World of Sports.
The Puppet Project - Long Island Children's Museum
Through August 30, 2013 - Garden City
Puppets have been crafted for thousands of years and used for storytelling around the world. Join in the fun as you design and engineer your own stick and rod puppet. Use exciting materials to build your own character as you learn how to create and operate your new creation. Develop your puppets character and learn how to perform for family and friends. This program runs through August 30.
Shell Swap - Cold Spring Habor Whaling Museum
Through August 31, 2013 - Cold Spring Harbor
Bring a shell, rock, or interesting beach item to swap at an outdoor swap table any time. Have fun making a trade with other shells and beach objects. Daily, July 1-August 31, 2013.
Holy Angles Regional School Registration - Holy Angles Regional School
Through August 31, 2013 - Patchogue,
Enroll at Holy Angels for Fall 2013-2014. Small nurturing classes taught by certified teachers. Registration runs August 1-August 31, 2013.
Israel at 65 - Jewish Discovery Museum @ SYJCC
Through August 31, 2013 - Commack
This hands-on exhibit allows families to learn about Jewish life, history, values, traditions and heroes, as well as Israel and the Hebrew language. The interactive displays are designed to transform visitors into participants, offering adults and children a unique opportunity to discover the wonders of Jewish heritage. Through August 31, 2013.
A FUNNY THING HAPPENED ON THE WAY TO THE FORUM - Bay Street Theatre
Through September 01, 2013 - Sag Harbor
A Funny Thing Happened on the Way to the Forum is a musical inspired by the farces of the ancient Roman playwright Plautus (251–183 BC), specifically Pseudolus, Miles Gloriosus and Mostellaria. The musical tells the bawdy story of a slave named Pseudolus and his attempts to win his freedom by helping his young master woo the girl next door. The show stars Peter Scolari with Conrad John Schuck and Jackie Hoffman. The book is by Burt Shevelove and Larry Gelbart with lyrics and music by Stephen Sondheim; music direction by Ethyl Will; and directed and choreographed by Marcia Milgrom Dodge. August 6-September 1, 2013.
Autism Spectrum Parent Support Group - Family and Children's Association
Through September 01, 2013 - Mineola
Family Center's Spectrum Support Group offers caregivers mutual support by providing opportunities to meet with others also raising children who are dually diagnosed. To be eligible the child must have a primary Mental Health diagnosis and a secondary Spectrum diagnosis. Groups are facilitated by Parent Advocates, each having their own unique experience raising a child under the Spectrum. While caregivers attend group, respite can be provided to children ages 5-17. To receive respite, an intake is required. This ensures staff is familiar with the child, making caregiver's participation more relaxing. Meetings are held the first and third Monday of each month, except holidays. RSVP Miriam at 516-485-5914 xtn 2223 no later than seven days prior to the meeting date.
Long Island's Auto Racing Heritage - Ward Melville Heritage Organization
Through September 02, 2013 - Stony Brook
Come celebrate the five racetracks of Long Island: Bridgehampton, Freeport, Riverhead, Islip and Vanderbilt and see many of the cars that raced there.
Living History Tours: It's 1932 - Vanderbilt Museum
Through September 02, 2013 - Centerport
It's the summer of 1932 and William K. Vanderbilt II has just circumnavigated the globe in his new 264-foot yacht, Alva. He's purchased a mummy in Cairo and brought it back to display in his museum -- coinciding with the opening of Boris Karloff's latest horror movie, The Mummy. The famous fashion designer Coco Chanel is coming to New York to open a show of her first jewelry designs, and is a guest of the Vanderbilts at their Eagle's Nest estate on the Long Island Gold Coast. Also on the guest list is Elsa Maxwell, the notorious gossip columnist, an intimate friend of the Vanderbilt women. For more than a decade, Living History tours of the Vanderbilt Mansion have given summer visitors a kind of time-machine trip to the 1930s. Museum staff member-actors, in costume and in character as household servants and famous guests, take visitors through the sprawling 24-room, Spanish-Revival waterfront mansion and regale them with stories about the family, its guests and its adventures. Saturdays and Sundays through September 2, 2013.
Pirate Snorkel Adventure - Long Island Aquarium & Exhibition Center
Through September 02, 2013 - Riverhead
Locate missing treasure while experiencing the beauty and magic of tropical snorkeling. While searching, be sure to see how many different types of fish you can identify. The aquarium is stocked with plenty, including fish from all around the world. And when you're done, walk away with some booty of your own – a $2.00 arcade card good at the Family Fun Center. Contact [email protected] June 30-September 2, 2013.
Long Island's Auto Racing Heritage - Ward Melville Heritage Organization
Through September 02, 2013 - Stony Brook
WMHO Educational and Cultural Center celebrates the five Long Island racetracks, Freeport, Bridgehampton, Riverhead, Islip and Vanderbilt. July 13-September 2, 2013.
Friendship Bracelet and Lanyard Making Class - The Lanyard Ladies
Through October 03, 2013 - East Rockaway
Looking for a fun after-school or weekend activity? Does your child want to learn how to make friendship and lanyard bracelets? Kids can make as many bracelets as they want. Each child will also receive a special gift. 15% sibling discount. Please call to reserve your space. You can also book a private play-date(10 or more children needed). Call for more information.
Alex Katz: Selections from the Whitney Museum of American Art - Nassau County Museum of Art
Through October 13, 2013 - Roslyn Harbor
Alex Katz (b.1927) is one of the most important American artists alive today. The exhibition includes landscapes and collages from early in Katz?s career and continues through the 1960s and beyond with his hallmark paintings ? enormous, brilliantly-colored portraits of his family and friends. The exhibition draws on the Whitney?s large holdings and is augmented with works from NCMA?s own permanent collection and some on loan from other art institutions. The exhibition runs through October 13.
Guided Tours - Stony Brook Grist Mill
Through October 27, 2013 - Stony Brook
Listed on the NYS and National Register of Historic Places, the Stony Brook Grist Mill, c. 1751, offers the experience of a working grist mill today with the only female "miller" in the U.S. as your guide. Saturdays and Sundays through October 27.
'Discovery' Wetlands Cruise - Boatworks Marina
Through October 30, 2013 - Stony Brook
Learn the importance and fragility of a wetlands ecosystem, enjoy the sweeping panorama of a salt marsh moraine and be amazed at the untouched beauty of Long Island's North Shore this summer aboard the "Discovery" Wetlands Cruise 90-minute sightseeing tours aboard a 27-passenger pontoon boat. A naturalist is on board to guide passengers through this experience embracing ecology, geology and history. The cruise also includes information on how Native Americans first settled here, views of a long sand pit with the historic Gamecock Cottage at its tip, the serpentine creek, tidal flow, grasses and various species of water fowl and other wildlife in the wetlands. Seating is first come, first served. For additional information or to make a reservation, call the museum or go online. Cruises run through October 30, 2013.
Atlantis Explorer Tour Boat - Long Island Aquarium & Exhibition Center
Through October 31, 2013 - Riverhead
Add extra aquatic adventure to your visit with an interactive cruise aboard the Atlantis Explorer Tour Boat. Over the course of your trip, you and your family participate in hands-on exploration, including trap pulls, horseshoe crab encounters, and a stroll along a remote beach.
Alex Katz: What About Style? - Nassau County Museum of Art
Through October 31, 2013 - Roslyn Harbor
For more than 50 years, painter Alex Katz has resisted trends in modern art to pioneer and refine his own style of flat, elegant, and realistic figure painting. What About Style? offers an uncluttered view of this American maverick. Filmmaker and art critic Heinz Peter Schwerfel captures the elusive Katz working in his Maine studio and his Soho flat, laboring over a 32-foot painting called The Black Brook. Interviews, archival footage, images of his subjects, and a virtual tour of 20 Katz paintings are combined to convey his unique style of art. No reservations. First come, first seated. The exhibition runs through October 31.
Behind-the-Scenes Tours - Long Island Aquarium & Exhibition Center
Through December 31, 2013 - Riverhead
Go behind the scenes at the aquarium and see firsthand all that's involved in creating a home for the aquatic residents, including helping to feed the clownfish.
Sculpture Mystery: The Great Art Caper - Hofstra University Museum
Through January 01, 2014 - Hempstead
Uncover clues to help solve a mystery in the outdoor sculpture collection. Pick up your caper kit at Emily Lowe Gallery, have fun while discovering more about these works, and at the end of the caper return to Emily Lowe Gallery for a prize. For everyone ages 4-9 and their grown-up companions all year-round. The program runs through January 1, 2014.
Sculpture Exploration Backpack - Hofstra University Museum
Through January 01, 2014 - Hempstead
Kids and their grown up companions can stop in at the Hofstra University Museum's Emily Lowe Gallery, and pick up a backpack. At the end of your tour, return the backpack and each child will receive a small gift from the Museum. The program runs through January 1, 2014.
Outdoor Sculpture Biennial - Adelphi University
Through May 31, 2014 - Garden City
See the work of 10 skilled sculptors located throughout the scenic 75-acre arboretum on the Garden City campus. This outdoor installation showcases the talents of Miggy Buck (NY), John Clement (NY), Maria Hall (NY), Ed Haugevik (NY), William King (NY), Anti Liu (NY), Johnny Poux (NY), Kim Radochia (MA), Christopher Saucedo (NY), and Hans Van de Bovenkamp (NY). Works of art encompass use of various materials-steel, bronze, aluminum, concrete and reflective mirrors. These man-made creations are transposed into poetic visual narrations. The exhibition runs through May 31, 2014.
Penguin Encounter - Long Island Aquarium & Exhibition Center
Through December 31, 2015 - Riverhead
Imagine a close-up meeting with an African penguin – a 45-minute interactive experience where children ages 5 and up and adults go behind the scenes and learn how animal experts care for these playful birds. You'll see the inner workings of the Penguin Pavilion exhibit,learn how staff cares for the exhibit's residents and enter the Penguin Preschool to meet the penguins. Reserve your spot at [email protected]